Bone Builders classes boost strength, community
ADDISON COUNTY — When the Retired and Senior Volunteer Program (RSVP) of Addison County started hosting Bone Builders classes 22 years ago, the organization was simply hoping to offer a way for local seniors to stay active and build strength. But program coordinators soon realized the classes were offering older adults in the area much more than that. 
Patricia Facey, Addison County's Bone Builders Program Coordinator, said the classes turned out to be a place for seniors to build community as well. 
"We would just listen all day to these classes, and they were just having so much fun. As you get older, your social circle tends to shrink so this gives them an opportunity to get together and socialize," Facey said. 
While certainly a welcomed benefit, the social aspect wasn't the reason RSVP of Addison County decided to organize the classes. Local RSVP Program Coordinator Lynn Bosworth said the organization, which pairs older adults with nonprofits and other volunteer opportunities in the community, was inspired by research pointing to the physical benefits of strength-training classes. 
One of these benefits is helping prevent osteoporosis, a disease that causes bones to weaken and is prevalent in post-menopausal women. 
"(RSVP) started two pilot classes in July of 2000 based on research at Tufts University. The research shows that individuals who participate in a weight training program twice weekly can gain bone density, muscle strength and balance. It also shows that these exercises could protect against osteoporosis and bone fractures," she said. 
The hour-long classes consist of weighted exercises that focus on strength training using appropriately sized weights — no 200-pound barbells. The classes also target improving participants' balance and coordination and are completely free for participants. RSVP of Addison County hosts the classes in donated spaces like school libraries and church basements, and Facey writes grants to cover the cost of equipment and trains volunteers to lead the classes. 
'A LOT STEADIER'
Deborah Dickerson has volunteered as a Bone Builders instructor since 2007. She teaches a class at Memorial Baptist Church and said through the years she's seen results in both herself and regular attendees. 
"I noticed that I am a lot steadier and confident on my cross country skis when going downhill and rounding a bend. I never knew that balance was something that could be improved," she said. "Some of our stretches make getting dressed easier (putting on socks and shoes) or driving (being able to turn the head for backing up)." 
Fran Nelson is a loyal attendee of Dickerson's class. Now 90 years old, she's been attending Bone Builders classes in Addison County for 15 years. She said the classes are a positive environment and encourage participants to stay active at their own pace. 
"At Bone Builders, everybody tries their best. There's no pressure that you have to do more of this, or you have to do that. We're all careful with each other," she said. "The idea is you do what you can."
Nelson also enjoys the social aspect of the weekly classes. 
"It's camaraderie. Everybody chats, and you don't mind doing exercises because you're having a good time visiting with each other," she said. 
Dickerson has appreciated the fellowship in her class, too. 
"Books and garden produce get shared. Recommendations for an electrician get passed along. Plans for a movie outing or a bridge game are made," she said. "They inspire me with their hobbies, their service in the communities, their wit, their strength. I hope to age as beautifully as these women."
The social aspect of classes like Dickerson's are a big part of why Bone Builders has become so popular in the county. RSVP of Addison County now offers 25 classes in 11 towns, and the number of local participants has swelled to more than 300. 
In terms of finding a class to join, the best way to start is by reaching out to Bosworth. There's some paperwork that will need to be filled out, such as getting approval from your physician, but otherwise those interested just need comfortable clothing and closed-toed shoes to participate. 
With lots of Bone Builders classes offered in Addison County, Dickerson said there's flexibility in finding the class that's right for you. 
"Many found the way to our group because a friend invited them," she said. "I think that each class develops its own personality so if someone tries one and it isn't a good fit, I would encourage them to try another group." 
Those interested in joining a class can learn more at the RSVP of Addison County's website, tinyurl.com/bonebuilders, and can reach Bosworth at [email protected]. 
More News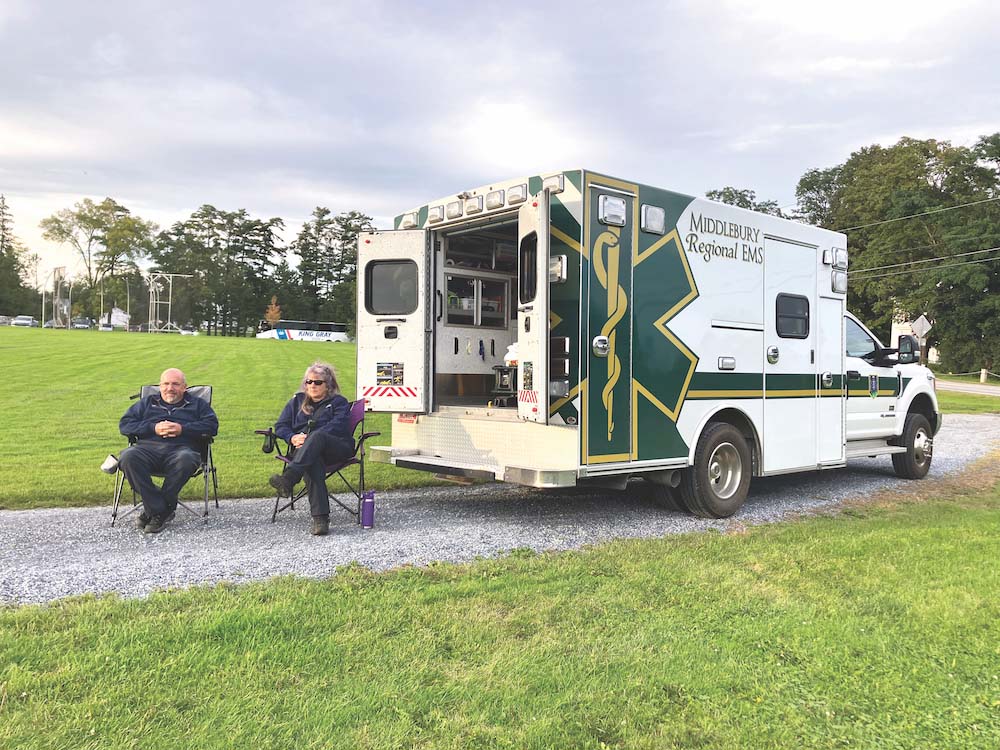 Middlebury Regional Emergency Medical Services wants to eliminate its annual Town Meeting … (read more)
Middlebury police are investigating the death of a Middlebury College junior and say the p … (read more)
In the course of her almost 101 years on Earth, Vergennes resident Margaret Clifford, bett … (read more)