Colchester tames Tiger girls' tennis
COLCHESTER — Host Colchester on Friday blanked a shorthanded Middlebury Union High School girls' tennis team, 7-0, in the opener for both programs.
The Tigers were playing without the two players expected to play Nos. 1 and 2 singles, Scarlet Carrara and Julia Bartlett, due to family vacation plans.
The Tigers are off until they host Rice at 4:30 p.m. on April 26.
On Friday:
At No. 1 singles, Kendall Spencer, C, defeated Talia Cotroneo, 2-6, 6-1, 10-8.
At No. 2 singles, Kelsey Thomas, C, defeated Paige Hescock, 6-3, 7-5.
At No. 3 singles, Maia Franchetti, C, defeated Kaya Wright, 6-2, 6-0.
At No. 4 singles, Emma McDonald, C, defeated Oni Krizo, 6-2, 6-1.
At No. 5 singles, Mohini Vallabhaneni, C, defeated Caroline Nicolai, 6-1, 6-1.
At No. 1 doubles, Katie McCullagh/Hanna Wilkins, C, defeated Subia Khan/Audrey Carpenter, 6-0, 6-2.
At No. 2 doubles, Maeve McCullagh/Jeannine Bourassa, C, defeated Amelia Coburn/India Choudhury, 6-1, 6-0.
More News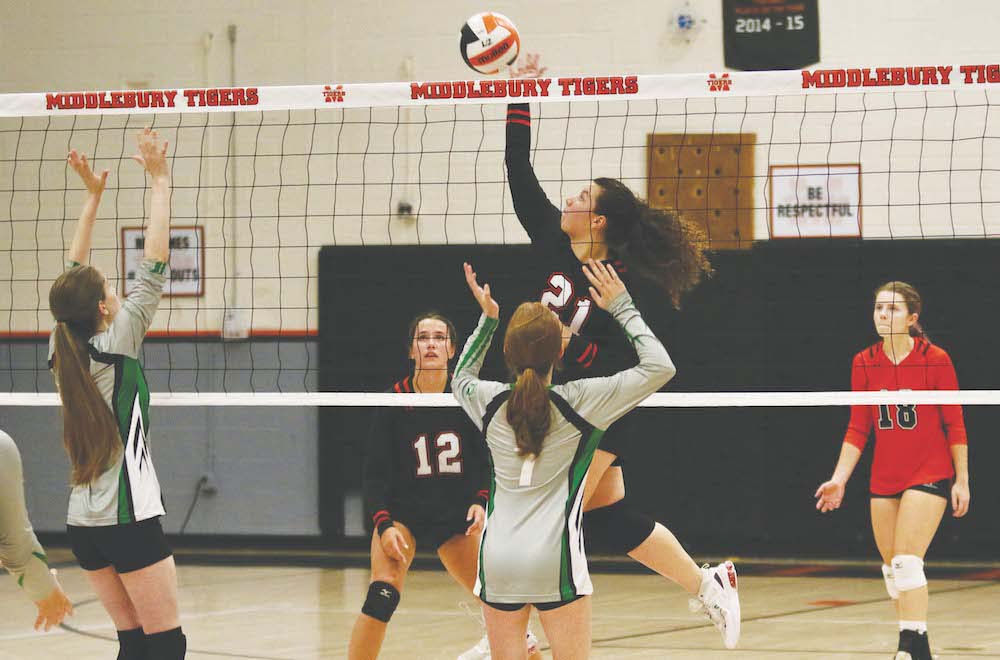 The first-year Middlebury Union High School girls' varsity volleyball team continued its r … (read more)
Soggy conditions didn't slow down Middlebury runners noticeably at a cross-country meet ho … (read more)
I gave Bill Lee a call last week, hoping he was at his home in Craftsbury and we might arr … (read more)