Mount Abe celebrates renovations
BRISTOL — The 54-year-old Mount Abraham Union Middle/High school building is brighter and shinier than it's been in a long time, but the process of making it that way has largely gone unnoticed by the public because of pandemic restrictions on school visitors.
The recent resumption of in-person sporting and performing arts events has given audiences a chance to see gym and auditorium upgrades, but there's so much more to celebrate, and the Mount Abraham Unified School District wants to get the word out.
To that end, MAUSD released a video earlier this month, made by Shawn Kimball of Northeast Addison Television, that shows a wide range of improvements made to the building and grounds since 2019 — just before the pandemic hit.
"There was just a lot of work that was unseen because of COVID," said Mount Abe Principal Shannon Warden. "That was part of the reason for the video. People need to see what's happening here. Changes have been ongoing."
Set to upbeat electronic music, the video takes the viewer on a whirlwind tour that is sure to elevate Eagle Nation pride.
Highlighted projects, with price tags provided to the Independent by MAUSD Business Manager Floyd Davison, include:
a new entrance patio (2020): $116,000.
auditorium and backstage renovations (2020): $185,000.
gym lighting, paint, bleachers, storage and livestreaming improvements (2020): $156,000.
new varsity locker rooms; new pool changing rooms and showers; new general locker rooms (2020)—plus wrestling room improvements: $1.48 million.
complete renovation of a middle school classroom that got flooded in 2021: $132,000 (with $90,000 covered by insurance).
new gym and sports field scoreboards (2021): $135,000.
WELCOME
Mount Abe students, of course, were among the first people to experience the upgrades.
Warden remembered when they returned to school after the front patio had been completed.
"What I heard from kids and what I witnessed with kids was that it feels welcoming," she said. "It feels like a place they want to be. And that's what we're trying to do — create spaces that are welcoming and user-friendly and safe, which is the best kind of learning environment for kids."
Mount Abe's gym has also garnered widespread approval.
Not only have the walls, ceiling, bleachers and other aspects been upgraded, but fans can actually see the improvements, said Mount Abe Facilities Manager Mike Orvis.
"We replaced all the old lights with LED lights, and the difference is like night and day," Orvis said. "It's incredibly bright now, really nice. It feels like a different space."
New locker rooms have also been a big hit.
"Kids are more comfortable taking showers in there," Warden said. "And there's a lot of pride in the locker rooms with student athletes."
Orvis agreed.
"We hear a lot from the visiting teams when they come in," he said. "As soon as they come into the lobby and see the gym they're like, 'Wow, look at this!' And then they see the new locker rooms — and the pool — and go 'Wow!' all over again."
There's not one particular Mount Abe project that feels the most impactful, Warden said, but one priority has remained consistent throughout: accessibility.
"That has a very big impact on students universally and on those who have varied abilities," she said.
MUCK BOOTS
While many of these projects satisfied various facilities wish lists, some were unplanned.
About this time last year, a plumbing failure in the middle school wing caused flooding damage.
"It was a pipe in the ceiling related to the heating system," Orvis said. "The valve gave way and the system basically dumped water out into the classroom. We just walked into school one morning and found a flood."
It's not the sort of call a principal likes to get from the facilities manager at quarter-to-six in the morning, Warden said.
"And then you're calling teachers and saying, 'If there's anything you want to salvage from your classroom, wear your muck boots," she said. "And they really did. They came to school in their muck boots and went through flooded classroom materials."
Navigating the damage and the subsequent rerouting of student traffic to accommodate renovation work was just further evidence of the resilience of educators and students, who were already challenged by the pandemic, Warden said.
The MAUSD used the flooding incident as an opportunity to redesign and upgrade the classroom space — with input from educators, Warden said.
NEXT UP
This spring and summer the district will undertake a complete renovation of Mount Abe's entrance and lobby, as well as two sets of school bathrooms.
Some of the renderings for the lobby project are included in this month's video. More can be seen by scanning the video's QR code.
Students are excited about this project, Warden said.
"I'm hearing comments like 'It's going to look like a college!' and 'We're going to have the most beautiful lobby in the state!'"
The principal has her eye on a few other things, as well.
"From this office I'm most concerned with how much it's going to increase our school security and safety, by putting in an entryway vestibule that requires you to get buzzed into the building twice, and to check in with somebody who can actually see you, which we don't have now."
While there as been a lot of excitement for the upcoming project, Warden has observed some more measured responses from the community.
"There's a small population of people who say, 'It was OK for me when I was there,'" she said. "And when you look at the lobby and vestibule, it was OK when they were here 30 or 40 years ago. But the landscape of education has changed so much over time (including school violence). As much as we're able and as much as we can afford, we need to continue improving our facilities to meet those needs and demands."
The current estimated cost of the lobby renovation is $1.62 million, Davison said. The restrooms are currently expected to cost $510,000.
The Independent will cover the upcoming lobby project in more detail in a future story.
PAYING FOR IT
For several years now, the MAUSD spending plan approved by voters every year has included $1 million for district facilities issues, including gradual upgrades and responses to emergencies — such as flooded classrooms.
So on top of whatever savings and reserves the MAUSD may have had going into 2019, the time period covered by the Mount Abe video spans four approved budgets and $4 million dedicated exclusively to fixing and maintaining school buildings.
But not all of that annual $1 million goes to Mount Abe, Davison pointed out. MAUSD's five elementary schools have needs, too. For example, the district recently finished renovating the entrances to its Bristol, Monkton and Starksboro schools (total cost $536,000).
Each MAUSD school is also getting direct digital controls for its HVAC (heating, ventilation and air conditioning) systems, at a pace of roughly $100,000 a year. Some ventilation projects will also qualify for federal COVID relief funding.
Finding additional cash for projects has been a matter of continued belt-tightening — reevaluating every position left vacant by retirements and resignations; structuring facilities staffing with an eye toward long-term project cost savings; and observing what Davison called "Yankee thriftiness."
It has also required a rethinking — or rebalancing — of MAUSD priorities as the ongoing dilemma of declining enrollment further reduces the district's tax capacity.
"The reality is, from a facilities perspective, for decades … we have prioritized keeping staff over fixing buildings, and that's in part why we find ourselves — in particular at Mt. Abe — in so much need of facilities upgrades," said Superintendent Patrick Reen during a budget presentation in January. But, he pointed out, "we're making tremendous improvements. The building is in much better shape today than it was five years ago."
Five years ago, in 2017, district voters had just rejected a $36.5 million bond proposal for the renovation of Mount Abe. They had rejected a similar proposal, pegged at $32 million, in 2014, and they would go on to reject the third and last version, for $29.5 million, in 2018.
Since then, the district's change in approach — both fiscally and on the ground — has been working, Orvis said.
"We're more proactive now," he said. "Three years ago, when I first got here, we were reactive. 'Fix this, plug this.' Now it's 'What is our next plan?' And that all comes with support from the Central Office. If we didn't have the funds from the taxpayer and administrative support, none of it would happen. We couldn't do it."
RESERVE FUNDS
The MAUSD has managed to complete all of the above projects without dipping into its Capital Reserve Fund.
Voters approved the creation of this fund in 2019, with an initial deposit of $610,118 taken from a previous year's budget surplus. Since then they've approved two more budget-surplus deposits, and its current balance is nearly $2 million, Davison said.
The district plans to use some of that money to help pay for the lobby and bathroom renovations, but most of the fund will be saved for two larger, more complicated projects waiting in the wings.
Mount Abe needs a new roof and upgrades to its electrical service, and those will both need to be addressed in the next few years.
Davison also pointed out that the district has created an Education Reserve Fund, with voter-approved deposits totaling $874,316 since 2020.
COME SEE
Community reaction to the Mount Abe renovations has been overwhelmingly positive, Warden said.
"They've been really pleased to see the different upgrades, and they've commented on how even the smaller things that seem insignificant have a big impact."
Sometimes those things are hard to show in a video: HVAC and heating upgrades that increase efficiency; improvements to the equipment that monitors and keeps the pool clean.
"For everything that you're seeing in the video there are also things that are happening behind the scenes in more of the infrastructure-type work to improve the facilities as well," Warden said.
Getting the word out about these improvements is essential as public conversations about school closures or a potential merger with the Addison Northwest School District evolve — and as misunderstandings persist about the physical state of the building, she noted.
Warden likes the idea of inviting the ANWSD-MAUSD Merger Study Committee to visit and have a look for themselves.
"Come see," she said. "The walls are not falling down. We're not going to fall off the cliff into the gravel pit out back. It's not happening. And as of March 8 at 1:28 p.m., Mount Abe is not closing, so it does make sense to keep investing in our school building — and our students."
Reach Christopher Ross at [email protected].
More News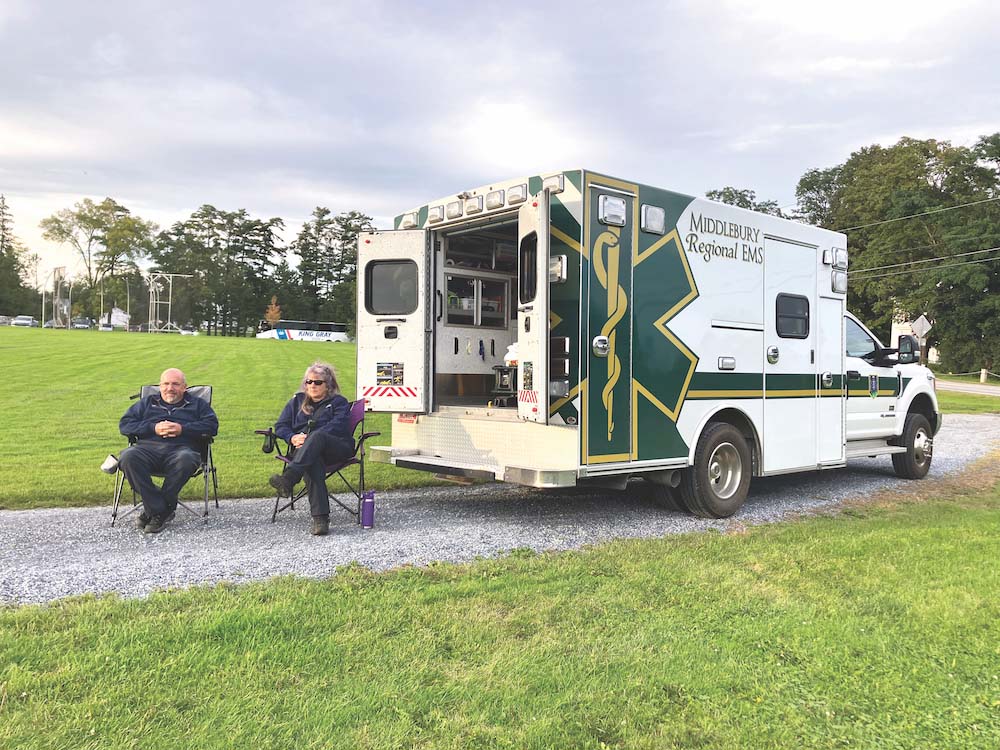 Middlebury Regional Emergency Medical Services wants to eliminate its annual Town Meeting … (read more)
Middlebury police are investigating the death of a Middlebury College junior and say the p … (read more)
Vergennes resident Margaret Clifford offers nearly a century of recollections, from losing … (read more)