Panther football tops Hamilton
CLINTON, N.Y. — On Saturday, the Middlebury College football team (3-5) downed host Hamilton, 28-12, defeating the Continentals for the 25th straight time. The Panthers will host Tufts this coming Saturday at 12:30 p.m. in their season finale The Continentals dropped to 2-5.
Middlebury took an early lead when Jack Pistorius intercepted a Matt Banbury pass and returned it 32 yards for a touchdown.
After Middlebury defender Ryan Whitney blocked a short Hamilton field goal attempt, Panther quarterback Will Jernigan ripped off an 84-yard touchdown run to make it 14-0 with 22 seconds left in the first quarter.
An interception by Panther Sam Wilson and a Pistorius fumble recovery, both deep in Middlebury territory, helped preserve that lead until halftime.
The Panthers started the second half with a 10-play, 82-yard drive that ended with Jernigan scoring on a one-yard run to make it 21-0.
Hamilton responded with a Banbury 15-yard rush to make it 21-6. Middlebury answered on its next drive, extending its lead to 28-6 on a five-yard Jernigan run. Banbury threw a four-yard TD pass to Kamau Hopewell to round out the scoring.
Jernigan finished 13 of 18 for 156 yards through the air and rushed nine times for 108 yards. Jimmy Connell caught three Jernigan passes for 56 yards, and Charles Reinkemeyer had four receptions for 29 yards. Banbury went 15 for 27 for 241 yards for Hamilton.
Kwesi Adu-Diawuo topped the Panthers on defense with 11 tackles and a pass break-up, while Pistorius had 10 stops.
More News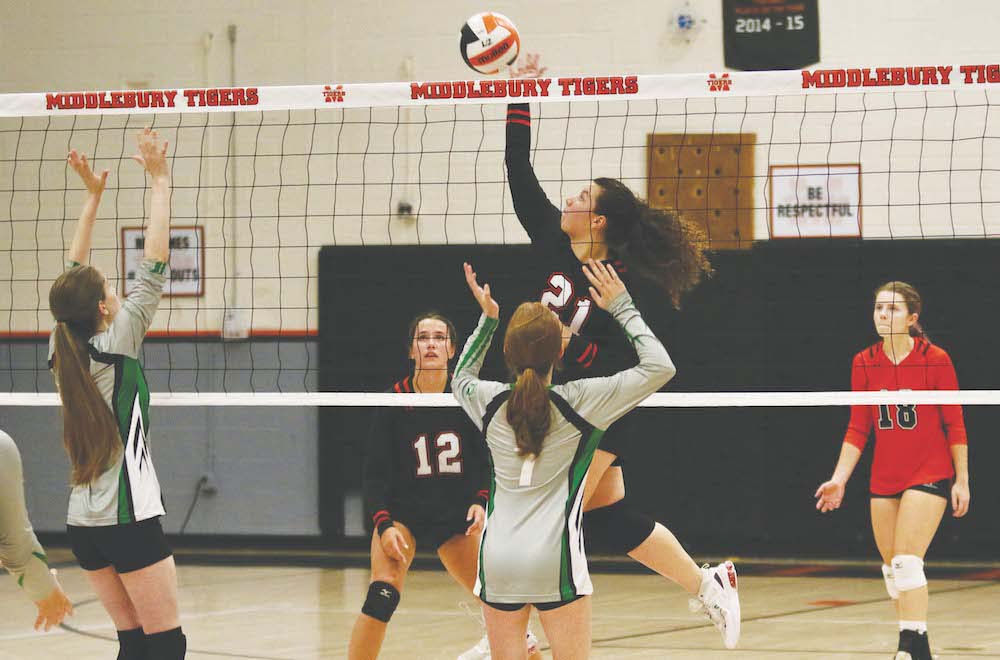 The first-year Middlebury Union High School girls' varsity volleyball team continued its r … (read more)
Soggy conditions didn't slow down Middlebury runners noticeably at a cross-country meet ho … (read more)
I gave Bill Lee a call last week, hoping he was at his home in Craftsbury and we might arr … (read more)