Champs take second, Marlins sixth in St. Albans
ST. ALBANS — The Vergennes Swim Team on Saturday led the field in the St. Albans Invitational during the morning session of races, which featured the younger swimmers, but finished up second to powerhouse Burlington Tennis Club by the end of the meet.
The Middlebury Marlins, which has a smaller team this year, finished sixth in the eight-team invitational, which sprung up this year as a replacement for the Champlain Valley Swim League Championship. League officials called off the championship meet in the spring when the coronavirus pandemic was still in full swing.
VST vice president Jess James said her team could use a few older swimmers to round out the crew, but she was happy the Champs were awarded the CVSL Best Record Award after finishing the regular season with a 7-0 record.
"We haven't received this award in 33 years!" she said.
(A former Champs coach informed the Independent that her team also went undefeated — in the late 1970s.)
In the final tally, Burlington Tennis Club won with 2,344 points, followed by VST with 1,782.5; Saint Albans Swim team 1,627.5; Edge Swim Club 1,114; Town of Essex Swim Team 1,069; Middlebury Swim Team 775; Winooski Summer Swim Team 706.5; and Burlington Country Club 615.5.
Seven-year-old Paul Foley won an incredible four races in the meet. Teammate Flint Crary, age 10, pulled in a pair of individual victories.
Also winning individual titles for the Champs were Aurora Foley, Will Clark, Juliette Angier, Noah Smits, Carlyn Rapoport, Aurora Foley, Adrienne Smits and Cohen Howell. Vergennes also claimed victories in seven relay races.
Middlebury was led by Oliver Poduschnick, who won the boy 18-and-under 50-yard breaststroke, followed closely by teammate Fraser Milligan. The Marlins also won a relay — the U-18 girls 200-yard freestyle.
After the meet, the CVSL bestowed the prestigious Golden Whistle Award on Middlebury Marlins Coach Colleen Rueppel.
The coaching excellence award recognizes a coach who provides excellent support to the swimmers by encouraging them to excel at swimming, sportsmanship and being good citizens. 
Both Middlebury and Vergennes will swim at the VSA State Championship meet at he Upper Valley Aquatic Center in White River Junction this Saturday and Sunday.
The Vergennes and Middlebury swimmers who placed in the top 20 in races at the St. Albans Invitational were:
BUTTERFLY
•  U-8 girls 25 yard: 2. Juliette Angier (V), 24.77; 5. Cassandra Bellman (M)
•  U-8 boys 25 yard: 4. Tobin Howell (V), 33.02
•  U-10 girls:  2. Aurora Foley (V), 15.86; 4. Lauren Husk (V); 6. Annika Smits (V); 7. Mitzi Posduschnick (M); 10. Jordan Hutchins (V)
•  U-10 boys 25 yard: 2. Flint Crary (V), 16.34; 3. Connor Husk (V); 8. Constantin Bellman (M)
•  U-12 girls 50 yard: 2. Sophia James (V), 35.75; 3. Sadie Chance; 9. Stella Kruse (V)
•  U-12 boys 50 yard: 2. C. Crary (V), 33.29; 9. Khanlen Ouimette (V); 18. Jorgen Pirrung (M)
•  U-14 girls 50 yard: 5. Ava Schneider (M), 33.60; 12. Nola Roberts (V);
•  U-14 boys 50 yard: 10. Maxwell Goodfellow (V), 48.25
•  U-18 girls 50 yard: 3. Hadley Harris (V), 30.70; 4. Holly P. Staats (M); 9. Natalie A. Rockwell (M)
•  U-18 boys 50 yard: 3. Oliver S. Poduschnick (M), 29.16; 7. Fraser H. Milligan (M); 8. Eliot Schneider (M); 11. Aidan Chance (M)
BACKSTROKE
•  U-8 girls 25 yard: 3. J.Angier (V), 23.84; 6. Grace Kittredge (V)
•  U-8 boys 25 yard: 1. Paul Foley (V), 19.90; 3. Felix Poduschnick (M); 5. Enli Parillo (V); 6. Weston Kittredge (V)
•  U-10 girls 25 yard: 1. A. Foley (V), 17.47; 2. L. Husk (V); 5. A. Smits (V); 9. R. Muzzy (V); 16. E. Maneen (V); 20. C. Clark (V)
•  U-10 boys 25 yard: 6. Adam Lucas (V), 25.73; 12. Greyson VanderWey (V)
•  U-12 girls 50 yard: 4. I. Romond (V), 38.25; 5. Adrienne Smits (V); 9. Ellie Eckles (V); 13. Elle MacIntryre (M); 14. Lily Allen (M); 15. Holland VanderWey (V); 18. Elisabeth Rockwell (M)
•  U-12 boys 50 yard: 1. Will Clark (V), 33.73; 4. C. Howell; 12. Joey Maneen (V); 17. Rowan Nefflinger (V)
•  U-14 girls 50 yard: 7. Lucy Poduschnick (M), 36.28
•  U-14 boys 50 yard: 8. Julian Potter (V), 40.47; 10. Maxwell Goodfellow (V)
•  U-18 girls 50 yard: 7. N. Rockwell (M), 34.57; 9. Carlyn Rapoport (V); 18. Siobhan Potter (V)
•  U-18 boys 50 yard: 5. Aidan Chance (M), 29.56
BREASTSTROKE
•  U-8 girls 25 yard: 1. J. Angier (V), 27.87; 2. C. Bellmann (M)
•  U-8 boys 25 yard: 1. P. Foley (V), 24.67; 4. Weston Kittredge (V)
•  U-10 girls 25 yard: 2. M. Posduschnick (M), 21.30; 3. J. Hutchins (V); 5. R. Muzzy (V); 10. Cecilia Nefflinger (V); 11. E. Maneen (V); 15. C Casey (V)
•  U-10 boys 25 yard: 4. C. Bellmann, 22.14
•  U-12 girls 50 yard: 3. E. Eckles (V), 40.61; 6. Aries Gee (V); 9. Sadie Chance (M); 10. Petra Fearon (V); 15. Stella Kruse (V); 16. Ellie Brooks (V); 18. L. Allen (M)
•  U-12 boys 50 yard: 1. Noah Smits (V), 36.60; 2. C. Crary (V); 19. J. Maneen (V)
•  U-14 girls 50 yard: 5. L. Poduschnick (M), 39.05
•  U-14 boys 50 yard: 7. Grey Fearson (V), 43.13
•  U-18 girls 50 yard: 1. C. Rapoport (V), 34.77; 4). H. Harris (V); 5. H. Staats (M); 9. A. Clark (V); 10. B. Eckles (V); 15. S. Potter (V)
•  U-18 boys 50 yard: 1. O. Poduschnick (M), 29.16; 2. F. Milligan (M)
FREESTYLE
•  U-8 girls 25 yard: 3. J. Angier (V), 20.13; 10. Maylee Foley (M); 13. Vivian Romond (V); 14. G. Kittredge (V); 19. Mikhan Ouimette (V)
•  U-8 boys 25 yard: 1. Paul Foley (V), 16.49; 4. W. Kittredge (V); 5. T. Howell (V); 6. F. Poduschnick (M); 9. E. Parillo (V); 18. Martin Gee (V)
•  U-10 girls 25 yard: 1. A. Foley (V), 14.05; 3. M. Poduschnick (M); 4. J. Hutchins (V); 6. Reese Muzzey (V); 11. Annika Smitts (V); 15. Ella Maneen (V); 19. Casey Clark (V)
•  U-10 girls 50 yard: 2. L. Husk (V), 35.12
•  U-10 boys 25 yard: 1. Flint Crary (V), 14.08; 10. Greyson VanderWey (V); 11. Skyler James (V)
•  U-10 boys 50 yard: 1. F. Crary (V), 32.65; 4. C. Bellmann (M); 11. G. VanderWey (V)
•  U-12 girls 50 yard: 1. A. Smits (V), 28.95; 3. I. Romond (V); 5. S. Chance (M); 6. S. James (V); 8. A. Gee (V); 10. E. Brooks (V); 11. E. Eckles (V); 12. S. Kruse (V); 16. P Fearon (V)
•  U-12 boys 50 yard: 1. Cohen Howell (V), 28.14; 2. Will Clark (V); 5. N. Smits (V); 6. Clark Crary (V)
•  U-14 girls 50 yard: 4. A. Schneider (M), 28.80; 6. L. Poduschnick (M); 19. N. Roberts (V)
•  U-14 boys 50 yard: 8. Peter Maneen (V), 30.16; 10. Grey Fearson (V); 13. J. Potter (V); 15. M. Goodfellow (V)
•  U-18 girls 50 yard: 5. Natalie A. Rockwell (M), 28.44; 6. Hadley Harris (V); 10. Bee Eckles (V); 13. Carlyn Rapoport (V)
•  U-18 boys 50 yard: 4. O. Poduschnick (M), 23.55; E. Schneider (M)
INDIVIDUAL MEDLEY
•  U-18 girls 100 yard: 5. Holly P. Staats (M), 1:12.89; 8. Ava Schneider (M); 9. B. Eckles  (V); 21. Sophia James (V)
•  U-10 boys 100 yard: 2. C. Bellmann, 1:35.26
•  U-18 boys 100 yard: 2. F. Milligan (M), 57.37; 7. A. Chance (M); 11. E Schneider (M); 19. •  N. Smits (V); 20. C. Howell (V)
RELAYS
•  U-8 girls 100 yard freestyle: 2. V, A team
•  U-8 boys 100 yard freestyle: 1. V, A team, 1:19.68 (W. Kittredge, E. Parillo, T. Howell, P. Foley)
•  U-8 boys Under 100 yard medley: 1. V, A team, (E. Parillo, W. Kittredge, P. Foley, T. Howell)
•  U-10 girls 100 yard freestyle: 4. V, B team; 9. M, A team
•  U-10 girls 100 yard medley: 1. V, A team, 1:13.59 (A. Foley, M. Reese, L. Husk, J. Hutchins); 5. V, B team; 7. M, A team
•  U-10 boys 100 yard medley: 2. V, A team
•  U-12 girls 200 yard freestyle: 1. V, A team, 2:13.29 (I. Romond, A. Gee, S. James, A. Smits); 2. V, B team; 5. M, A team
•  Boys 12 & Under 200 Yard Freestyle: 1. V, A team, 1:57.31 (C. Howell, N. Smits, C. Crary, W. Clark); 6. V, B team
•  U-12 girls 200 yard medley: 1. V, A team, 2:26.27 (E. Brooks, E. Eckles, S. James, A. Smits); 5. M, A team
•  U-12 boys 200 yard medley: 1. V, A team, 2:14.28 (W. Clark, C. Crary, N. Smits, C. Cohen); 5. V, B team
•  U-14 boys 200 yard freestyle: 2. V A team
•  U-14 boys 200 yard medley: 4. V A team
•  U-18 girls 200 yard freestyle: 1. M, A team, 1:57.66 (H. Staats, L. Poduschnick, A. Schneider, N. Rockwell); 3. V, A team
•  U-18 boys 200 yard freestyle: 2. M A team
•  U-18 girls 200 yard medley: 2. V, A team; 3. M, A team
•  U-18 boys 200 Yard Medley: 2. M, A team
More News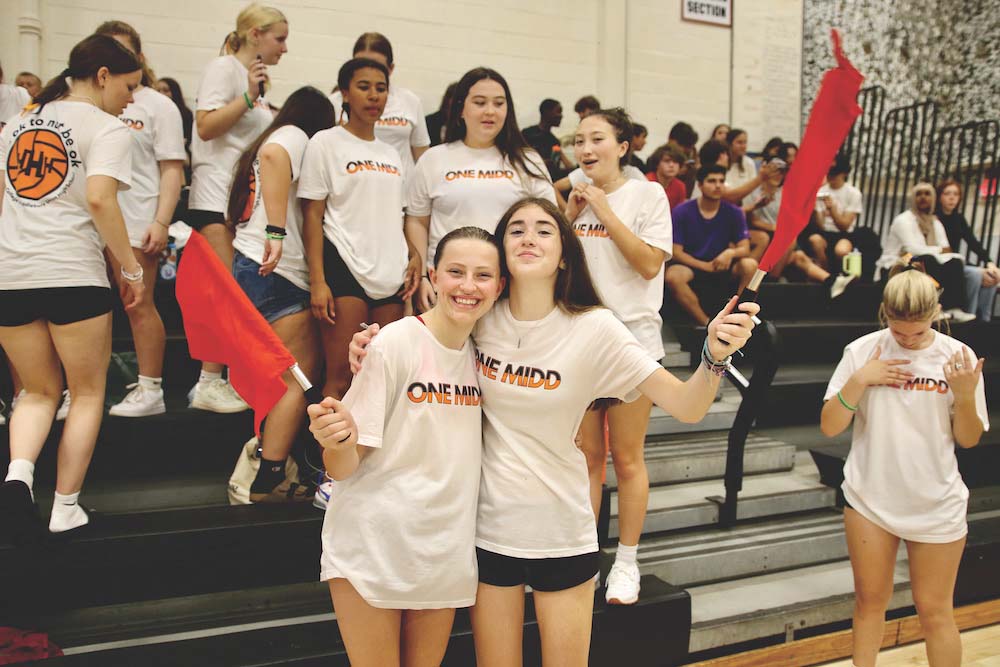 Considering the Middlebury Union High School volleyball team's decidedly successful record … (read more)
In a hard-fought girls' soccer match on this past Saturday, Middlebury outlasted Vergennes … (read more)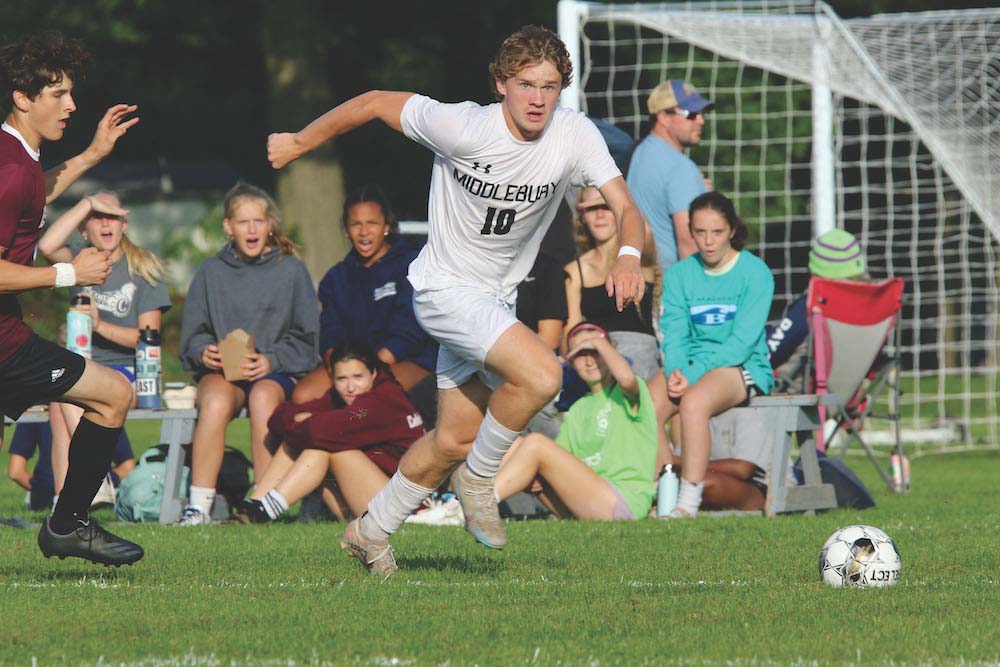 The Middlebury Union High School boys' soccer team survived a scoreless first half in whic … (read more)