Underdogs victorious in Bristol outhouse race
BRISTOL — "I am incredibly nervous," Cam Perta, 27, said. "I would love to say it's a casual fun run race, relaxing — not the case. I am a bundle of nerves. I've been up since 6 a.m. Pacing, hydrating, eating some oatmeal — you name it."
Perta, an English teacher at Otter Valley Union High School, was talking about — of course — the 44th Annual Great Bristol Outhouse Race, where two racers push a helmeted teammate sitting in a decorated latrine in several one-on-one heats.
The race took place on Bristol's Elm Street this past Sunday, the Fourth of July.
The competition, which in past years has taken place on Bristol's Main Street, was moved to Elm Street for the second year in a row after Independence Day events were canceled by the Bristol July 4 Committee over COVID-19 concerns.
But the show had to go on.
As he did last year, Elm Street resident Kris Perlee hosted the Outhouse Race this year to celebrate the birthday of his daughter, Abby.
"We'd do it here on Elm Street (again)," Perlee said, grinning broadly.
Perlee also served as the event's MC and referee.
The course this year for the initial heats was a 100-yard dash westbound on Elm Street where racers sprinted their decorated porta-potties amid the crowd's cheers.
Abby Perlee celebrated her 21st birthday by competing with teammates Anthony Robideau and Jason Martino.
Perlee's team competed against Perta's group in their first heat. Perta, who also helped organize the race this year, was eager to continue his two-year winning streak at the races.
"If this were the Olympics, it (would) truly (be) the same thing," Perta said before his first race. "I'm very confident in my team, who I believe in, and who believe in me in turn."
Perta's team consisted of himself, Gracie Coolidge, 18, and Hayden Bernhardt, 16.
Although team Perlee ran fast in their heat against Perta, Perta's trio won, throwing their latrine across the green ribbon seconds before Perlee's outhouse followed.
Celebrating their early victory on race day, Perta's team regaled the Independent with predictions of winning the championship round.
"It felt so good," Coolidge said. "It's the most adrenaline I've ever found in my body."
"(Cam is) such a motivating person," Coolidge added, looking towards their team captain, who was breathing heavily.
Bernhardt nodded in agreement and explained that critics of Cam's extreme training regimen didn't bother him.
"I applaud some of our haters, because even after we've beat them they're still talking trash," Bernhardt said.
After an additional victory, Perta was looking a little tired, but seemed upbeat about the final sprint.
"There's nothing I want more in the world than to win this last one," he said. "I'm going to make our Founding Fathers proud."
A ROYAL FLUSH
While Perta's team — wearing smart "Sea Cougars" singlets — was advancing through the Outhouse Races, another, slightly younger group of racers emerged as a dark horse just before the final race, which was 150 yards instead of the usual 100.
Those racers were Ethan Goldsmith, 17, Charlotte Crum, 12, and her sister 17-year-old Emma Crum, who is a Division 1 state champion at 3,000 meters for Champlain Valley Union High School.
For the final run, Perta's Sea Cougars lunged their latrine down Elm Street, a crowd of at least 150 people cheering. But Team Crum (and Goldsmith) inched ahead.
And then the Crums' team crossed the finish line.
They had won.
Emma Crum's teammate (and boyfriend) Ethan Goldsmith was awe-struck with their victory.
"This is my first race here," Goldsmith said. "It feels good."
"I didn't even know (the Outhouse Race) was happening today," he added.
Sister Charlotte took pride in winning the gold, too, although she felt her role as outhouse-sitter was less challenging than those of the runners.
"They just want the lightest person (in the outhouse)," she noted.
AFTER THE RACE
"It made me proud to live in this town, to be so connected to so many folks," said competitor Craig Maravich, 43, who thoroughly enjoyed this year's Grand Outhouse Race despite losing in his first round.
Maravich — who ran with Brent Crum, father of Outhouse Race victors Emma and Charlotte Crum — was grateful that he emerged from the Outhouse Race in one piece.
"I was exhausted, but I didn't get hurt," Maravich said. "I'm pretty proud of myself."
But the greatest aspect of the Outhouse Races for Maravich wasn't the wins and losses or colorful personalities of the competitors or even the lushly decorated lavatories.
It was seeing the Elm Street Community back in full swing after more than a year of social distancing.
"Seeing folks show up like this at this fun, silly race; It felt nice to be reconnected after so long," Maravich said.
New York residents Ryana Bryan and Ben Lenzer competed in the race for their first time with Cornwall resident and Middlebury College professor Will Amidon.
"I didn't realize that I would be participating in an Outhouse Race when I agreed to come to Vermont," Bryan said, laughing happily.
Perta's team took their loss in stride and congratulated the new champions.
"You learn more from your failures than your victories after all," Perta said. "What is life without setbacks?"
Perta thanked his two teammates for driving all the way from Leicester (Bernhardt) and Brandon (Grace Coolidge) to push commodes with him to the brink of victory.
"We'll be back next year; we can't wait," Perta said.
Perta, once the giant of the Outhouse Races, then collapsed with joy onto the grass of an Elm Street lawn, gasping for air.
The former victor's grace in his Outhouse Race defeat reminded this author of a verse by former Vermont resident Rudyard Kipling.
Crum, Perta, Perlee and Bryan, like all of the competitors in the Great Bristol Outhouse Race, truly filled "the unforgiving minute / with sixty seconds' worth of distance run."
More News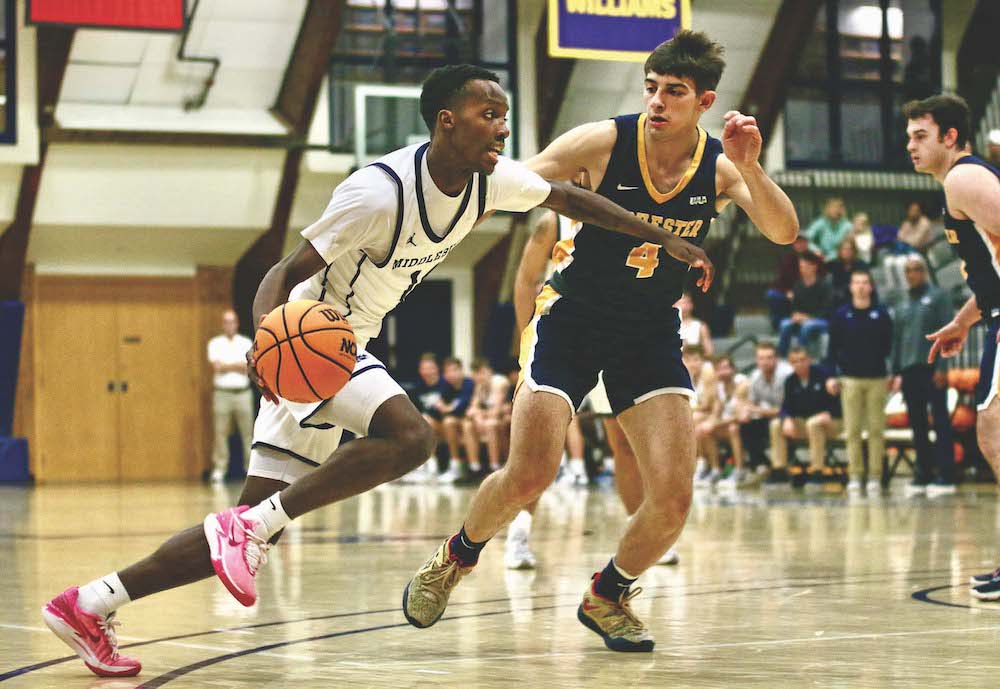 The Middlebury College men's basketball team dropped a pair of home games to teams in the … (read more)
The Middlebury College women's basketball team split a pair of games this past weekend at … (read more)
The Middlebury College women's hockey team lost one game and settled for a tie in another … (read more)