Great games, matches highlighted spring season
ADDISON COUNTY — Every time our photographers and I go out to cover a game, a match or a meet we never know what we'll see.
OK, some games are duds. Once I covered a softball game at VUHS against Mount Abraham 20 years ago. Both programs have excelled since and have produced many entertaining, well-played contests (one to be discussed here), but this was a down year.
The pitchers combined for three dozen walks, 18 in one particularly gruesome half-inning. The scorebook evidence remains in a desk drawer in the Independent office.
It was one of the most painful high school athletic events I've witnessed. And the punch line? There was a baseball game next door that ended first. Mount Abe Coach Jeff Stetson walked by. I asked him how it went.
Former Eagle and Addison County American Legion standout and soon-to-be Boston Red Sox draftee Tyler Pelland had just tossed a no-hitter, Stets told me.
I had not chosen wisely that afternoon.
But more often than not watching athletes having fun competing is the best part of my job, with all due respect to Vergennes City Council meetings, my weekly chats with Police Chief George Merkel about barking dogs and kids driving ATVs on city streets as well as more serious issues, and reports on new zoning and subdivision regulations.
This spring as usual brought some great events to watch.
There were terrific games I missed, some by the luck of the scheduling draw, some because it was another team's turn to get some coverage, and some because they were one the road.
I would have loved to have seen Eagle softball split two one-run games with Enosburg, Tiger boys' lacrosse taking eight-time champion CVU to overtime at home and edging Woodstock on the road, Eagle baseball's win over D-II finalist Spaulding, VUHS baseball's 7-6 victory at Mount Abe, MUHS softball's 20-16 slugfest victory over VUHS, and the VUHS boys' track team claim five state titles.
What were the best performances I was able to see?
•  MUHS boys' lacrosse vs. Essex in the Tigers' opener. Some context: The Tigers went 10-5 despite having just three seniors (one of whom, attacker Bode Rubright, missed the second half of the season with an injury) and two juniors on the roster. Three of their losses came to Essex, one in a quarterfinal, and the other two to CVU, both nail-biters.
In the opener Essex almost ran the Tigers off the field in the first quarter. And the Hornets would have if not for possibly the best individual performance I saw this spring: Senior goalie Jack Rizzo made 18 saves in what proved to be a 6-5 overtime loss. Half came in the first period and gave the young Tigers time to get their feet under them.
And they did, gradually playing better as the game went on. They played the Hornets on even terms in the second half, and rallied to tie the game with six seconds left on a Rubright long-range bomb. Essex won early in overtime, but anyone who watched that game knew the Tigers were going to have a good season. And that Rizzo could really play.
•  VUHS-Mount Abe girls' lax hosted undefeated Hartford in the regular season, having lost on the road, 9-5, to Hartford a result that had snapped the program's 22-game winning streak.
This time the Commodores bolted to a 5-0 lead. Then senior Sydney Weber scored key goals on clever assists in the second half, and Ashley Tierney in goal made timely saves as the Commodores held on for an 11-9 win in just a terrific all-around effort.
•  This is not really a just one game, but a sustained effort by one player I noticed mostly from afar. I only got to see Commodore baseball once: D-II finalist Spaulding defeated them. But Jarret Muzzy drilled a homer far over the left field fence in that game.
Muzzy, who pitched well for VUHS all season and joined fellow seniors Tucker Stearns and Barret Barrows as a formidable heart of the batting order, proceeded to hit a couple more homers down the stretch.
Muzzy peaked in the Commodores' eight-inning, 14-4 quarterfinal win over No. 3 Montpelier: He went four-for-four with a homer and double, drove in three runs and scored three times.
•  Sophomores Payton Vincent and Cami Willsey teamed up to shine in the Eagle softball team's 6-5, eight-inning quarterfinal victory over No. 7 U-32.
The Eagles weren't sharp for most of the game, but rallied with four runs in the bottom of the sixth to tie the score at 5-5. The big hit? Vincent, whose double had figured in the first Eagle run, hit a two-out, two-run single to tie the game.
In the eighth, U-32 put runners on second and third with none out against Eagle starting pitcher Eve McCormick. Eagle Coach Donnie McCormick then waved Willsey, who had caught the entire game, to the mound.
Willsey blew away the next two hitters with fastballs, both striking out helplessly. The next batter rolled a weak grounder to second base, and the go-ahead runs were stranded in scoring position.
Enter Vincent again. Two Eagle runners reached base, and she ripped a single up the middle to driving in the winning run.
Good teams, and good players, usually find a way to win.
•  One last contest equaled that afternoon for drama. The MUHS boys' tennis team, seeded fourth, faced a tough challenge from a lower seed, South Burlington, in a D-I quarterfinal. The Wolves had a worse record, but had played a harder schedule and had ousted the Tigers from the 2019 playoffs. And the Wolves took a 3-2 lead with two matches to go.
On one court was the No. 2 Tiger doubles team of seniors Karic Riche and Antonio Abdul Sater — not normally part of the rotation, but playing that afternoon because a teammate could not make it. They promptly lost their first three games. And then won 12 straight, and the match was tied at 3-3.
All eyes turned to No. 5 singles and Tiger senior Abel Anderson, who had lost the first set in a tiebreaker after coughing up a 5-2 lead.
But despite some dubious sportsmanship from his opponent and teammates, Anderson's play steadied in the second set, which he won, 6-2. Anderson then dominated the first-to-10-points tiebreaker, winning 10-2, to give the Tigers the 4-3 match victory and touch off a joyous round of high fives.
Afternoons like those on the Mount Abe, VUHS and MUHS campuses and on the Middlebury rec tennis courts are why many of us love sports.
More News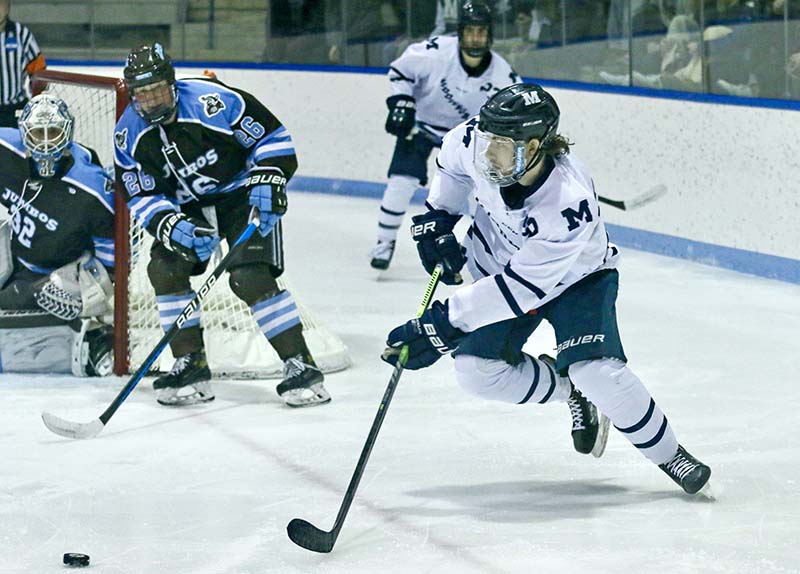 Middlebury College men's hockey surged passed Conn College before falling to Tufts this pa … (read more)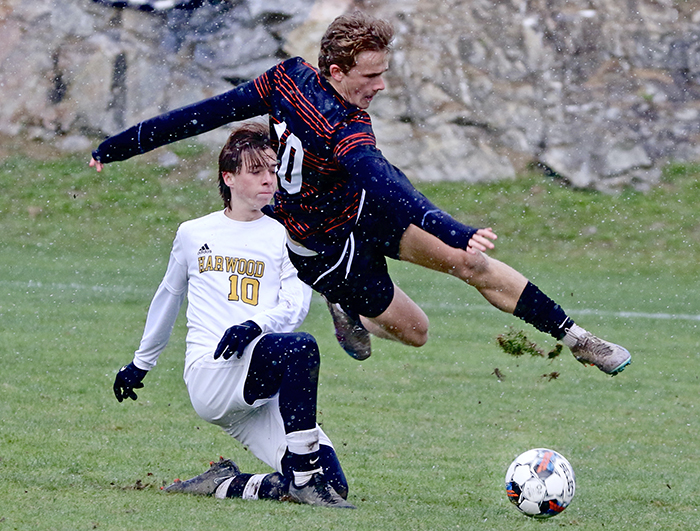 Seven local high school boys' soccer players were named to the Division II or III All-Stat … (read more)
Five area high school girls' soccer players were named either Division I or D-II All-State … (read more)