Spring sports brought fun, success
ADDISON COUNTY — There were titles won — notably by two Vergennes senior runners — but the best part of the 2021 high school sports spring season was, well, that there was a season.
The spreading COVID-19 pandemic wiped out high school sports in spring 2020, but starting in mid-April this year, high school athletes hit homers, struck out batters, saved shots, flung discuses and Frisbees, ran races and passed batons, and struck volleys for winners.
OK, let's be real: Sometimes they struck out with the bases loaded, booted grounders, shot wide and missed catches, dropped Frisbees or batons, and double-faulted.
But most importantly they competed, smiled and had fun, and enjoyed the fact that this season, unlike the winter, friends and family members could attend events and cheer them on.
The fact that more local teams than not were successful, while runners won a half-dozen titles on the track, that was all icing on the cake.
TOP EFFORTS
Some teams and individuals in particular deserve a tip of the cap.
The Vergennes boys' track team rocked again, winning five events at the Division III championship meet at Windsor and finished third among 11 teams. That's remarkable for a group with no track on which to practice and no competitors in a jumping or throwing event.
Seniors Ben Huston and Gabe Praamsma wrapped up great careers by figuring in all five state meet victories.
Huston won easily at 3,000 and 1,500 meters, and earlier this spring set three school records in the distance events. Praamsma won the 800 championship in a close race by running the second-fastest time in school history. Both ran on the Commodores' victorious 4×400 and 4×800 relay teams, each of which romped to wins.
With their performances Huston and Praamsma became the first- and second-most decorated athletes in VUHS history, with 11 and eight state championship medals, respectively.
Joining them on the 4×400 team were senior Aiden Gebo and freshman Ryder Messinger, and running with the pair on the 4×800 group were Gebo and classmate Jarret Muzzy.
The Tiger girls' track team also made some noise in the D-II meet at South Burlington. Junior Hannah Turner won at 400 meters, and senior Sofia Stefani wrapped up her outstanding season with top-three finishes at 800, 1,500 and 3,000 meters.
Stefani also ran for a top-three Tiger relay team, and her coach said she scored the most individual points for a Tiger track team in at least 21 years as the Tiger girls finished fifth.
As for the single most successful team result this spring, how about that MUHS girls' tennis team?
The Tigers combined two new starters — a sophomore at the top of the singles ladder, Scarlet Carrara, and a freshman No. 5 who had never played before, Paige Hescock — with seven returning starters: seniors Abby Bailey (No. 3 singles), Elizabeth Bright (No. 4 singles), Lois Alberts and Emma Franklin (No. 1 doubles), and Gwen Troumbley and Bridget Graham (No. 2 doubles); and junior No. 2 singles player Julia Bartlett.
All compiled great individual records. Collectively, they went 10-0 in the regular season and won two playoff matches to reach the D-II final. There, in a rematch, No. 3 Montpelier reversed an earlier 4-3 loss to the Tigers with a 4-3 victory.
To put all that in perspective, the program hadn't won a playoff match since 2016 and a title since 1996.
It was a remarkable season, and Coach Jill Dunn said the team was close-knit and enjoyed itself.
SEMIFINAL SQUADS
Another half-dozen teams reached playoff semifinals before bowing out:
•  The Mount Abraham softball team went 15-3, but could not claim its fourth straight D-II title. The No. 2 Eagles fell to No. 3 Enosburg in a semifinal, a result that snapped a 10-game winning streak that included a win at Enosburg.
Coach Don McCormick's Eagles had only two seniors on the roster and will be back.
•  VUHS-Mount Abe girls' lacrosse failed to defend their 2019 title, but to be fair they played without injured starting senior goalie Ashley Tierney in their semifinal setback, in which they outshot eventual champion Green Mountain Valley. Their 13-3 record included a victory at South Burlington, the D-I girls' lax champion.
•  Make some money with this piece of trivia. Six county teams lost semifinals this spring: Which came closest to winning?
Answer: VUHS-Mount Abe boys' lacrosse. The D-III Eagles had a tough early schedule against D-II teams, but improved during the season and closed by winning four out of five to enter the D-III playoffs with a 5-8 record and a No. 4 seed.
After a quarterfinal win, the Eagles in their semifinal led top seed and eventual champion GMVS, 9-7, late in regulation, but couldn't quiet hold on in a 10-9 setback. Great effort, guys.
•  Ask a Commodore team in 2020-21 what school they would least likely to see in the playoffs, and the answer would probably be Peoples Academy. Peoples upset the top-seeded boys' soccer team in a semifinal on the way to winning the D-III title last fall, and also knocked off the No. 7 girls' softball team in a first-round upset this spring.
And who did the No. 6 VUHS baseball team run into in its semifinal: Eventual D-III champion Peoples, which ended another Commodore season with a 6-2 victory. The Commodore nine were another team that played well in the second half of the season, even if they fell short of their goal of back-to-back appearances in a D-III final. Fine season.
•  Two Tiger teams probably exceeded expectations, both under new coaches. Teacher Dan Comar took over the MUHS boys' tennis program when Ken Schoen had a work conflict. The Tigers followed up a 9-2 regular season that earned them a No. 4 seed in D-I with two playoff wins before falling to undefeated No. 1 Burlington in a semi.
Bob Cameron took the reins of MUHS softball when work also got in the way for Coach Polly Rheaume, and his Tigers came on strong at the end of the regular season to finish 9-6. They earned the No. 5 seed and won twice before running into Lyndon in a semifinal.
Finally, conduct matters. Congratulations to the Tiger boys' lacrosse team for being voted the D-I Sportsmanship Award by the state's lacrosse officials, and to the Tiger boys' Ultimate team for receiving this spring's Varsity Spirit Award, which especially in the culture of that sport counts for something.
More News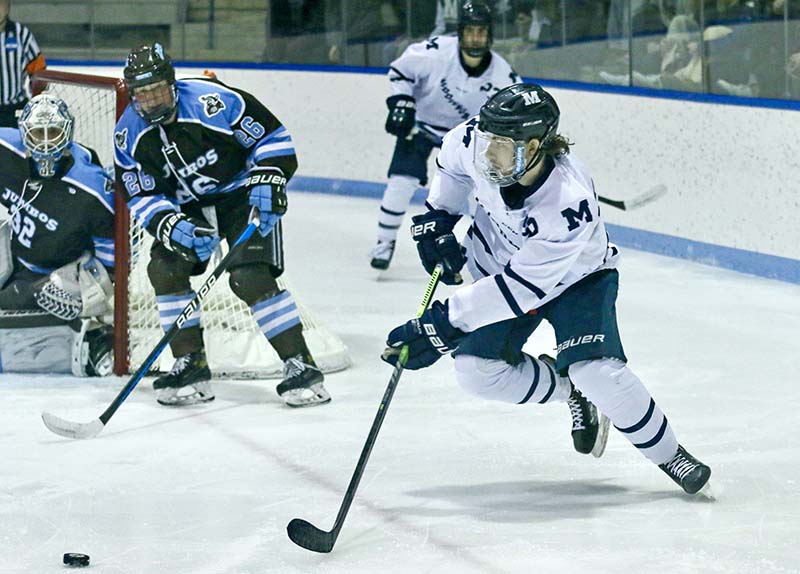 Middlebury College men's hockey surged passed Conn College before falling to Tufts this pa … (read more)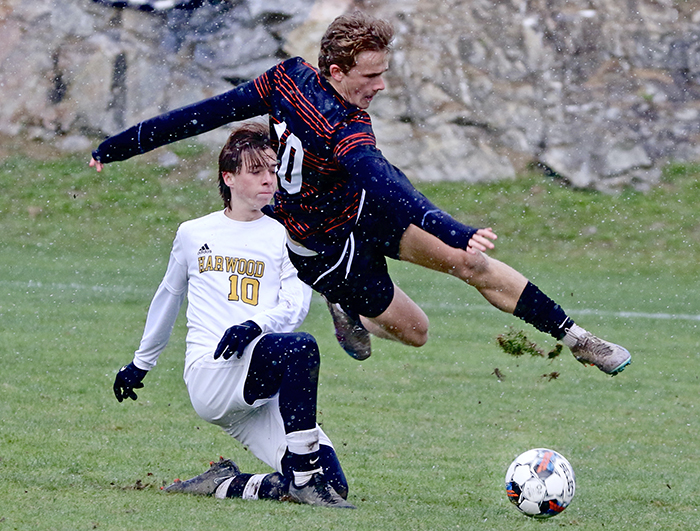 Seven local high school boys' soccer players were named to the Division II or III All-Stat … (read more)
Five area high school girls' soccer players were named either Division I or D-II All-State … (read more)