Tiger boys' tennis falls in semifinal
MIDDLEBURY — The Middlebury Union High School boys' tennis team enjoyed one of the program's best seasons this spring, but on Monday failed to accomplish what no other team has also been able to do — knock off undefeated top seed Burlington.
In a Division I semifinal, the Seahorses prevailed, 7-0, ending the No. 4 Tigers' season with an 11-3 record that included two playoff victories.
It can't be called a surprise: The host Seahorses, who improved to 12-0, have won half of their team matches without dropping a set and have lost only eight individual matches all spring.
After the Tigers' dramatic 4-3 quarterfinal win over South Burlington three days earlier, Coach Dan Comar said the Seahorses would show his team — which expects reinforcements from talented young players next spring — what they can aspire to in the coming seasons.
And he said no matter what the outcome on Monday, the Tigers would be proud of what they had achieved in a spring that started with such uncertainty.
"This year is a success no matter what happens Monday," Comar said, adding, "They were just so happy to be playing this year."
The results on Monday showed a couple of close sets, notably for the top three players on the singles ladder, particularly No. 2 Andy Giorgio, a senior:
At No. 1 singles, Hugo Crainch, BHS, defeated Clyde Malhotra, MUHS, 6-4, 6-0.
At No. 2 singles, BHS, defeated Giorgio, MUHS, 7-6, (8-6), 6-4.
At No. 3 singles, BHS, defeated Kellan Bartlett, MUHS, 6-3, 6-3.
At No. 4 singles, BHS, defeated Aidan Chance, MUHS, 6-1, 6-3.
At No. 5 singles, BHS, defeated Abel Anderson, MUHS, 6-1, 6-0
At No. 1 doubles, August Rinehart/Mark Munson, BHS, defeated Aiden Cole/Oliver Poduschnick, MUHS, 6-2, 6-2.
At No. 2 doubles, Khiem Nguyen/Nevin Morton, BHS, defeated Henry Weston/Brian Newton, MUHS, 6-1, 6-1.
As the playoffs opened last week, the Tiger boys coasted past No. 13 Colchester, 7-0, on Wednesday, dropping the Lakers to 2-11, before rallying by No. 12 South Burlington in Friday's quarterfinal. The Wolves finished at 6-8 against a tough schedule.
The Tiger boys found themselves in a hole vs. SBHS after losing the Nos. 1, 2 and 3 singles matches. But Chance at No. 4 singles and the newly formed No. 1 doubles team of Poduschnick and Newton (stepping up from No. 2 doubles to fill in for Cole, who had an unbreakable family commitment) pulled out tight two-set wins.
That left the Tigers' fate up to another newly formed doubles team, seniors Karic Riche and Antonio Abdul Sater, and Anderson, the senior No. 5 singles player.
Riche and Abdul Sater lost the first three games and then won 12 straight to prevail in straight sets. Then all eyes turned to Anderson, who lost the first set in a tiebreaker. But his play steadied in the second set, and he rolled to a 6-2 second-set win and then dominated the first-to-10-points tiebreaker to give the Tigers the 4-3 victory.
"He's done that all year," Comar said of Anderson. "That was the best opponent he's played, so it took him a while to adjust to what it would take to win it. Then he bore down and took care of business. And he knew we were tied at three, and he said, 'I got this.'"
More News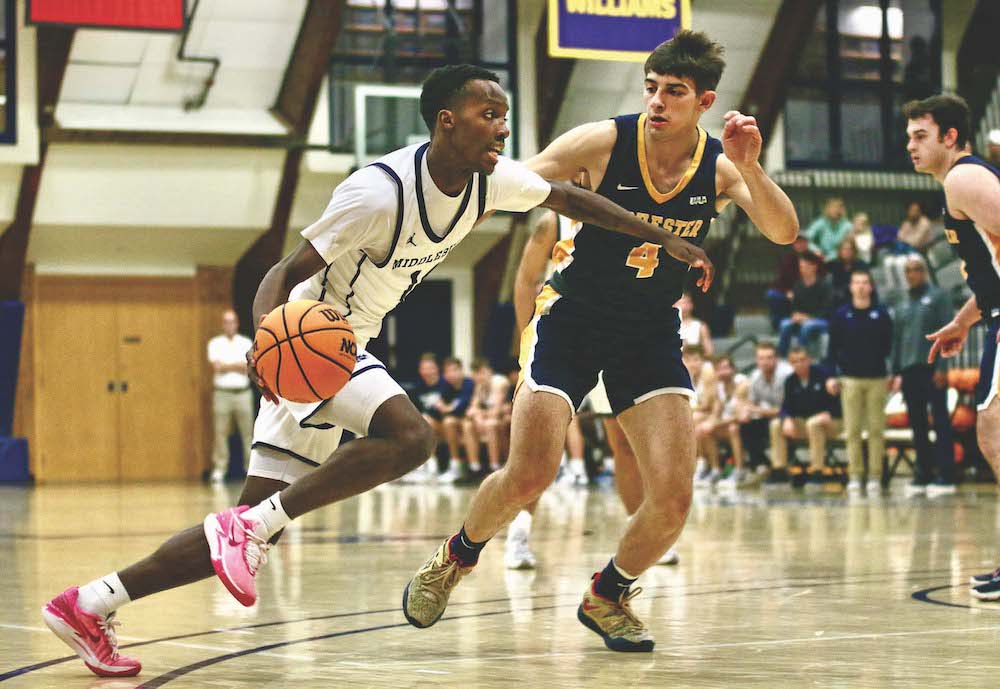 The Middlebury College men's basketball team dropped a pair of home games to teams in the … (read more)
The Middlebury College women's basketball team split a pair of games this past weekend at … (read more)
The Middlebury College women's hockey team lost one game and settled for a tie in another … (read more)