Eagle softball falls after dramatic win
BRISTOL — The Mount Abraham Union High School softball team's long reign over Division II came to an end in a Tuesday semifinal, when visiting No. 3 Enosburg rode the three-hit, six-strikeout pitching of Dana Elkins past the Eagles, 7-0.
As well as winning three straight D-III titles, Mount Abe had won 10 straight games this spring since losing, 6-5, at home to Enosburg, on May 10. That winning streak included an 8-7 win at Enosburg on May 18.
Each team entered Tuesday's game with just two losses. Enosburg, which has a 14-2 record, advanced to the final against the winner of a Wednesday game between No. 1 Lyndon and No. 5 Middlebury.
The Eagles, a team with just two seniors — center fielder Karissa Livingston and first base Cami Masse, who missed the postseason with an injury — finished another outstanding season at 15-3.
Enosburg had plenty of offense on Tuesday as well as strong pitching. Emma Keelty singled, doubled, and scored twice; Makenna Lovelette singled and doubled and drove in two runs; and Lexus Conger singled twice and drove in two runs.
For the Eagles sophomore third base Payton Vincent, a hero in Saturday's quarterfinal victory, singled and doubled.
QUARTERFINAL DRAMA
For most of Saturday's Division II home quarterfinal against No. 7 U-32, it didn't look like the three-time defending champion Eagles would reach Tuesday's game.
Maybe it was the first-round bye that meant a long layoff, but the Eagles looked rusty.
Meanwhile U-32 (9-6) swung the bat well and made plays in the field. The Raiders scored two in the first, two in the third and one in the fifth, with standout catcher and leadoff hitter Sage Winner sparking the rallies. They led, 5-1, after five innings.
But good teams find ways to win, and Mount Abe did, 6-5 in eight innings.
At the top of the list of many Eagle contributors were two sophomores: Vincent, who tied the game at 5-5 with a two-out, two-run single in the sixth and then stroked a walk-off single in the eighth, and Cami Willsey.
Willsey, who started the game at catcher, moved from behind the plate to the mound in the top of the eighth with Raider runners on second and third and none out. She replaced sophomore starter Eve McCormick, who pitched well, allowing nine hits and three earned runs while striking out seven and walking none.
Willsey stranded the runners by striking out the next two hitters with pure heat and retiring the third on a grounder to second base Madelyn Hayden to set the stage for the Eagle victory.
"Cami Willsey came in and shut the door," said Coach Donnie McCormick. "Eve battled through. She didn't have her best stuff today, but she battled through."
Coach McCormick acknowledged the Eagles were not their sharpest earlier on.
"Obviously having a nine-day layoff between games and having that bye is not a great thing for a team that is used to playing," he said.
He also credited U-32's play on Saturday.
"That's a good hitting team. They made probably more plays in the field, admittedly by their coach, than they have in a long time," he said.
The Raiders started causing trouble in the first. A Winner single and an error put runners on second and third, and U-32 clean-up hitter Allie Guthrie laced a double to make it 2-0.
In the third a Winner single, a hit batter, an Elizabeth Guthrie RBI single, and an Allie Guthrie sacrifice fly on which Livingston made a fine catch made it 4-0.
The Eagles got a run back in the fourth, but could have had more if not for a runner being picked off with none out. The run scored when losing pitcher Grace Johnson hit Lucy Parker with a pitch to force in the run after a Vincent double, a walk, and Natalie Chase's infield hit loaded the bases.
The Raiders made it 5-1 in the fifth. Winner reached on an infield hit and came around on a stolen base, wild pitch and groundout.
The Eagles finally got to Johnson in the sixth. Gabrielle LaFreniere walked and moved to third on a wild pitch and groundout. Madelyn Hayden singled to score LaFreniere, and Livingston walked and Bella Powell singled to load the bases.
Willsey scored Livingston with a sacrifice fly, and the runners moved to second and third on the throw home. Vincent then laced a single to score both and tie the game.
The Raiders put two runners on in the top of the seventh, but Chase at first base stabbed Allie Guthrie's hard grounder to end the threat.
The Eagles loaded the bases with one out in the bottom of the inning and looked poised to win, but the Raiders turned a Livingston line drive into an unassisted double play to force extra innings.
Kaelyn Howard doubled to lead off the U-32 eighth, and Caitlin McGinley followed with an infield hit and stole second, putting two runners in scoring position.
McCormick called for Willsey, and two Raiders went down hacking helplessly and the third rolled a weak grounder.
In the Eagle eighth,
Powell reached on a miscue, Johnson was hit by a pitch, and Powell stole third. Then Vincent ripped a single to end the game, and the celebration began.
"We're just really glad to keep going with this young team," McCormick said.
More News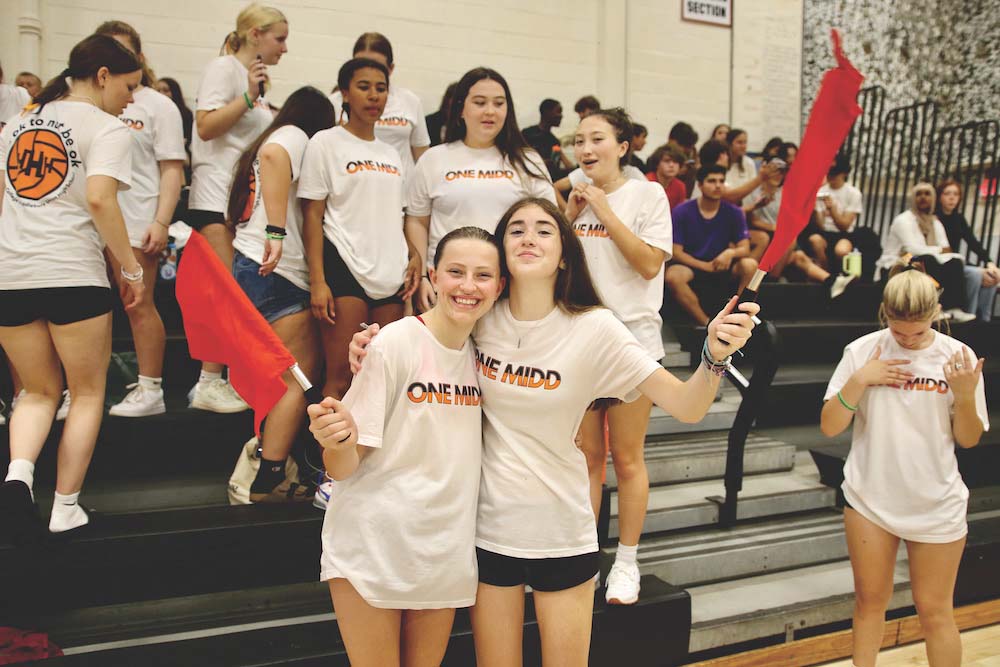 Considering the Middlebury Union High School volleyball team's decidedly successful record … (read more)
In a hard-fought girls' soccer match on this past Saturday, Middlebury outlasted Vergennes … (read more)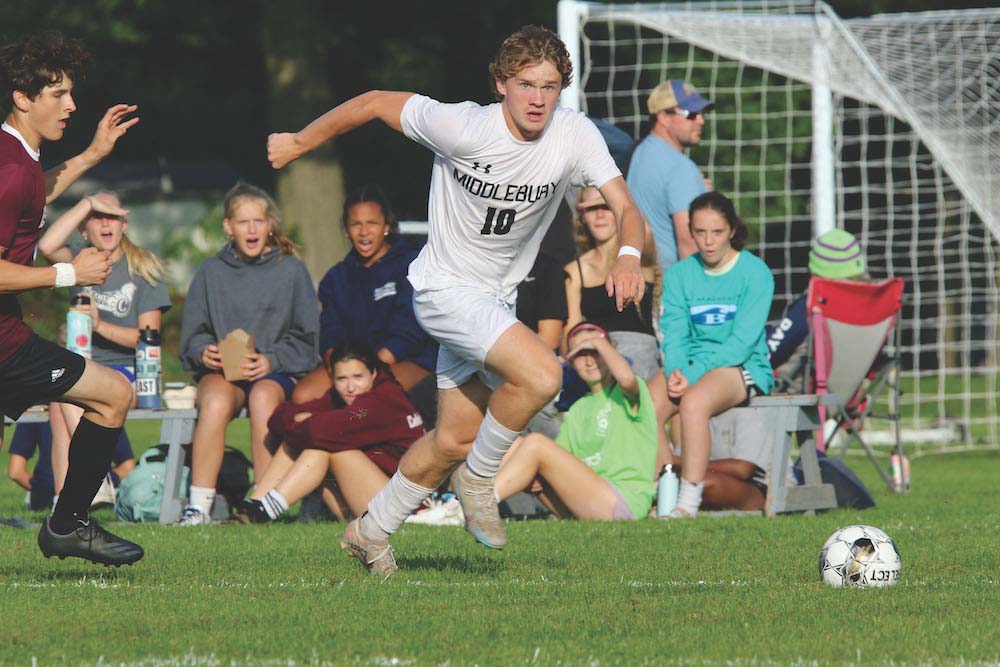 The Middlebury Union High School boys' soccer team survived a scoreless first half in whic … (read more)