Competition heats up on Vergennes ballots
I've been amazed at how quickly the kind national discourse has entered into our community.
— Matt Chabot
VERGENNES — Former Vergennes City Councilor and City Manager Matt Chabot was the only resident to file for the vacant position of mayor by Monday's deadline, and he will face no opposition for the post on the city's March 2 ballot.
The race for three openings on the city council, however, is contested on the ballot, and write-in efforts are always possible in either race.
Multi-term incumbent Lowell Bertrand, who became deputy mayor in September, and fellow incumbents Mel Hawley and Ian Huizenga, who joined the council this past September after special elections, will face two challengers on the ballot.
One is former multi-term Addison Northwest School District (ANWSD) board member and former Chair Sue Rakowski, and the other is Raymond Henry Paul, who ran unsuccessfully for the council in September.
Running unopposed elsewhere on the ballot are incumbents Mark Koenig as an ANWSD board member and Thelma "Kitty" Oxholm as a Vergennes-Panton Water District commissioner.
CHABOT RETURNS
Chabot, who has extensive managerial experience in the private sector, notably in Burlington, will return to public service after resigning as city manager in late 2019 to work for Ferrisburgh attorney, landlord and real estate developer David Shlansky. Chabot said Shlansky supported his decision to file for the mayor's position.
After serving about two-and-a-half years on the city council, he had basically volunteered for the manager job after Vergennes came up empty twice in formal searches to replace Hawley. Chabot was quickly hired.
In responding to questions about his decision to run for mayor, Chabot first referred to his tenure as a councilor. He said he believes there is "cause for optimism" in Vergennes, and he hopes to help restore the council's ability to reach consensus with greater calm.
"I always said that when we didn't always agree initially the council always found a way to come to an agreement. And I look forward to getting back to work with a group that hopefully we can find that common ground again," Chabot said.
He views a return to civility and stability as "extremely important" in Vergennes and its government if the city is to move forward.
"I've been amazed at how quickly the kind national discourse has entered into our community," Chabot said. "I feel that we are better together than what we have been reflecting over the recent past."
He pledged that he and the council would hear all voices, even if not all would necessarily like the results.
"I think that engaging with everybody in our community is critical to moving forward. In my past lives, I've always run my organizations so that everybody has a seat at the table," Chabot said.
He said he looks forward to working with the council "whatever the composition ends up being," and also collaborating again with City Manager Ron Redmond.
Redmond was the executive director of the Church Street Marketplace when Chabot sat on its board, and they had a 15-year relationship in Burlington.
"I'm hoping that we can leverage that relationship as well to move us forward quickly," he said.
COUNCIL RACE
The city council candidates were asked why they chose to seek two years on the governing body.
Bertrand cited his several terms as a councilor and also expressed optimism:
"I grew up in this city and have been on the council for a number of terms, but would never have thought a year like this past one was possible. Hopefully the healing process has started. Citizen interest/participation is higher than I have ever seen it. The energy from that interest could lead to some great ideas and a brighter future. And I want to be around to help facilitate forward momentum."
Rakowski talked about representation and hinted that her experience in civic service could be helpful:
"I decided to run, in part, because there will be only one woman remaining on the city council and I feel it is important to have balanced representation. If elected, I look forward to working together with the rest of the council to ensure good governance in Vergennes."
Paul emphasized unity new points of view:
"I decided to run again because I'm dedicated to seeing Vergennes a connected and prosperous city. I can bring a fresh, unbiased perspective and I'm passionate about bringing our community together. Working together is critical for our community to solve the problems we face as one."
Hawley cited his past experience and desire to continue to serve:
"The reason why I am running this time is exactly the same as when I ran last September. I want to continue to be a resource to the members of the city council and our new city manager. I am extremely fortunate and grateful to have had the opportunity to serve my hometown. I am hoping that voters will again value my experience and historical knowledge."
Huizenga said the collaborative process of hiring Redmond gave him hope moving forward.
"We had just started to do some good things when we got Ron on board. I could see the first positive signs in a while of working together," he said. "We did a great job with the entire group, the council, to come up with one of the best city managers we've had in a very long time. Time will tell, but I think the positivity and energy he will bring is great. And the teamwork he had to get him on board was a very positive thing, and I just wanted to continue that."
At Tuesday's council meeting Mayor Lynn Donnelly praised the field of candidates.
"It's a great slate," Donnelly said. "There's plenty to choose from."
More News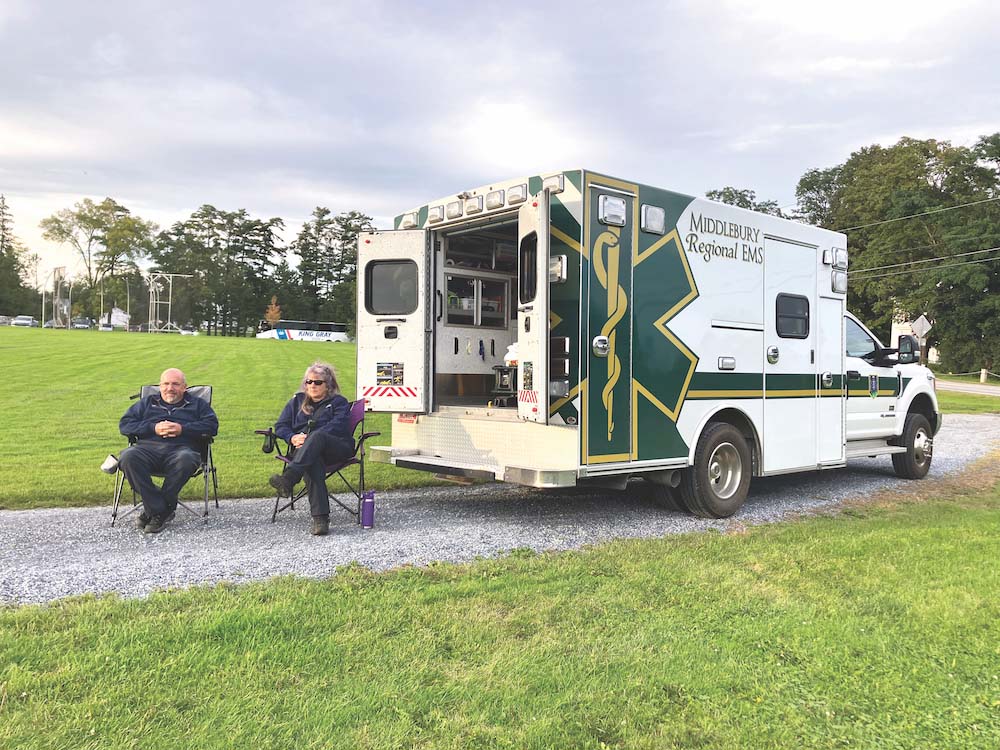 Middlebury Regional Emergency Medical Services wants to eliminate its annual Town Meeting … (read more)
Middlebury police are investigating the death of a Middlebury College junior and say the p … (read more)
Vergennes resident Margaret Clifford offers nearly a century of recollections, from losing … (read more)