Athletes persevered through the pandemic
With masks and all we still got out there, we did our best. And we won, which is really cool.
— Eagle goalie Maddie Donaldson on winning the D-II field hockey crown
ADDISON COUNTY — The past year was not ideal for sports, thanks to the COVID-19 pandemic.
But once we all figured out how we could compete in many sports safely, the athletes and lovers of athletics among us found some pretty good ways to play and watch.
Last week we recapped the active winter sports season, virtually non-existent spring season, and the emergence of at least some athletes over the summer.
This week we look back at fall and early winter sports in Addison County.
SEPTEMBER
Sept. 8 was a big day — high school athletes could practice again while observing COVID-19 protocols, with the understanding competition would begin on Sept. 21.
Or not. The expected announcement from state officials never came, and for a few days the season seemed to hang in the balance.
Finally, on Sept. 22 state officials said games could start on the 26th.
Among officials, athletes and parents there was muttering behind the scenes about the lack of communication, but most events were rescheduled. And once the athletes hit the field, well, it looked like sports.
With the possible exception of football. Football was different: No hitting, no blocking, no rushing the passer, no running plays. Teams played 7vs.7 touch football, with a center who did nothing but hike the ball to the quarterback and five receivers on offense, and seven defensive backs on the other side. It was fun to watch, especially given that linemen got to have their day in the sun.
Soccer, field hockey, golf and cross-country looked like sports as usual once the students got past the safety protocols to make it to the field, course or trails. 
In the first games played on the 26th, the VUHS soccer teams swept two games from visiting Missisquoi on the 26th, 3-0 for the girls and 1-0 for the boys. 
In football, the Tigers topped the Otters, 20-14, as MUHS QBs Ryan Thomas-Danyow and Zach Bean combined to complete 32-of-48 attempts through the air for three touchdowns. Those were passing numbers for the MUHS program the like of which we would see again this fall, but probably not again in our lifetimes.
 Also on the gridiron, host Colchester topped the Mt. Abe-VUHS collective, 36-20, but the Eagles picked up 296 yards of offense and were competitive; they would remain so and finished with a 4-4 regular-season record. Adam Mansfield and Carmelo Miceli in particular put up big numbers.
Early boys' soccer games gave a picture of where the local teams stood. On Sept. 30 MUHS thumped the Eagles, 7-1. Tigers Alex Bleich and Owen Connelly scored two goals each.
OCTOBER
Then in early October the host VUHS boys and MUHS battled to a 1-1 tie. Connelly's goal gave MUHS the early lead, but Ethan Gebo, from Tucker Stearns, equalized late. Both teams would play well.
The Eagles bounced back from their opening loss to edge Missisquoi, 2-1, as Joe Graziadei and Neil Guy scored for Mount Abe.
There were few meets in the short cross-country season. Mount Abe hosted MUHS and VUHS early on. The Tiger girls were uncontested, with only four Eagle runners and none from VUHS. Sophomore Seina Dowgiewicz and junior Ella Landis led the Tigers, as they did all season.
The Tiger boys cruised, but VUHS senior Ben Huston rolled to the solo win, followed by Tiger Jack Christner and Commodore Gabe Praamsma. Those three would duel throughout the fall. Eagle Noah Engvall took fifth.
Early field hockey results also painted a picture. When Mount Abe defeated the Tigers, 5-0, the Eagles remained undefeated, and the Tigers slipped to 0-3. MUHS had moments this fall, especially all-star goalie Cassie Bettis, but failed to win. The Eagles? Stay tuned. 
Also early this season, OV beat visiting Fair Haven, 3-0, with a three-goal eruption in the fourth quarter. Alice Keith netted the game-winner in what proved to be the first varsity victory for new coach Julie Keith.
The shortest of the fall seasons was golf. The girls' championship was decided in Swanton on Oct. 6, when OV's Mia Politano's quest for a third straight individual title fell short. Politano and younger sister Elena Politano also finished second as a team in D-II.
The Politanos also made an impact on the soccer pitch. Mia ended up as a Southern Vermont League all-star, but Elena had the bigger day as the Otters won their opener, scoring four times as they beat Mill River, 7-1. Mia did chip in one goal, the first of many this fall. New coach Tammi Blanchard was a winner in her debut.
Local girls' soccer teams seemed to produce gems when they met. Early on, MUHS hosted VUHS. MUHS took the lead on 25-yard bomb from Zoe Noble. VUHS scored twice in the second half, a laser free kick from Sydney Weber and a solo run by Felicia Poirier. It looked like VUHS was in charge, but Cady Pitner netted the rebound of an Ivy Doran shot to forge the tie. Tiger goalies Julia Bartlett and Audrey Schnoor and the Commodores' Kate Gosliga all snuffed breakaways. Nobody went home unhappy.
Middlebury College made it official on Oct. 8: Panther teams, like their NESCAC foes, would not participate in sports this winter.
The VUHS boys picked up a huge soccer win mid-month, dealing 2019 Division II champion Stowe its first loss since the 2018 season, 2-1 in double overtime. Jonah Mahé knocked in the game-winner, assisted by Avery Husk.
Was 7v7 football really entertaining? Well, the Tigers defeated visiting rival Rutland, 24-21, when as time expired Nikolai Luksch drilled a 20-yard field goal. His boot capped a game-winning, 67-yard march in which Luksch also caught a pair of passes from Zach Bean. The Tigers finished just above .500.
In the final regular season game for both soccer teams, the VUHS boys visited Mount Abe. The Commodores, looking to nail down the No. 1 seed in D-III, cruised to a 3-0 lead on two goals by Jonathan Willis and one by Jonah Mahé. It looked like a cakewalk with less than 11 minutes to go. But then Eagle defender Griff Paradee and striker Jake Lucarelli struck for goals 20 seconds apart. Mount Abe had one more good look that sailed just wide, and VUHS hung on, finished 7-1-1 and earned the top seed.
Most soccer playoffs concluded in October.
On the girls' side, three teams were eliminated quickly. No. 11 OV (4-6), No. 13 MUHS (1-6-2) and No. 14 Mount Abe (1-9) lost first-round D-II match-ups.
The Commodores, the No. 4 seed in D-III, were the exception. They got past No. 13 Peoples, 2-1, in the first round, on goals by Felicia Poirier and Sydney Weber. On Oct. 31 Poirier's goal in the third minute of overtime sent the Commodores past No. 5 Green Mountain Union, 2-1. Allie Croke picked up both assists. 
The Tiger boys picked up two one-sided playoff victories with two-goal performances from Owen Connelly, Alex Bleich and Andy Giorgio along the way. Nemesis Milton ousted them in a semi, but the Tigers made the most of a season they were not even sure would occur.
Bleich spoke afterward: "This team is amazing. The way that we were able to rebound after losing all the seniors from last year and be in the place we are now, I'm really proud of everyone. I'm very happy to be here. I love these guys to death." 
The No. 12 Eagles (2-7) played Woodstock tough, taking the Wasps to penalty kicks after overtime failed to produce a winner before losing.    
Vergennes earned a first-round bye in D-III. On Oct. 30 the VUHS boys dismissed No. 8 Mill River, 5-1, in a quarterfinal.
Oct. 31 brought the state cross-country championships in Thetford. The Tiger girls and boys each finished fourth in D-II, the Commodore boys were fifth in D-II, the OV boys were fifth in D-III, and the OV girls were sixth in D-III. The best results for the Eagles came from Noah Engvall for the boys and Abigail Johnson for the girls.
In their final three-way duel of the season, Commodore Gabe Praamsma (ninth) edged Tiger Jack Christner (11th) and his Commodore teammate Ben Huston (12th) in the D-II race for the best individual local finish. Only six seconds separated the three local standouts.
In the girls' D-II race Tiger Ella Landis finished 15th, with teammate Seina Dowgiewicz just three seconds behind in 18th in 22:17.2 for the best local efforts.
The best effort in D-III came from OV's Parker Todd, who took 11th. 
In field hockey, Mount Abe (4-1) earned D-II's top seed in D-II. OV (3-3-2) got the No. 7 seed, and hosted No. 10 MUHS in a play-in game.
It proved to be the closest MUHS came to a win. But OV prevailed in double OT, 1-0, when Ryleigh Laporte batted a ball out of mid-air that deflected past Tiger All-Metro goalie Cassie Bettis. No. 2 Burr & Burton topped OV in the next round.
The Eagles got past No. 8 Hartford in a quarterfinal, 2-1 on goals from Maddie Gile and Molly Laurent. The Eagles then blew out Woodstock in a semifinal to set up the inevitable meeting with No. 2 Burr & Burton (8-1) in an Oct. 31 final on South Burlington's turf field.
BBA has its own turf field and a more experienced roster, and the Bulldogs outplayed the Eagles for three periods.
But it didn't matter. BBA made mistakes, missing a penalty stroke and then playing shorthanded in the overtime periods due to unnecessary infractions. The young Eagle back line held. Gile scored in the fourth period to give the Eagles the lead. After BBA equalized, the two OTs failed to produce a winner.
In a shootout, Eagle goalie Maddie Donaldson dominated, allowing only one BBA shooter out of five to score. Gile banged in the tying shootout score, Txuxa Konczal slipped home the winner, and the Eagles claimed their third straight title and 10th since 2000.
Donaldson summed up: "It's cool. Because with masks and all we still got out there, we did our best. And we won, which is really cool."
NOVEMBER-DECEMBER
Only two teams still played in the final team action of 2020.
On Nov. 4 the top-seeded VUHS boys' soccer team found heartbreak at home that ended the program's finest season in many a year. The Commodores and Peoples, the No. 4 seed, went toe-to-toe for more than 79 minutes in a scoreless semifinal.
In the final seconds two players collided. Was it a foul? On whom? The whistle blew. The official pointed to the VUHS goal, 25 yards away. A Peoples middie raced to the ball and fired. The ball hit a Commodore back and deflected into the goal at 0:11.
VUHS finished at 8-2-1. Peoples went on to win the D-II title.
On the same day the VUHS girls traveled to undefeated No. 1 seed Enosburg for a semifinal. They won, 2-0, on goals from Rhode Miguel and Sydney Weber and a two-save shutout from goalie Kate Gosliga.
That meant a Nov. 7 finals date with No. 6 Stowe, a team that entered the playoffs with a misleading 5-6 record — the Raiders played a tough schedule. 
Stats were basically even in a game played in Hartford. But the scoreboard favored the Raiders, 4-0, after Stowe scored three goals in the final 13 minutes.
Still, only one team, the Commodores, who finished 7-3-3, can make the claim to have made the D-III final for each of the past three seasons.
Deer hunters made news the rest of the year. Archery season got off to a good start, although Youth Hunting Weekend numbers were nothing special, even with the addition of older "Novice" hunters into the mix by the Fish & Wildlife Department. The new early muzzleloader season spanning late October and early November proved popular.
As rifle season opened in mid-November Chris Hanson shot a 262-pound, 10-point buck in Shoreham. It is probably a county record, and it is the 10th-largest buck on record ever taken in Vermont.
The number of bucks weighed at a county reporting station or reported online to Fish & Wildlife during the rifle season totaled 647; that was 53 more than the Independent ever tallied in the county. It was definitely a record since a statewide ban on shooting spikehorn bucks was enacted in 2005. Average weight at 147.8 pounds also set a new Independent mark.
By mid-December final archery and muzzleloader deer season numbers were in, and 2020 had brought more good news: Hunters had weighed in Addison County or reported to Fish & Wildlife online from the county 1,745 deer this season, 400 more than in any year since the Independent has tracked numbers.
As recently as 2010 and 2011 the count — including rifle, muzzleloader and archery seasons, plus Youth Hunting Weekend — was fewer than 800.
A number of hunters brought down bucks weighing more than 200 pounds. As well as Hanson's 262-pounder, David Palmer killed a 242-pound, 9-pointer during archery season and weighed it at Vermont Field Sports in Middlebury. Any other year, and it would probably have been the largest in the state, never mind the county.
Anyone have any venison sausage recipes to share?
In early December the Middlebury College Snow Bowl and Rikert Nordic Center announced they would open, with many safety provisions in place.
Gov. Phil Scott on Nov. 23 announced that the start of winter high school sports practices, set for Nov. 30 by previously released guidelines, was indefinitely postponed. Lather, rinse, repeat: That start date kept getting moved back during the next month as the state's coronavirus numbers worsened.
In the final week of 2020 Starksboro's Ryan Cochran-Siegle claimed his first World Cup skiing victory by winning a super-G event on the famed Stelvio course in Italy. He prevailed by what is considered huge margin in ski racing — 0.79 second.
Cochran-Siegle, a 28-year-old graduate of Mount Abraham Union High School and longtime member of the U.S. Ski Team, had been coming on strong. He earned his first World Cup podium finish just 10 days prior by taking second in a downhill race at another Italian ski area. The day after his win he finished seventh in a downhill, 0.3 second off the lead.
As the year wound down, hope arrived for school sports. Gov. Scott gave the go-ahead for schools to begin sports practices, solely for skills and conditioning, as soon as Dec. 26. Local schools opted to wait until after the holiday break, and it was uncertain when and if competition could begin.  
But the ray of optimism was welcome. 
More News
Tiger boys' cross-country team held off runners from Burr & Burton, VUHS and Mount Abe in … (read more)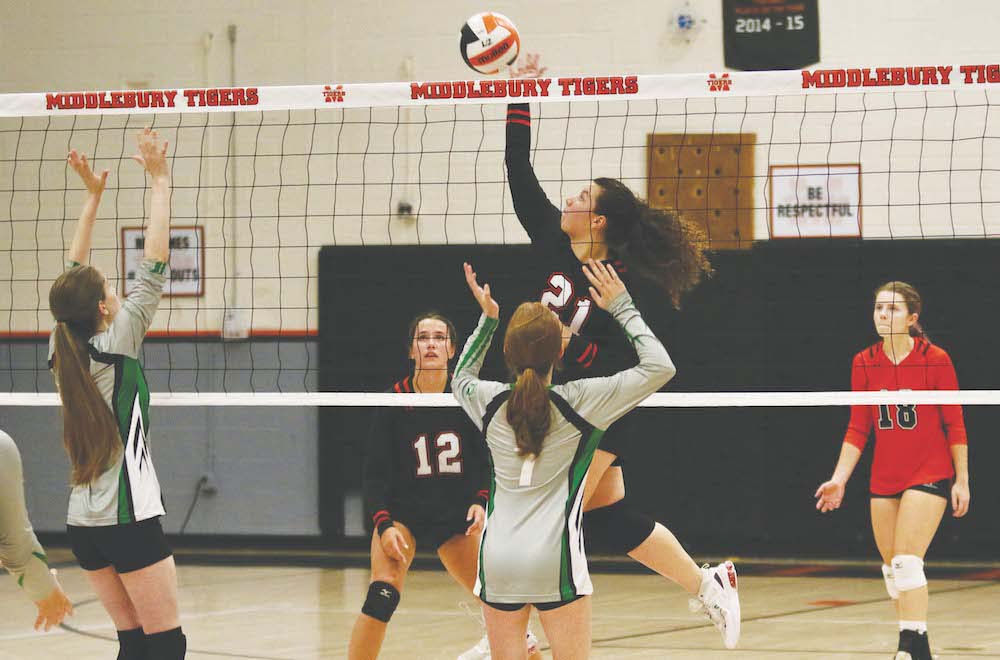 The first-year Middlebury Union High School girls' varsity volleyball team continued its r … (read more)
I gave Bill Lee a call last week, hoping he was at his home in Craftsbury and we might arr … (read more)