Fall school sports provided joy, normalcy
ADDISON COUNTY — In the end high school fall sports in 2020 looked more normal than not. 
That can be said even though there weren't crowds at games or meets, and there were masks. 
There weren't post-game handshakes, and there were pre-game temperature checks and COVID questionnaires. 
But once the events started, athletes were just out there competing. It wasn't hard to forget about a pandemic and just admire good plays and make note of miscues, celebrate the achievements and wonder what could have gone better. 
Normalcy? Why not start with the Mount Abe field hockey team?
Coach Mary Stetson's crew won its third straight Division II championship and 10th since 2000. Google 21st century dynasty and the Eagles will pop up somewhere near the New England Patriots.
In the final, the Eagles defeated an arguably more talented Burr & Burton team with a combination of what Stetson called "blue-collar grit," timely scoring (late in the game and in a shootout), defense from a group of first-year starters, young veterans at midfield and on the attack, and ice-veined goaltending from junior Maddie Donaldson. 
And it doesn't look like the Eagles are going anywhere. Only four seniors graduate, and only one who typically played the full 60 minutes, tireless co-captain Liz Porter. 
Same time next year?
Speaking of more of the same, another program with a habit of reaching finals did it again, the Vergennes girls' soccer team. The Commodores also used a rebuilt back line and opportunistic scoring to make it to the D-III title game for the third straight season. The fact they fell short in a competitive final should not detract from another fine campaign. 
A note here: Yes, the VUHS girls lost to a No. 10 seed, Stowe. But don't be fooled by the Raiders' record.
The same could be said of the No. 4 Peoples boys' soccer team, who knocked off the No. 1 Commodores on a late fluke goal in a D-III semi, and No. 6 Montpelier, which upset No. 1 Milton in the D-II boys' final. Along the same vein: No. 3 U-32 cruised to the D-II girls' soccer title. 
All play in the Capital Division, with many club players from the Capital Soccer Club, a strong program, and all played a tough schedule that prepared them for the playoffs. Basically, that is, they faced each other. For example, the Peoples boys' three losses came by one goal each to Stowe, Montpelier and U-32. 
Those teams' championships this year, especially in a short season, were really no surprise.
So, also don't take anything away from Coach Kevin Hayes' Commodore boys' soccer squad. That group showed real quality this fall, easily the program's best in a long time. A break — or a whistle, or maybe not one — here or there, and they could easily be champions.
The Middlebury boys also played well again. A team that lost almost all of its starting lineup from a year ago earned a top-four seed in D-II and this fall lost only to Milton, which went undefeated until the final. Serious props to the Tigers, who played their best in the playoffs, and Coach Reeves Livesay.
Elsewhere on the soccer pitch, the spirited Tiger girls improved as the season progressed, while the Mount Abe girls showed strong defense and grit this fall, but never found the key to the attack. 
The Eagle boys didn't light the turf on fire, but had some good moments. More than anything, they showed unusual togetherness. Many, but not all, of their players chose to take a knee during national anthems. Coach Bobby Russell said all the Eagles respected whatever choice their teammates made.
Russell added his athletes had a heightened awareness of larger issues in the world and a solid perspective on how sports fit into their lives. "They're a great group, a bunch of leaders from top to bottom," he said.
It was an easy group to pull for, win, lose or draw. 
Arguably, the least normal seasons came from football, especially at MUHS. Yes, the Tiger program does throw the ball under normal circumstances, maybe six or even 10 times a game depending on the situation or opponent. 
But this fall the only way officials would allow football was to adopt 7v7 touch rules with no blocking, no tackling, and no running plays. Every play was a passing play, with a center, a quarterback and five receivers (including linemen getting their chance to shine, and many did) vs. seven defensive backs. 
Many agreed it was entertaining, no doubt especially linemen and their families and friends. 
The Tigers adapted pretty well. Their linemen tend to be smaller and quicker anyway, and they managed a winning record, using many plays that Coach Dennis Smith said were designed with help from Middlebury College Coach Bob Ritter. 
Mount Abe-VUHS football, already a team that uses a more pass-happy spread attack, finished strong for a .500 regular season, the program's best in years, and the coaching staff feels optimistic with two quarterbacks returning for 2021. 
CROSS COUNTRY
Of all the sports that seemed the most normal in a pandemic, cross country stood out.
Following it from afar I tracked three friendly duels, one between teams, one between teammates, and one among three runners from two schools. 
There would be no local champions this year at Thetford on Oct. 31. U-32 could not be slowed in either the boys' or the girls' D-II races.
There was some question about whether the Commodore boys might catch the Tigers, though, but they settled for fifth, right behind the Tigers in fourth. 
The other two-way duel was between Tiger girls' teammates sophomore Seina Dowgiewicz and junior Ella Landis, who together helped their team finish fourth in D-II. 
Dowgiewicz held the edge in their most recent races, including nipping Landis by two-tenths of a second at the NVAC championship. But at states Landis eked out the win, 22:14.2 to 22:17.2. We'll hope for good health and circumstances that will allow them both to lead the Tigers again in 2021. 
Finally, three seniors, the Commodores Ben Huston and Gabe Praamsma and the Tigers' Jack Christner, battled all fall for county supremacy on the boys' side.
Huston had always prevailed, with Christner typically second and Praamsma third. It's been that way for a while. But Oct. 31 belonged to Praamsma in a three-way duel in which six seconds separated the three runners. 
Praamsma took ninth in D-II race in 17:52.9, with Christner on his heels in 11th in 17:54, and Huston right behind in 12th in 17:58.9.
Those guys will be missed next fall, and everybody hopes they can run this spring. 
As for winter, the latest guidance says athletes can begin practicing on Nov. 30 and play on Jan. 11. But those recommendations were issued weeks ago, and COVID-19 cases are spiking.
Let's hold onto those memories of the fall, hope for the best for the winter and spring seasons, and all do our parts so that sports, and the rest of life, can return to more normalcy. 
More News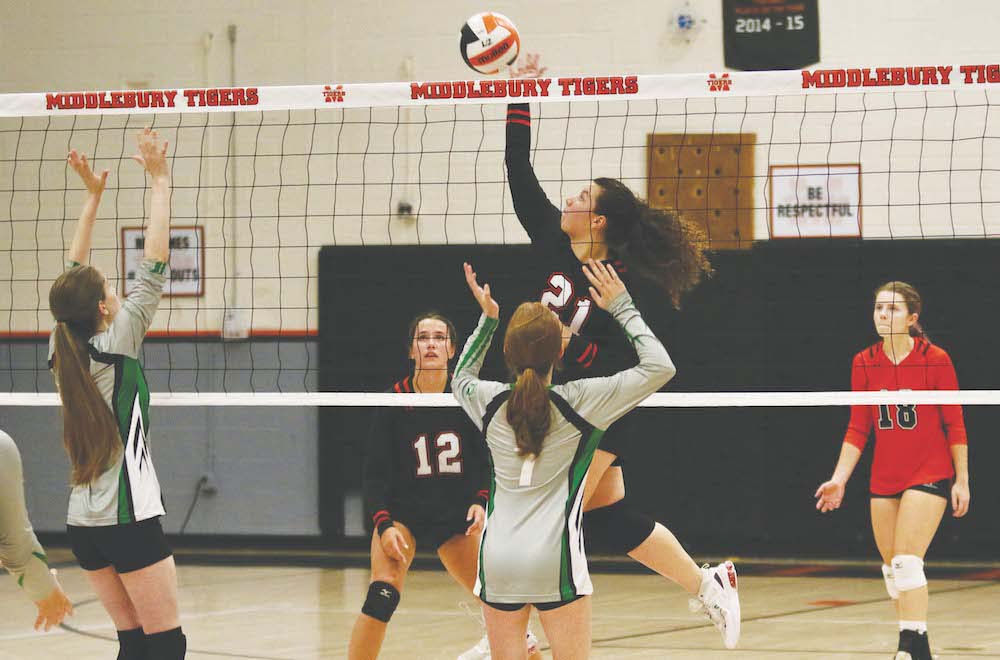 The first-year Middlebury Union High School girls' varsity volleyball team continued its r … (read more)
Soggy conditions didn't slow down Middlebury runners noticeably at a cross-country meet ho … (read more)
I gave Bill Lee a call last week, hoping he was at his home in Craftsbury and we might arr … (read more)