Eagle girls shut down U-32, push mark to 4-2
BRISTOL — The Mount Abraham Union High School girls' basketball team started slowly against visiting U-32 on Tuesday, but the Eagles' defensive pressure, depth, and free-throw shooting carried them to 45-34 victory.
The win was the fourth straight for a young team that returned only one player who saw significant minutes a year ago, senior point guard Chloe Johnston, and it improved their record to 4-2 heading into Friday's home game vs. Lyndon.
Both Johnston and Coach Connie LaRose pointed to chemistry and work ethic as major factors in the Eagles' good start despite returning only three athletes from the team that earned the top seed in Division II this past winter — sophomores Grace Harvey and Abby Reen are the others.
"I love the team. Great energy, they always come to practice ready to go," said Johnston, whose 11 steals keyed the Eagle defense on Tuesday.
LaRose described an upbeat, eager group whose efforts are paying off.
"Every day I say how much I enjoy working with them. They're like little sponges. They want to learn. They want to be better," she said. "They're enjoying being together. If we were 0-6 it would be the same thing, because they're bringing that kind of effort every day, that kind of energy to improve."
It took a little while on Tuesday to see the progress. The Eagles committed five of their 13 turnovers in the first quarter, and the Raiders looked like they might have learned how to handle the Eagle press after losing to Mount Abe on Dec. 21.
U-32 earned a 7-0 lead in the first 4:20, with four points from forward Olivia Hogan; took reasonably good care of the ball; and frustrated the Eagles with a 1-2-2 zone.
Then Harvey asserted herself, feeding Johnston for the first Eagle hoop, taking a charge at the other end, and then driving for a basket at 2:50 to make it 7-4. Johnston added two free throws after a steal to make it a one-point game before a late U-32 hoop made it 9-6 after one period.
Then the Eagle defense forced 12 turnovers in the second quarter as Mount Abe took a 20-14 halftime lead. Junior Marley Keith and freshman Maddie Giles joined junior Savannah Scrodin, Johnston and Harvey in the Eagles' full-court trapping press, Keith scored six points in the quarter, and Johnston and Harvey added four apiece.
Johnston pointed to the contributions of the bench, which also included five points from freshmen Maia Jensen in the fourth quarter. Senior Jess Colbeth has also been a factor, but missed Tuesday with an illness.
"Whenever people come in off the bench they contribute an awesome amount to the team," Johnston said.
In the second quarter the Raiders probably helped the Eagles by switching to man defense, and after halftime they went back to the zone. That change and a scoring spree from U-32's Hogan — eight points early in the third quarter — helped the Raiders tie the game at 24-24 at 3:10 despite four points from Eagle junior forward Cami Masse.
The Eagles answered by closing the period on a 7-3 run to make it 31-27. Reen scored three from the line after an offensive rebound and a Johnston steal, Harvey put in her own miss, and Johnston sank two free throws after another steal.
Mount Abe then opened the fourth quarter with a decisive 9-0 run. Reen hit a layup assisted by Harvey, Jensen came in and drove for a pair of buckets, Harvey hit one free throw, and Johnston sank a pair from the line (she hit all 10 of her free throws) to cap the run and make it 40-29 with 3:21 to go.
The Raiders turned it over eight times in each of the third and fourth quarters for a total of 34 in the game, and the Eagles hit 19 of their 24 free throws.
Hogan finished with 13 points to lead the Raiders, and Payton Gariboldi added eight.
Johnston scored 12, and added three assists. Her 11-steal effort followed a 10-steal game in a Saturday win over South Burlington. Harvey scored 11 and chipped in six rebounds and three assists, and Reen scored seven. Keith added five rebounds to her six points.
LaRose said the Eagles' shot selection and ball movement improved as the game went along, and they committed only four turnovers in the second half.
"Typically we're creating a lot of opportunities out of our press," LaRose said. "Of course, you have to make baskets to set up the press, and that wasn't working too well for us in the beginning. We settled in."
Most importantly, LaRose said she sees the Eagles making daily progress.
"I talk about it every day in practice. It's not like we're coming in and making a yard's worth of progress, but we're making an inch or two," she said. "But as long as you keep piling up those inches, they're going to grow into yards."  
Andy Kirkaldy may be reached at [email protected].
More News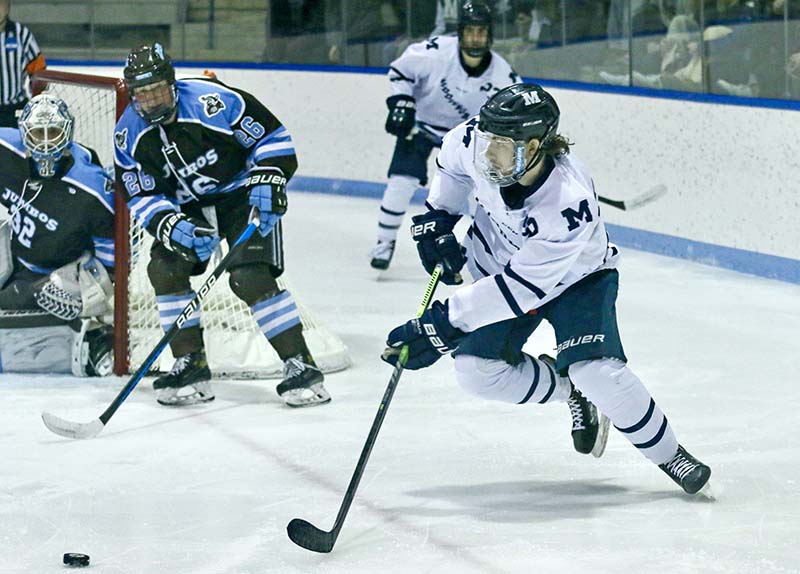 Middlebury College men's hockey surged passed Conn College before falling to Tufts this pa … (read more)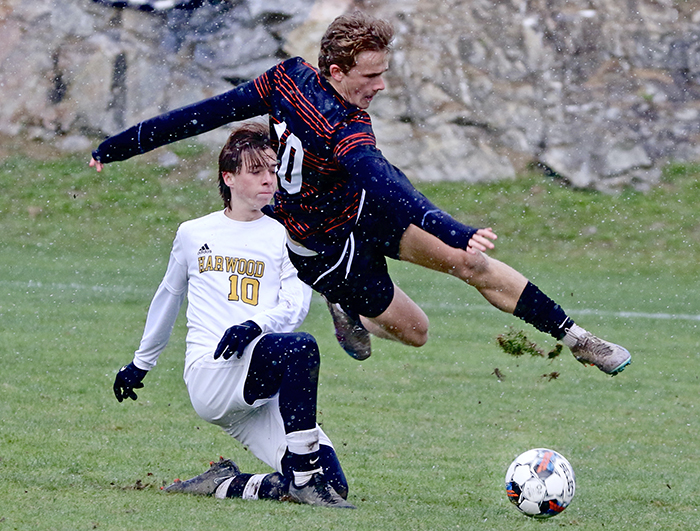 Seven local high school boys' soccer players were named to the Division II or III All-Stat … (read more)
Five area high school girls' soccer players were named either Division I or D-II All-State … (read more)