Women's hockey defeats Utica, 4-0
MIDDLEBURY — The Middlebury College women's hockey team on Saturday protected its newly earned No. 2 ranking in NCAA Division III by blanking visiting Utica, 4-0.
The Panthers took charge with two goals in the first period and outshot the 2-5 Pioneers, 45-12, in improving to 5-0-2. They are now off until Jan. 7, when they will host SUNY-Potsdam.
Middlebury took the lead 4:02 into the game on a Jenna Letterie power-play goal. Utica goalie Bria Reilly stopped Madie Leidt's shot from the left circle, but Letterie knocked in the rebound from the doorstep.
The same combination struck again for the Panthers at 8:50 on another power play, with Letterie again netting a Leidt rebound to make it 2-0.
In the second period the Panthers held the Pioneers without a shot on goal and added one score, a Sidney Portner snap shot from the left circle into the upper far corner through traffic. Anna Zumwinkle picked up the assist at 6:54 of the period.
The Panthers added their final goal in the third period. Alexis Ryan slapped a shot from the left point that went through a knot of players and past Reilly. A cross-ice pass from Mary Thompson set up the goal.
Utica had one good chance in the late going to spoil Middlebury goalie Lin Han's shutout, but Han blockered away Carolyn Whitney's forehand shot after the Pioneer skated into the high slot.
Han made 12 saves for her second shutout of the season, while Reilly stopped 41 shots for Utica.
More News
Tiger boys' cross-country team held off runners from Burr & Burton, VUHS and Mount Abe in … (read more)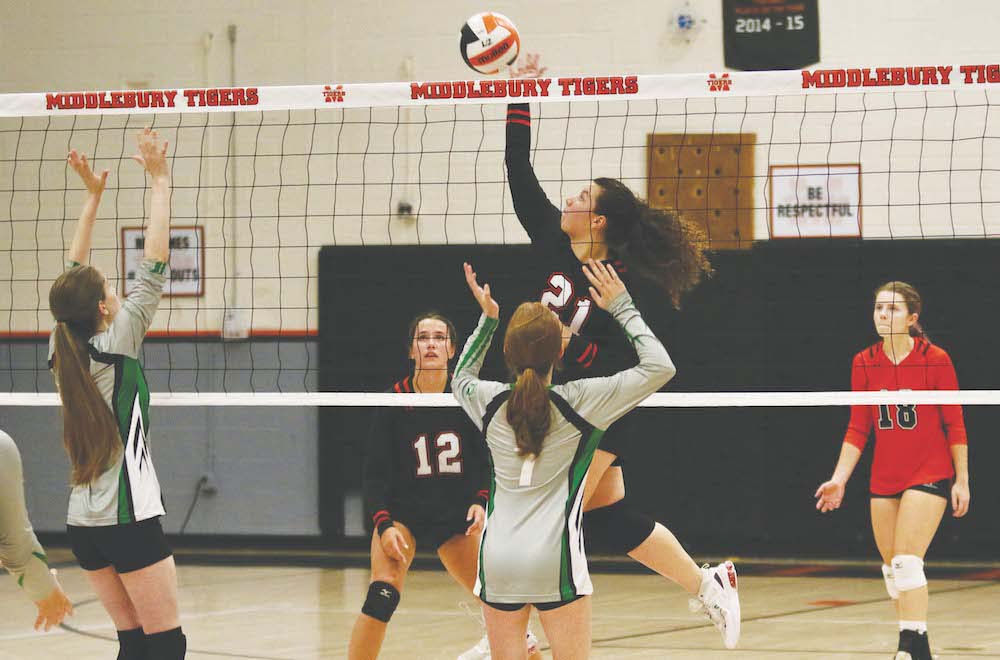 The first-year Middlebury Union High School girls' varsity volleyball team continued its r … (read more)
I gave Bill Lee a call last week, hoping he was at his home in Craftsbury and we might arr … (read more)