Men's hoop sweeps weekend, improves to 9-0
MIDDLEBURY — The undefeated Middlebury College men's basketball team got past New England College's upset bid on Friday, 88-87, thanks in part to a last-second whistle, and on Sunday knocked off previously unbeaten host Stevens Institute, 76-66, with a quick start and strong defense.
Coach Jeff Brown's Panthers, ranked No. 4 in NCAA Division III last week, improved to 9-0 with one more game before the college's holiday break: Morrisville State visits at 3 p.m. on Dec. 16.
The Panthers have thrived despite injuries: Senior forward Matt Folger, a 1,000-point scorer, was back this past weekend after missing several games with an ankle sprain, but his return coincided with junior guard Griffin Kornaker sitting out with an injury.
Asked after Friday's home win about what has enabled his team to succeed this season, Brown put chemistry and depth on the list.
"We have a deep team, where we can compensate for some injuries," Brown said. "We've had positive results with other guys stepping into those roles."  
Brown said he has also been happy with an offense that is averaging 84.8 points per game. But the Panthers are also allowing 73.2 points per game, and on Friday Brown was concerned about the defensive end.
"We have struggled to consistently stop people," he said.  
In Sunday's win over Stevens, however, the Panthers held the Ducks to just over 32 percent shooting, and racked up six blocks and nine steals against a team that came in at 7-0.
Brown also believes the Panthers will improve once they have more time to focus on defensive nuances.
"When we get to January we're going to be at a point where we're playing one or two games a week in most weeks, and we're going to have the practice time to develop some of those skills," he said.  
FRIDAY GAME
On Friday night the Panthers repelled a challenge from visiting New England College (4-4 against a tough schedule) in a game with an unusual finish.
The score was knotted at 87-87 when NEC's Izaiah Winston-Brook hit two free throws with 3.1 seconds to go.
At the other end, the Panthers had to settle for a long Jack Farrell three-point attempt that was off-target.
But as the horn sounded an official whistled a Pilgrim for rebounding foul on Panther forward Alex Sobel. With 0.3 second to go Sobel sank the first of two free throws for the winning point. Sobel deliberately missed the second, and the Panthers escaped with the win.
The Pilgrims made life difficult for Middlebury by shooting 47 percent, including 40 percent from the three-point line; using quickness and physical full-court defense to force 20 turnovers; and relying on playmaking guards Winston-Brook and Calvin Cheek, who combined to hit 16 of 27 shots.
The Panthers closed the first half with an 11-2 surge — capped by a Max Bosco buzzer-beating three — to lead at the break, 43-41. But Middlebury's momentum didn't carry over, and the teams traded the lead 24 times in the second half.
At one point the Panthers threatened to pull away, but Winston-Brook scored seven straight points to make it 81-78, NEC, with 4:30 to go. Bosco answered with two jumpers, and the teams went back to nip-and-tuck play.
NEC took an 85-84 lead at 1:40 on a Michael Tavilla layup. Sobel answered at 1:21 with a tip-in, and it was 86-85, Middlebury.
After misses at both ends, Sobel, the tallest player on the court, made an unlikely open-court steal from Cheek. He fed Farrell, who hit a free throw at 0:9.3 left to make it 87-85. Winston-Brook then tied the game before Sobel sank his game-winning free throw.
Folger scored seven off the bench and contributed nine rebounds as Middlebury earned a 44-31 edge on the boards.  
Sobel finished with a career-high 24 points and grabbed 10 rebounds. Bosco scored 22, and Farrell added 19 points and four assists.
Winston-Brooks recorded 24 points, six rebounds and four assists, while Cheek added 19 points, seven rebounds and four steals.
Asked how his team pulled it out, Brown said sometimes it's good to be fortunate.
"To be honest it was more luck than anything else," he said. "It was a 50-50 game, and both teams had a lot of runs, and the last possession was a call that as a coach you love to get, but if you're sitting on the other bench, it's really disappointing."
SUNDAY GAME
On Sunday the Panthers hit the host Ducks with a game-opening 17-2 surge and were never headed. All five starters scored in the surge, and they forced three turnovers.
Stevens made a series of runs at the Panthers, but each time Middlebury answered. Duck Spencer Cook sparked a 13-0 run to cut it the lead to 17-15, but Panthers Tommy Eastman (a three and a jumper) and Nash Goldman (a three) combined to push the lead back to 10.
The Ducks cut it to 28-27 with 4:17 left in the half, but the Panthers closed the period with a 9-1 run to lead by 37-28 at the break.
Four Panthers then scored in a 9-2 run to open the second half that pushed the lead to 16. Stevens worked it back to eight, but eight straight points off the bench by Perry DeLorenzo helped put Middlebury up by 62-48 at 6:25.
Stevens made one last push when three Cook free throws made it 64-59 at 2:54. But Folger hit two threes, one after a scramble at 1:02, to make it 70-61. The Panthers hit six straight free throws to ice the win.
Folger finished with 18 points and 13 rebounds. Bosco contributed 15 points and six rebounds; Farrell, 15 points, six assists and three steals; and Sobel, eight points, five rebounds, four blocks and three steals.
Cook led all scorers with 22 points, adding 10 rebounds, while big man Alec Dipietrantonio had 13 points and 14 rebounds.
Brown on Friday said he has high hopes for the Panthers.
"In every game we've had moments of playing at a high level, but we've also had some low points," he said. "If we can figure out how to be more consistent in our play, I think we could be a team that could challenge for the NESCAC."
More News
Tiger boys' cross-country team held off runners from Burr & Burton, VUHS and Mount Abe in … (read more)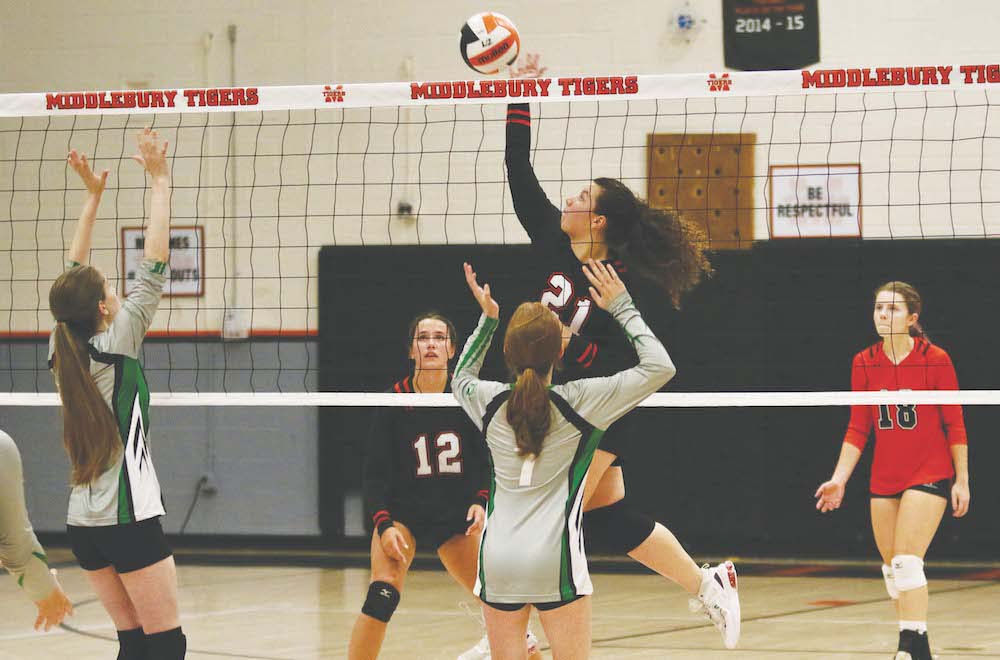 The first-year Middlebury Union High School girls' varsity volleyball team continued its r … (read more)
I gave Bill Lee a call last week, hoping he was at his home in Craftsbury and we might arr … (read more)