Women's hockey throttles Cardinals, 2-1
The kids played hard. They played well in the defensive zone. Anna Goldstein was great. She just brought it today. She had her A game.
— Coach Bill Mandigo
MIDDLEBURY — On March 15, 2013, the Middlebury College women's hockey team defeated Plattsburgh, 4-1, in an NCAA Division III semifinal.
Since then, the Cardinals ruled the rivalry between the two D-III powers, winning every meeting … until this past Sunday.
On Sunday the tables finally turned. Coach Bill Mandigo's talented young Panthers knocked off top-ranked and undefeated Plattsburgh, 2-1, in the final of the annual Panther/Cardinal Classic in Kenyon Arena.
Plattsburgh (8-1) retained its No. 1 ranking, but the 4-0-2 Panthers climbed from No. 8 to No. 2.
The Cardinals entered the game averaging 4.5 goals, but the disciplined Panther defense rarely allowed the Cardinals good looks on goal and carefully protected the slot, while an outstanding 29-save effort by junior goalie Anna Goldstein made goals by junior Madie Leidt and sophomore Katie Hargrave stand up.
One of the key defenders was Anna Zumwinkle, one of just three Panther seniors on the squad and the only senior defender — junior Alexis Ryan, freshman Claudia Vira and sophomores Eva Hendrickson, Kiara Vazquez and Sarah Ince also skated in the back.
Zumwinkle also contributed the only successful penalty shot on Saturday, when the Panthers needed to win a shoot-out to advance past then No. 2 Adrian after the teams skated to a 1-1 tie after regulation and overtime.
Zumwinkle explained how the Panthers slowed down the high-flying Cardinals until late in the third period, when Plattsburgh's Abby Brush batted in a rebound with less than three minutes to go to make it 2-1.
"We always say focus on the little things and do your job, and as a defense I think we take pride in picking up our girls in front," Zumwinkle said. "I think as a team collectively we did very well with that today. Even when at times it wasn't going so well we stuck to our system and knew what we were supposed to do, and that definitely helped us."
She said the Panthers were pumped to beat Plattsburgh, but they also did their best to put the win in perspective — they have bigger trophies to win later this season, and sense they possess the potential to do so.
"It's the first time we've beaten Plattsburgh in my career, so it's very exciting to the team. But as Bill (Mandigo) told us it's just another step in our road on the season," Zumwinkle said. "We know we have business to take care of next week and well into January and February. We know there are things we can work on."
Mandigo said he would like to see a few wrinkles — such as a few missed defensive assignments by his forwards, erratic finishing, inconsistent breakouts, risky passes at both blue lines — ironed out.
"As I said to the kids, I'm glad to see you happy, but this is one game in the journey for the year. You've still got to work to be better, and there are things that everyone in this room can work to get better at," Mandigo said. "So I'm happy you won this game, but this is November. You want to play in March."
The Panthers controlled the first few minutes of Sunday's final, and freshman Mary Thompson fired a 12-foot forehand just wide left. But then the Cardinals launched four shots between 7:50 and 9:30. The most dangerous were a Brush shot from off the left post, followed by her own rebound bid, both of which Goldstein stoned.  
Then the Panthers countered down the right side. Sophomore Jenna Letterie and freshman Maddie Bayard worked the puck into the Cardinal zone, and then won a battle for it halfway along the boards. Leidt picked up the loose puck, skated into the circle and past the dot, and fired a low shot near-side past Plattsburgh goalie Chloe Beaubien at 9:47.
The Cardinals pressed, but Ryan made two fine defensive plays to break up rushes, and Goldstein made her best save of the frame in the final minute on Madison Walker's rebound bid.
The Panther defense frustrated the Cardinals in the middle period, and Middlebury made it 2-0 with 4:31 gone on Hargrave's goal. Senior Sidney Portner knocked the puck free from a Cardinal at the right defensive point, skated into the offensive left circle and fired hard on Beaubien from just inside the dot on a three-on-one rush.
Beaubien made the save, but both Portner and Hargrave crashed the net. Hargrave stretched to poke in the rebound from behind the goalie to make it 2-0. Lilla Nease (11 saves) then replaced Beaubien (five saves).
The Cardinals gained offensive traction in the third period after they killed an early five-on-three Panther power play. But in the first seven minutes Goldstein made consecutive saves on Sara Krauseneck, the first by holding the short side on the left, and the second by knocking away a strong Erin McArdle wrister from the slot.
Plattsburgh broke through at 17:23, when Brush popped in an Annie Katonka rebound in a scramble. It remained the only goal Goldstein has allowed in three starts, as she stopped a McCardle blast from the high slot in the final minute to nail down the win.
"The kids played hard. They played well in the defensive zone. Anna Goldstein was great. She just brought it today. She had her A game," Mandigo said.
PANTHERS VS. ADRIAN
On Saturday the Panthers outshot Adrian, 44-20, but gave up a goal 5:09 into the first period on a power play. Maggie Mitter scored — her first bid hit the post, and her second deflected past Panther senior goalie Lin Han (19 saves).
Despite the Panthers' relentless attack they did not score until 3:16 of the third period, when Leidt cashed in on a power play. Bayard won the puck in the corner and fed Leidt in the right circle. Leidt skated toward the slot and fired a shot high into the upper far corner. Letterie later had a great chance on a deflection of Bayard shot, but Adrian goalie Deniska Jandova (44 saves) kicked out the bid.
Middlebury launched all three overtime shots, but could not solve Jandova, and it was onto a shootout. After three Adrian shooters and two Panthers came up empty, Zumwinkle skated down the left side and ripped a forehand into the upper left corner to Jandova's blocker side to advance Middlebury into Sunday's final. The game went into the record books as a tie for both teams.
If anything, the Panthers will look for more offense after totaling 13 goals in their first six games, while allowing just three.
"Something we talked about was working hard and accomplishing," Zumwinkle said on Sunday. "Getting pucks into the net, that definitely worked out for us today. Yesterday we had one goal and were lucky enough to hold them off. So definitely as a team we want to see a few more goals down the pipeline."
The six freshmen who skated on Sunday have fit right in, she said.
"Something I've noticed with this team that we do very well is that we have confidence right off the bat," Zumwinkle said. I've been very impressed with our team, especially with how young we are, with bringing that to the ice every game."
It's clear that Mandigo believes in his team ("It's a good group. They're fun to be around," he said.), and he said Leidt and the three seniors have excelled at setting an inclusive tone and modeling a strong work ethic.
But neither he nor they want to look too far ahead.
"That's the hope, that you're playing in March, and late in March," he said. "But there are a lot of things that have to go the right way."
Andy Kirkaldy may be reached at [email protected].
More News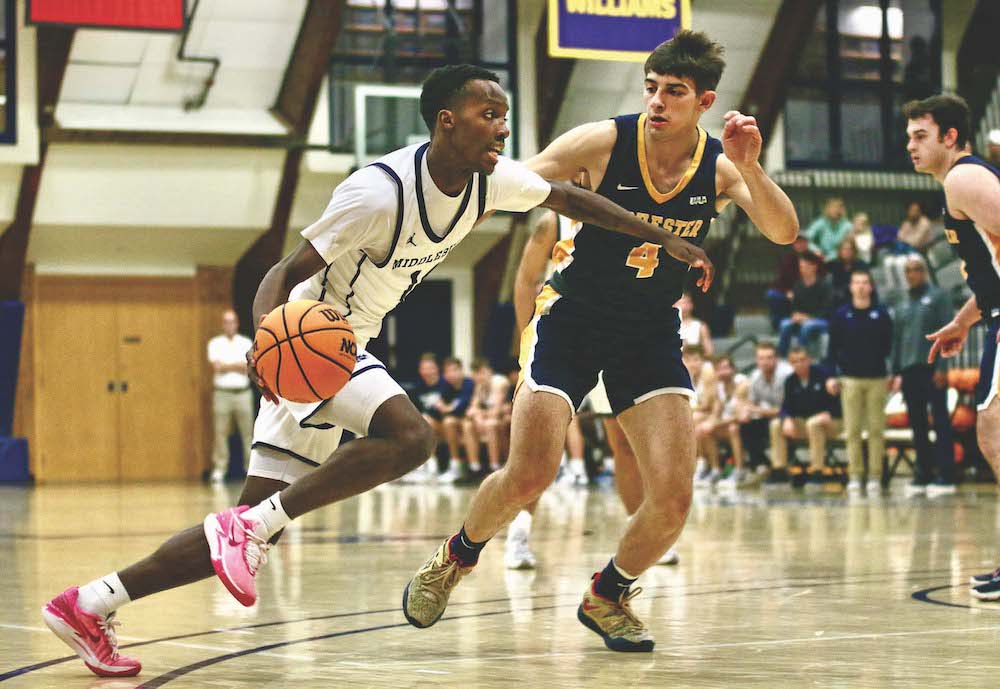 The Middlebury College men's basketball team dropped a pair of home games to teams in the … (read more)
The Middlebury College women's basketball team split a pair of games this past weekend at … (read more)
The Middlebury College women's hockey team lost one game and settled for a tie in another … (read more)