Warren gets first victory of season at Devil's Bowl
WEST HAVEN — At Devil's Bowl Speedway on Sunday, Shoreham's Anthony Warren became the Limited Sportsman Division's sixth first-time winner of 2019 in a race dominated by Addison County drivers.
Using the outside lane with the hard-charging style that has become his signature, Warren's power move around leader Adam Piper of Leicester came with two laps left in the scheduled 20-lap distance. A last-minute caution re-racked the field for the finish, but Warren drove off into the sunset.
In an evening sponsored by the Community College of Vermont in which double points were awarded for each season series, Piper settled for second with points leader James Hanson of Orwell third. Middlebury's Austin Comes scored his first top-five finish by taking fourth place. Hanson's lead in the series is now 19 points over Piper, 416-397.
In the evening's main Devil's Bowl event, New York driver Bobby Hackel won the 38-lap Vince Quenneville Sr. Memorial Sportsman Modified race. With double points on the line, Hackel put himself back into title contention with a hard-fought win. 
Hackel prevailed after a duel with New Hampshire's Walter J. Hammond for the lead. Hammond held a big advantage in the first two-thirds of the race. Meanwhile, Hackel whittled his way through traffic from a 17th starting position to second place.
Two late crashes erased Hammond's lead. He was able to beat Hackel at the first restart, but then the pair began sliding through the corners and trading the lead twice per lap. With the vocal grandstand crowd cheering the action, Hackel cleared Hammond at lap 30. They had to face off again at the final restart two circuits later and Hackel prevailed, driving to his second win of the season. Point leader Kenny Tremont Jr. of New York took third. Shoreham's Jimmy Ryan finished fourth. 
The win helped Hackel vault from sixth to second in the championship standings. Unofficially, Tremont's point lead grew to 47 (408-361). Ryan (321) is in fifth.
Fair Haven's Chris Murray won his 25-lap Super Stock feature despite suspension and body damage to his car in a multi-car wreck early in the race. Orwell's Garrett Given was the runner-up, and point leader Scott FitzGerald finished fourth. 
New York's P.J. Bleau won for the third time in four appearances this season at Devil's Bowl in the Mini Stock division. Middlebury's Jake Barrows recovered from a flat tire to finish fifth. Milton's Shawn Moquin took third and has a 17-point series lead on Barrows.
Evan Roberts of Fletcher, 13, won the 500cc Mini Sprints race, his fourth victory this season, in a photo finish over Kamden Duffy, 11. Roberts took over the top spot in the series.
Sunday's winners and local finishers were:
• Pepsi Sportsman Modified Feature — Vince Quenneville Sr. Memorial (38 laps): 1. Hackel; 4. Ryan, Shoreham; 7. Tim LaDuc, Orwell; 13. Mike Palmer, Salisbury; 15. Brent Warren, Salisbury; 22. Vince Quenneville Jr., Brandon; 23. Justin Comes, Middlebury; 26. Joey Scarborough, Brandon.
• O'Reilly Auto Parts Limited Sportsman Feature (20 laps): 1. Warren, Shoreham; 2. Piper, Leicester; 3. Hanson, Orwell; 4. Comes, Middlebury; 6. Dave Snow, Brandon; 9. Matt Bilodeau, Brandon.
• Super Stock Feature (20 laps); 1. Murray, Fair Haven; 2. Given, Orwell; 8. Kaleb Shepard, Vergennes; 10. Ronnie Alger, Orwell.
• Mini Stock Feature (15 laps): 1. Bleau; 5. Barrows, Middlebury; 7. Scott Cowdrey, Leicester; 9. Joe Malzac, East Middlebury.
• Friend Construction 500cc Mini Sprint Feature (15 laps): 1. Roberts; 9. Kevin Smith, Brandon; 12. Alyza McKeighan, Brandon.
More News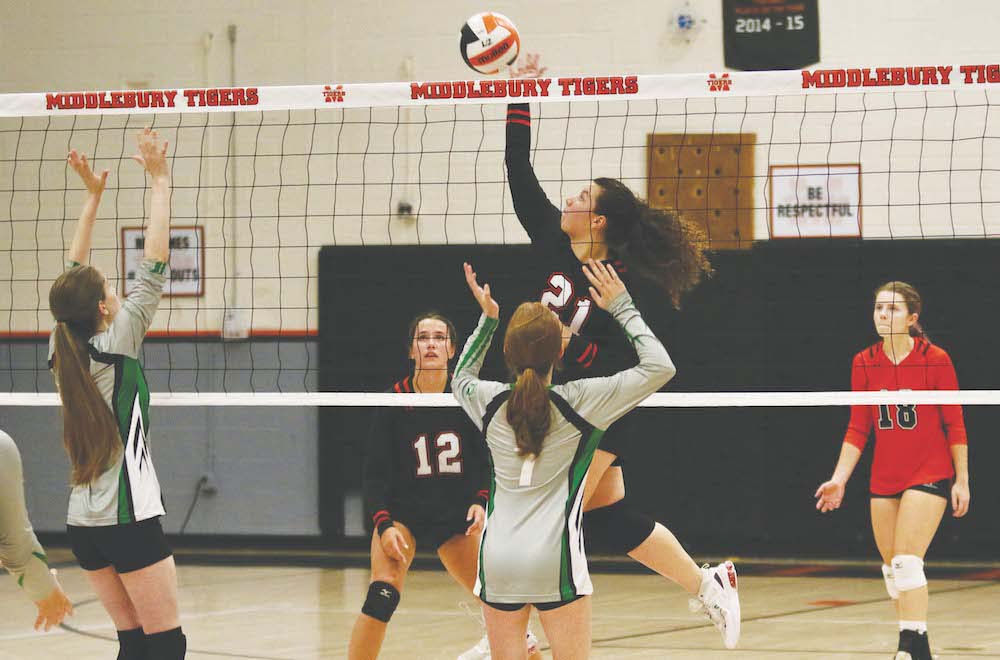 The first-year Middlebury Union High School girls' varsity volleyball team continued its r … (read more)
Soggy conditions didn't slow down Middlebury runners noticeably at a cross-country meet ho … (read more)
I gave Bill Lee a call last week, hoping he was at his home in Craftsbury and we might arr … (read more)