AC Legion baseball claims three of five
MIDDLEBURY — The Addison County American Legion baseball team won three of five recent games, all on AC's home field at Middlebury College, to move to 8-13. 
The eight wins eclipse AC's six wins of each of the past two seasons. AC wraps up the summer with a doubleheader at Montpelier (7-11) at Saturday and a home game at Middlebury College on Sunday vs. OEC (5-12) at 2 p.m.  
On Friday the 12th, Jarrett Muzzy tossed a no-hitter as AC blanked Barre, 5-0. Muzzy walked two and struck out nine. Barre is 3-18.
AC scored twice in the second on a walk, an error, and singles by Ryan Whitcomb and Tucker Stearns, with Stearns' hit driving in the runs. In the third a walk, a Wyatt Cameron double, a Casey Kimball single, a Robbie Bicknell RBI ground ball and a Hale Hescock single produced the final three runs.
Essex (10-6) won the first game of Saturday's doubleheader, 9-5, with Payson Williams starting and taking the loss. Nolan Whitcomb threw three innings of scoreless relief as AC fought back from a 9-1 deficit. Williams poked two hits and scored a run. 
Essex won the nightcap, 8-5, in eight innings. Cameron started and left after six innings with the score tied, 5-5. Dustin Whitcomb tossed a scoreless seventh, but surrendered a two-out, three-run double to Cory Gianelli in the eighth.
AC scored three in the second on a Jeff Stearns single, a Dustin Whitcomb walk, a wild pitch, a Kimball sacrifice fly, another wild pitch to score a run, a walk, a stolen base, and a Muzzy single.  
Essex took a 5-3 lead into the bottom of the fifth, when AC rallied to tie the game. Cameron and Cooper O'Brien walked, and two wild pitches scored Cameron and put O'Brien on third. Williams then singled in O'Brien. 
On Tuesday, AC swept a doubleheader from S.D. Ireland, 4-3 and 6-5. Nolan Whitcomb tossed a complete-game two-hitter to spark AC, striking out two and walking two. AC took a 4-1 lead into the seventh, when SDI (9-7) scored twice on an error, a double, and two RBI grounders before Whitcomb shut the door. 
AC scored all of its runs in the fifth after loading the bases on a Jeff Stearns walk and singles by O'Brien and Kimball. Dustin Whitcomb singled home two runs, and he and Kimball moved into scoring position on an outfield error. Ryan Kimball singled both of them home. 
Hescock started the nightcap and allowed four runs, one earned, in four innings. Ryan Whitcomb relieved and allowed one earned run on two hits in three innings. He earned the win when AC rallied for six runs in the seventh inning.
In that inning, Nolan Whitcomb led off with a single, Ryan Whitcomb doubled, and Nicholas Kaufmann doubled them home. Tucker Stearns (three hits) walked, and after Jeff Stearns was hit by a pitch to load the bases Hescock walked to make it 5-3. After a pitching change, Dustin Whitcomb singled in two runs to tie the game, and then Nolan Whitcomb singled in Hescock with the winning run. 
More News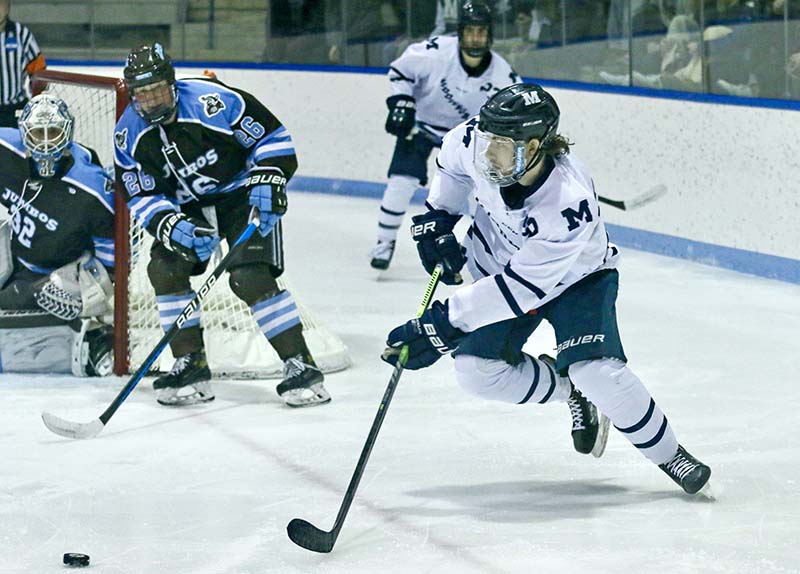 Middlebury College men's hockey surged passed Conn College before falling to Tufts this pa … (read more)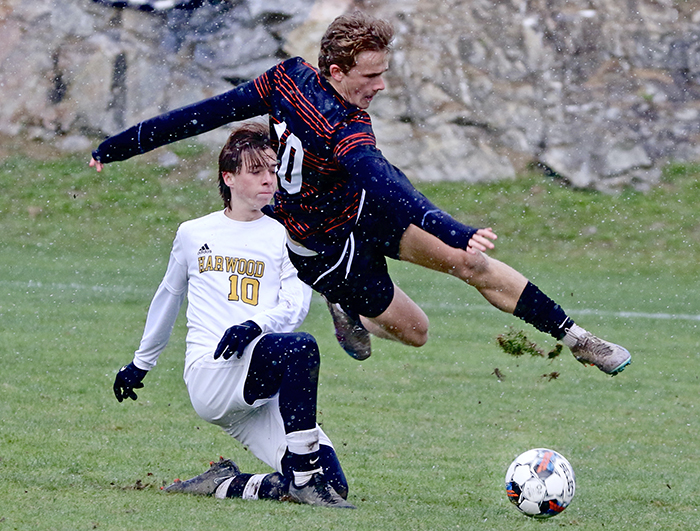 Seven local high school boys' soccer players were named to the Division II or III All-Stat … (read more)
Five area high school girls' soccer players were named either Division I or D-II All-State … (read more)