Hatch 31 claims outhouse title — at last!
BRISTOL — Dreams of athletic glory come in all shapes and sizes, and cruel whims of fate can intervene.
Before this past Thursday such had been the tale of the Hatch 31 team, which for years has fought hard for one dream, to become the Great Bristol Outhouse Race champion — only to see the title slip through its fingers in fashion.
The race in question is held on Bristol's Main Street on the morning of every Independence Day as a way to raise funds for the Bristol Fourth of July Committee and, according to organizers, to determine the World Champion in the sport of maneuvering facsimiles of outdoor restrooms.
The Hatch 31 outfit — petite rider and helmet-wearing team captain Sara Wisell, pusher Cam Perta and puller Jake McDonough, Bristol-area residents all — had several times come up agonizingly short in its quest for global dominance in what event announcer Shawn Oxford described to the crowd as "400 yards of grueling outhouse racing."
In 2016 the trio lost by inches in one of the four preliminary heats.
In 2017 Hatch 31 made the final heat. The trio was running neck-and-neck with the winner in the home stretch approaching the downtown traffic light. But Hatch 31 found itself in less favorable position on the tilted edge of Main Street while nearing the finish line. With about 30 yards to go the team had to slow to avoid hitting the crowd as it struggled to control its four-wheeled rolling rest room. Hatch 31 finished third.
In 2018 Perta, McDonough and Wisell were garnering pre-race buzz and plenty of wagers from the big crowd that always gathers to see outhouse royalty crowned.
Those friendly wagers, according to a hard-hitting Independent investigation, are a legal form of gambling because they support a nonprofit cause — something like the 50-50 raffle at a basketball game, except on steroids. The event routinely raises more than $1,000, including team participation fees, to support Bristol Fourth of July festivities.
"Step up and buy your tickets," Oxford told the crowd on Thursday. "We're all lucky today. It's Independence Day."
But in their heat on July 4, 2018, the Hatch 31 crew again found itself near the side of the road, this time in an early heat. Perta and McDonough ran into trouble handling the wood-framed loo on its four casters; an Independent intern had to dive out of their way, and the ultimate prize eluded a crestfallen Hatch 31 threesome yet again.
This past Thursday the trio was back for more, and more determined than ever. After a drama-free coast-to-coast victory in the third preliminary heat, Perta, like McDonough a former competitive Mount Abraham Union High School athlete, was asked if Hatch 31 was ready to win this year.
"You have no idea," he replied.
But by then it was already clear their competition would be tough.
In the opening heat a new team laid down the gauntlet: Cubbers Restaurant. Francis Smith, son of the eatery owner, had college friends visiting from Ohio, and they edged another pre-race favorite, the team of Emma Carter, Nate Selby and rider Diane Schwarm, representing Carter Insurance Agency. Carter and Selby had made the final each of the past two years and finished second the year before, but after a review of the video the result was confirmed. Yes, VAR has reached Bristol.
Those two left Bristol Creeme Stand in their wake.
The other heats produced convincing winners. In Heat 2, Addison County Home Health and Hospice (ACHHH) cruised right down the middle to an easy victory. Pusher Jameson Sylvia said his team won the drawing for the first pick to choose starting position and opted for the level central path. "We picked a good card," Sylvia said. Bristol Cliffs Café and crews from the Mount Abe girls' soccer and basketball teams trailed ACHHH.
Hatch 31 coasted in Heat 3 past LuLu Ice Cream and Bristol Financial Services, with the Mount Abe boys' lacrosse team as the horsepower. Then the Eagle football team — Aiden Russell and Lucas Grover provided the propulsion, and Lucas Allen enjoyed the scenery — rolled to a triumph in Heat 4 over Maple Landmark, Steam/VT Summer Camp and Team Betcha, aka the Hill Gang.
It appeared then any of the four victorious teams could become the planet's supreme potty-pushers.
But a few things ended up working in Hatch 31's favor. First, they finally got lucky and did not have to deal with the side of the road; the trio drew a middle lane. Secondly, even though Oxford had joked earlier the participants "have actually been practicing for three to five minutes" over the past year, that description did not hold true for the team with a dream.
Not only did Hatch 31 prepare, Perta said, the group had a plan.
"This year we met yesterday morning for a practice. In the past we didn't feel we had the right pushing, the right movement paradigm. So we changed up our techniques yesterday," he said. "In previous years we both pushed, but we felt that leaved it up to the whims of the road. So this year we had me push, and Jake was pulling, so that gave us a steering wheel, essentially. That way we had more control of the outhouse. We had more confidence with that."
As they came down the homestretch in the final, ACHHH challenged on Hatch 31's right side, but Perta and McDonough kept a straight and true line right toward the finish line, a roll of paper towels stretched across Main Street between two plungers.
ACHHH faltered ever so slightly, and Hatch 31 hit the towels a scant couple feet ahead of their rivals as Perta let out a scream that reflected not only the dramatic win, but also the years of frustration.
Perta's finish-line reaction cannot be printed accurately in a family newspaper, but McDonough said they are excited about the breakthrough — they routinely read write-ups of the previous years' failures to maintain their mental edge.
"It felt so good. Cam will send me the old articles from the last two years every other month for motivation," he said. "It's really good to get there finally."
Wisell praised her teammates' enthusiasm.
"These guys are definitely the most dedicated team. I'm happy to have them," she said.
So why is it so important to win a fundraising event involving decorated fake outhouses?
"The whole town's here," said Perta (who also acknowledged that he and McDonough are "pretty competitive guys). "We discuss it all the time. It's nice because we're all born and raised in this area and to compete in this event brings us such notoriety."
McDonough added everybody also remembers their setbacks, and now that history is re-written.
"It feels a whole lot better walking the cart down after you win," McDonough said. "It's the best feeling in the world."
But they have no plans on resting on their laurels.
"We'll do it until we're 95," Perta said. "We'll keep practicing, working hard. It's non-stop. It's all effort and energy and teamwork."
Andy Kirkaldy may be reached at [email protected].
More News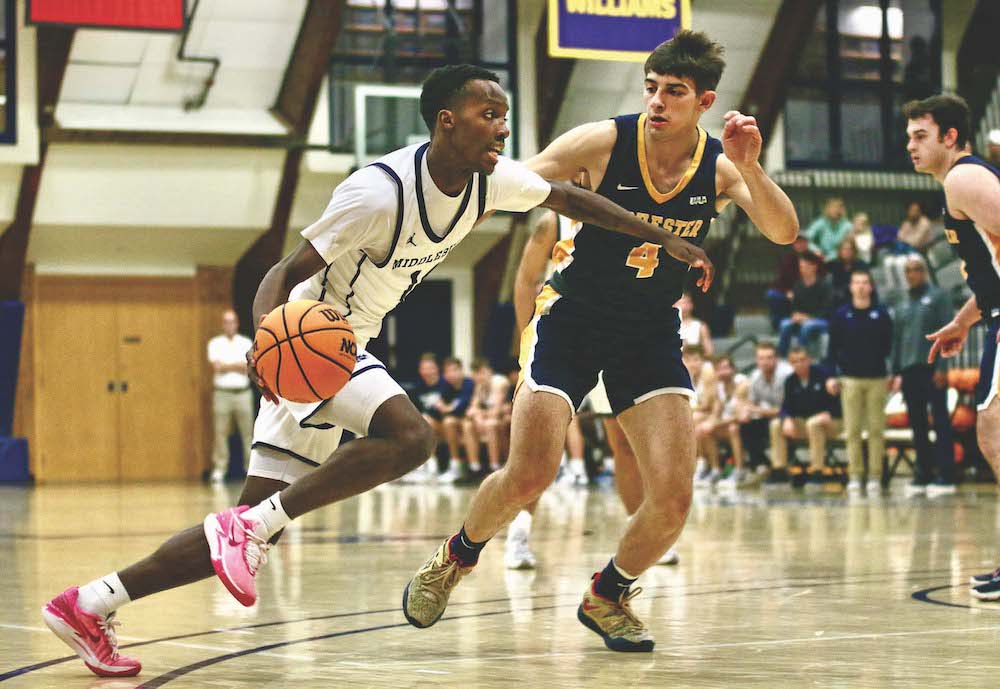 The Middlebury College men's basketball team dropped a pair of home games to teams in the … (read more)
The Middlebury College women's basketball team split a pair of games this past weekend at … (read more)
The Middlebury College women's hockey team lost one game and settled for a tie in another … (read more)