Panther women win track & field meet
HARTFORD, Conn. — The Middlebury College Panther women's track & field team won a 19-team meet hosted by Connecticut College this past Friday and Saturday.
The Panthers scored 118.5 points, followed by Bowdoin (110 points) and Amherst (95 points).
The meet was highlighted by three individual victories and three runner-up results.
On Friday, Kate Kenny won the 3,000-meter steeplechase in 10:57.16, with Audrey Grimes in third (11:25.93).
In Friday's 800, Nicole Johnson won in 2:12.42, and Katelyn Pease was third in 2:13.29.
Also on Friday, Cassie Kearney won the 1,500 in 4:31.86.
In Friday's field events, Zoe Wang took second in the pole vault with a height of 3.40 meters.
On Saturday, the Panther women's 4×100-meter relay quartet of Eva Kaiden, Michelle Louie, Jaqueline Topping and Cady Barns placed second in 48.71, and Jaxon Palmer was second in the javelin at 35.93 meters.
Earning third-place finishes were Ciara Dale in the 400m hurdles (1:05.13), Peyton Belsher in the high jump (1.57m), and Barns in the high jump (11.28m).
At the same invitational, the Middlebury men's team took fifth place out of 20 teams with 14 top-10 finishes.
On Saturday, Daniel Brey took second with a toss of 45.69 meters in the hammer throw.
On Friday, Quinlan McGaugh finished second in the 1,500 in 3:57.14, and in the 800, Max Cluss took third in 1:54.99.
More News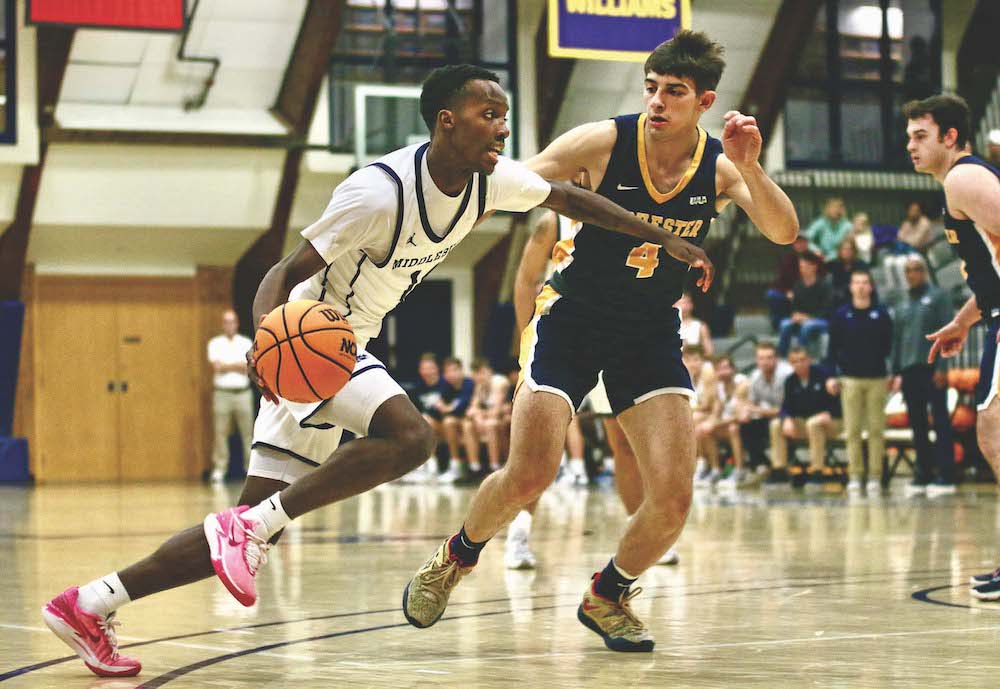 The Middlebury College men's basketball team dropped a pair of home games to teams in the … (read more)
The Middlebury College women's basketball team split a pair of games this past weekend at … (read more)
The Middlebury College women's hockey team lost one game and settled for a tie in another … (read more)