Eagle girls' basketball tops Tigers
ADDISON COUNTY — Mount Abraham outpaced Middlebury on Friday to highlight local high school girls' basketball play last week. In other action, the Eagles and Tigers each dropped games earlier in the week, while Vergennes and Otter Valley each split two games.
EAGLES VS. TIGERS
On Friday the Eagles took charge with a 15-2 advantage in the first quarter in a 50-16 victory over the host Tigers.
Mount Abe Coach Connie LaRose praised the young Tiger team for playing hard, and said she got quality minutes from her bench players.
Chloe Johnston led the 5-2 Eagles with 17 points and three steals. Emma Campbell scored 11 points and grabbed four rebounds, and Jalen Cook contributed eight points, five assists and four steals.
For the 0-7 Tigers Ashley Sunderland scored five points and pulled down four rebounds, and Taylor Sylvester finished with four points and seven rebounds.
On Wednesday the Eagles prevailed at Division I South Burlington, 36-25. LaRose the Eagles broke open a close game in the late going. "We pulled away in the fourth quarter," she said. "The press finally wore them down."
Johnston led the Eagles with 12 points and added four assists and three steals. Jalen Cook scored 10 with five steals and three assists, and Jess Murray hauled in seven rebounds. Gabi Ambrosino paced the 2-3 Wolves with 10 points.
The Eagles will visit Colchester on Tuesday and host VUHS on Friday.
On Wednesday visiting Mount Mansfield held the Tigers in check in a 47-15 victory JoJo Kolok scored 12 points for the Cougars as they improved to 2-4. Ivy Doran paced the Tigers with six points.
Next up for the Tigers is a visit to VUHS on Tuesday at 7 p.m.
COMMODORES
On Wednesday the Commodores used a big second half to get past Harwood, 39-25, in their home opener. The game was tied at the intermission, and VUHS earned a 24-10 edge in the second half.
VUHS relied on a balanced attack led by eight points from Morgan Lynk and seven apiece from Brianna Vanderway (seven rebounds) and Emma Bryant (six rebounds and four steals). Peyton Lanphear led the Highlanders with eight points.
On Saturday the Commodores led most of the way, but visiting D-I foe Mount Mansfield (3-4) hit a trio of three-pointers in the final two minutes to prevail, 52-48.
Kate Gosliga scored eight points to lead the VUHS offense. Also contributing were Vanderway (seven points and eight rebounds), Emily Rooney (five points, rebounds, five steals) and Emily Gosliga (seven points).
After the 2-3 Commodores host MUHS on Tuesday they will visit Mount Abe on Friday.
OTTERS
On Wednesday the Otters posted a convincing home win over Mill River, 52-29. Center Livia Bernhardt sparked the victory with 22 points and nine rebounds, and Julia Eastman and Alice Keith added eight and six points, respectively, with Keith adding four steals.
OV sank 19 of 44 attempts from the floor and 10 of 13 from the line, and only turned the ball over 13 times.
Coach Kelly Trayah called the game his team's best of the season, noting consistent effort from start to finish. He also praised the forwards for finishing at the rim and OV's press for keeping the Minutemen off balance.
"We had a good night. We got off to a fast start," Trayah said. "Getting the fast start is going to be key for us this year, and they did that well tonight. It all came together."
Tess Bagley led Mill River (2-7) with six points.
On Friday visiting Springfield pulled away down the stretch to defeat OV, 62-52.
The Otters took an 11-3 lead, but the Cosmos fought back and pulled ahead after three periods, 44-37. Points from Bernhardt and Alia Edmunds put OV on top early in the fourth, 45-44, but the Cosmos had the answers the rest of the way.
Bernhardt had another big game with 24 points and 13 rebounds, while Edmunds scored 12 and Eastman chipped in seven for the 3-4 Otters. Hannah Crosby led the 3-2 Cosmos with 22.
The Otters will host Woodstock on Tuesday.
More News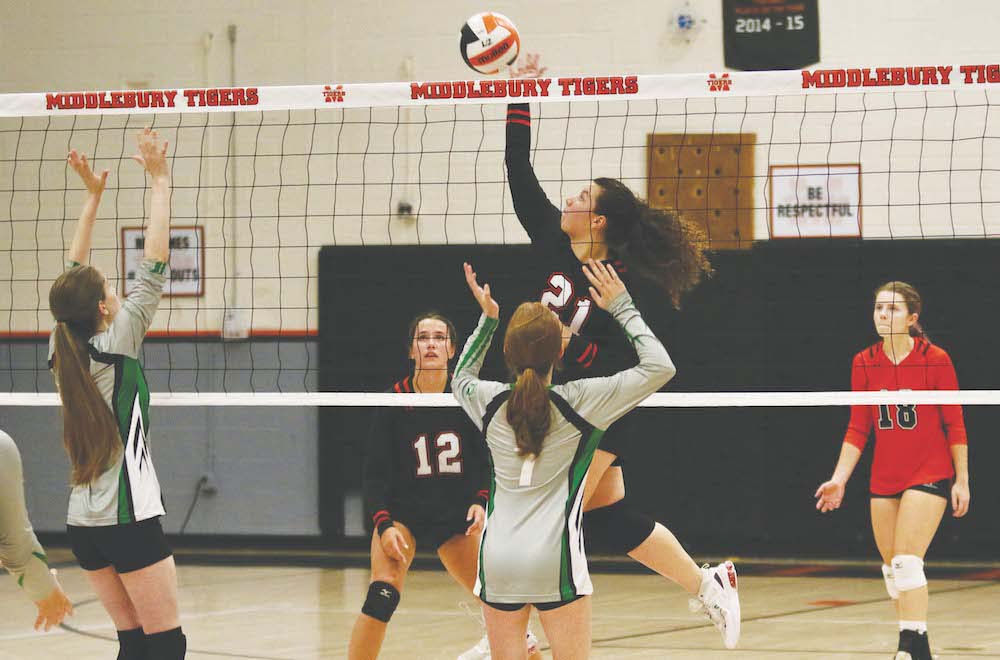 The first-year Middlebury Union High School girls' varsity volleyball team continued its r … (read more)
Soggy conditions didn't slow down Middlebury runners noticeably at a cross-country meet ho … (read more)
I gave Bill Lee a call last week, hoping he was at his home in Craftsbury and we might arr … (read more)