Women's soccer claims the crown
AMHERST, Mass. — The fourth-seeded Middlebury College women's soccer team knocked out two higher seeds in the NESCAC final four at Amherst this past weekend to claim the league championship, doing so by prevailing in two penalty-kick shootouts over the two top seeds.
By winning their fifth NESCAC playoff title, the 12-3-3 Panthers also earned NESCAC's automatic bid to the NCAA Division III tournament.
But despite claiming the league's playoff title, the Panthers were not awarded a home Regional when NCAA tournament pairings were announced on Monday, although the two teams they defeated this past weekend — Amherst and Wesleyan — both will host four-team Regionals.
Instead, the Panthers will head to Misericordia University in Dallas, Penn., and face Lynchburg (15-5) in the first round at 3:30 p.m. on Saturday. Host Misericordia (18-1) will square off vs. Bryn Athyn (12-3-2) earlier, and the winners will face each other at 3 p.m. on Sunday.
In their most recent two appearances in the NCAA tournament, the Panthers lost in the national final in 2018 and lost in a Regional final in 2019.
NESCAC TOURNAMENT
This past weekend, the Panthers also extended their unbeaten string to nine games after what had been a slow start to their season.
On Saturday the Panthers got past host Amherst, the top seed in the NESCAC tournament, 4-3, in penalty kicks, after rallying with two goals in the final 15:05 to force overtime with a 2-2 final. A Rose Evans penalty kick and Joely Virzi's one-timed conversion of an Eliza Robinson cross with 6:15 to go in regulation created the extra sessions, which ended scoreless.
Ruby Hastie (on a PK) and Patience Kum had given Amherst (14-1-2) its 2-0 lead, and Mammoth goalie Mika Fisher made eight saves. Sydney Poppinga started and played 110 minutes for the Panthers in goal and made seven stops.
In the shootout for the Panthers, Sarah Guest, shootout goalie Lucy VanNewkirk, Jazzaray McClinton and Cate Shellenback converted PKs, and VanNewkirk stopped the final Mammoth shooter to clinch the victory.
On Sunday, the Panthers again used PKs to defeat No. 2 seed Wesleyan (14-1-2) after the teams battled to a 1-1 tie. Wesleyan had defeated the Panthers, 2-0, early this season in Middlebury.
In the first half of regulation, Evans headed in an Ellie Bavier corner kick for Middlebury, and Wesleyan's Kate Hausladen netted a rebound to equalize in the half's final minute.
Wesleyan outshot Middlebury, 20-14, but Poppinga and Cardinal goalie Sarah Hammond each made eight saves in regulation.
VanNewkirk made three saves in the PK shootout, including denying the Cardinals' fifth shooter to clinch the Panthers' 3-2 shootout victory. Eliza Van Voorhis, Guest and Isabella Di Benedetto converted PKs for the Panthers.
More News
Tiger boys' cross-country team held off runners from Burr & Burton, VUHS and Mount Abe in … (read more)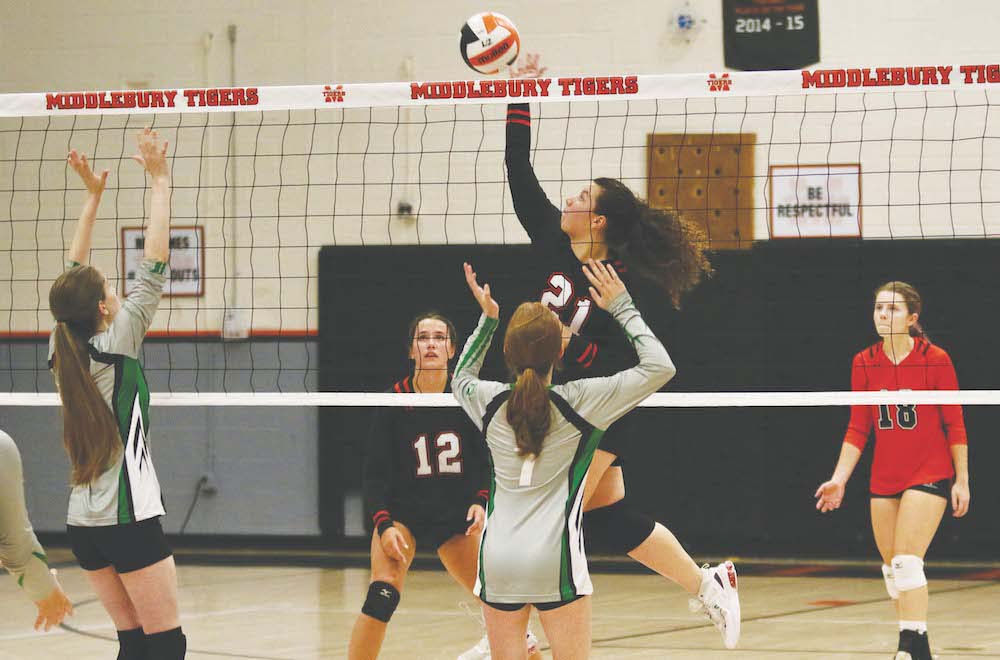 The first-year Middlebury Union High School girls' varsity volleyball team continued its r … (read more)
I gave Bill Lee a call last week, hoping he was at his home in Craftsbury and we might arr … (read more)