By the way for Jul. 15
The Bristol Trail Network is looking for volunteers to help clear knotweed off of the trails and mulch the pathways in Sycamore Park. The group is hosting two workdays to get this done, so come to one (or both) — whatever fits into your schedule. Workdays will be Tuesday, July 20, 5-7 p.m., and Wednesday, July 21, 9 a.m.-noon. Be sure to bring gloves and water for yourself, and also wheelbarrows, rakes, shovels, and any tool that can slice down the knotweed (such as loppers, clippers, scythe, and weed whackers). Those willing to volunteer should email [email protected].
The Middlebury New Filmmakers Festival (MNFF) is seeking hosts for some of the traveling filmmakers who will attend the festival on Aug. 25-29. The MNFF is back live and in-person after having gone virtual last year due to the COVID-19 pandemic. The festival will take place in a variety of Middlebury venues, including Town Hall Theater. Festival organizers are looking for individuals or families who have a spare bedroom for filmmakers to stay in for all or part of the festival. All filmmakers will be required to be fully vaccinated in order to attend the festival, and MNFF and its partner venues will be following all CDC and Vermont Department of Health guidelines. As a host, you would receive a complimentary festival pass to all film screenings, as a token of gratitude. If you're interested in hosting a filmmaker, please email Sophie Hichman at [email protected] with your name, what accommodations you would be able to offer (number/size of beds/bath, and for how many days), and any questions you might have.
The Addison County Solid Waste Management District will be collecting post-consumer food scraps for compost at the Addison County Fair & Field Days this year, slated for Aug. 10-14. With that in mind, the district could use some "Waste Warrior Superheroes" to help manage collection sites. Waste Warriors will be a friendly face to help educate fairgoers on the proper disposal of food scraps as well as recyclables and trash. These volunteers will staff one of two waste stations for four hours. In exchange, volunteers will receive a free t-shirt, as well as free admission to the fair on the day they volunteer. If you're an avid composter, recycler, or just care a lot about our planet, please consider signing up. Log on to tinyurl.com/c5m4ydsw for more information.
The 5th annual indoor yard sale to benefit the Brendon P Cousino Med47 Foundation will be held on Saturday, July 24, from 8 a.m. to 3 p.m., at the Middlebury American Legion headquarters off Boardman Street. There will be something for everyone at this well-organized event, with clean, gently used items. Organizers are seeking volunteers on Friday, July 23, to help set up the event. This will include unloading three trailers and setting up and organizing all the yard sale items. Help is also needed to pack up the leftovers and load trailers after the sale concludes during the late afternoon of July 24. All proceeds go to the Brendon P Cousino Med47 Foundation, which provides scholarships to area tech students, support to area rescue squads, first-response groups and the greater community. For more info contact Cindy Cousino at 802-233-8334 or [email protected].
Middlebury's Henry Sheldon Museum of Vermont History reopened to in-person visitors on Tuesday after a long COVID-related hiatus, and it is celebrating the occasion with three new exhibits and lots of upcoming programs. Exhibits include "Henry at 200: Collector, Museum Founder & More" (July 13-Dec. 31); "Faces of Addison County: A Trent Campbell Retrospective" (July 13-Sept. 11); and "Kate Pond From the Heart: A Sculptor's Process" (July 13-Sept. 11). Check out henrysheldonmuseum.org for more information.
More News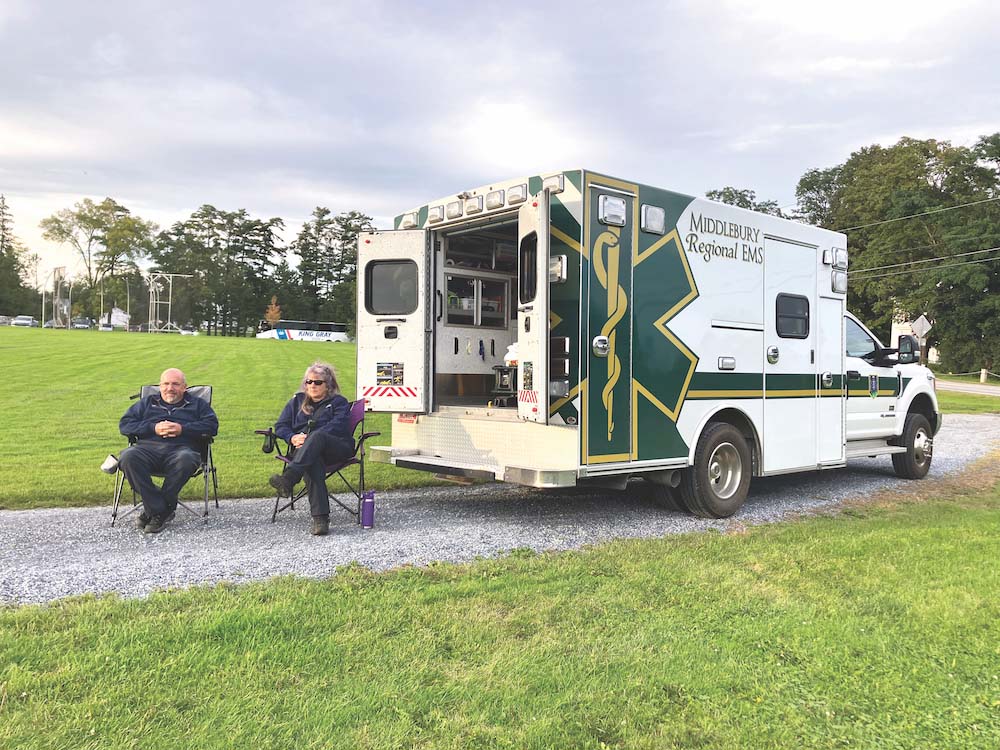 Middlebury Regional Emergency Medical Services wants to eliminate its annual Town Meeting … (read more)
Middlebury police are investigating the death of a Middlebury College junior and say the p … (read more)
In the course of her almost 101 years on Earth, Vergennes resident Margaret Clifford, bett … (read more)