Baseball: High school teams all win at least once
ADDISON COUNTY — The Vergennes, Mount Abraham and Otter Valley union high school baseball teams all won at least once during the past week to remain in the top eight in their respective divisions and stay in position for a first-round home game when the postseason begins next week.
COMMODORES
The VUHS baseball team made it four wins in six outings by winning two times in three tries. At 6-8, the Commodores look to have locked up a D-III home playoff game.
On May 20, the Commodores overwhelmed host Milton, 16-2. Tucker Stearns tossed a six-inning four-hitter, fanning 10 and walking three. Jarret Muzzy sparked the offense by homering, doubling, driving in three runs and scoring four times. Also contributing were Barret Barrows (three hits, three RBIs), Jake Russell (two hits, two RBIs, two runs) and Tim Ashley (two hits).
On Saturday, VUHS edged visiting Missisquoi, 9-8, taking the lead for good when a Stearns groundout scored Muzzy in the fifth inning. Muzzy earned the pitching win, going the distance and allowing three earned runs and 10 hits while striking out five. Muzzy also doubled twice, singled twice and drove in a run.
Nate Muzzy and Xavier Deblois each had two hits and drove in runs for VUHS, while Ashley walked twice and drove in two runs.
On Tuesday, Jarret Muzzy had the lone VUHS hit in a 16-0, five-inning loss at Rice. 
EAGLES
On Saturday, host Spaulding (11-2) dropped Mount Abe, 13-2, in five innings. The Eagles managed seven hits off winning pitcher Kieran McNamara, but the traffic didn't translate into runners crossing the plate.
On Monday, the Eagles shrugged off a 6-0 second-inning deficit to defeat visiting D-I Mount Mansfield, 9-6. Mount Abe plated three runs in the bottom of the third and then won the game with a big six-run sixth.
Ryan Whitcomb picked up the pitching win, and Zeke Savage sparked both rallies with three hits and four RBIs. Colby Lathrop and Adam Mansfield figured into the offense with two hits apiece.
At 8-7 the Eagles are dueling OV for the Nos. 7 and 8 seeds in D-II, with Stratton also potentially in the mix. They can clinch a home game when they wrap up the regular season at Milton on Thursday.
OTTERS
On May 20, Otter Valley defeated visiting Springfield, 7-3, as Ethan Blow went 5.2 innings for the win. Caleb Whitney tripled, doubled and singled for OV, Lane Eddy doubled and singled, and Blow added a double.
On Saturday, D-I Brattleboro topped OV, 5-2, as Colonel Zinabu McNeice tossed a complete game six-hitter, striking out nine. McNeice worked out of a bases-loaded, none-out jam in the sixth.
On Tuesday, host Green Mountain Union edged the Otters, 4-3. Andy McEnerny took the complete game pitching loss, and Whitney, Fraser Pierpont and Matt Greeno drove in runs for OV. The Otters dropped to 6-7 and behind Mount Abe into eighth place in D-II.
More News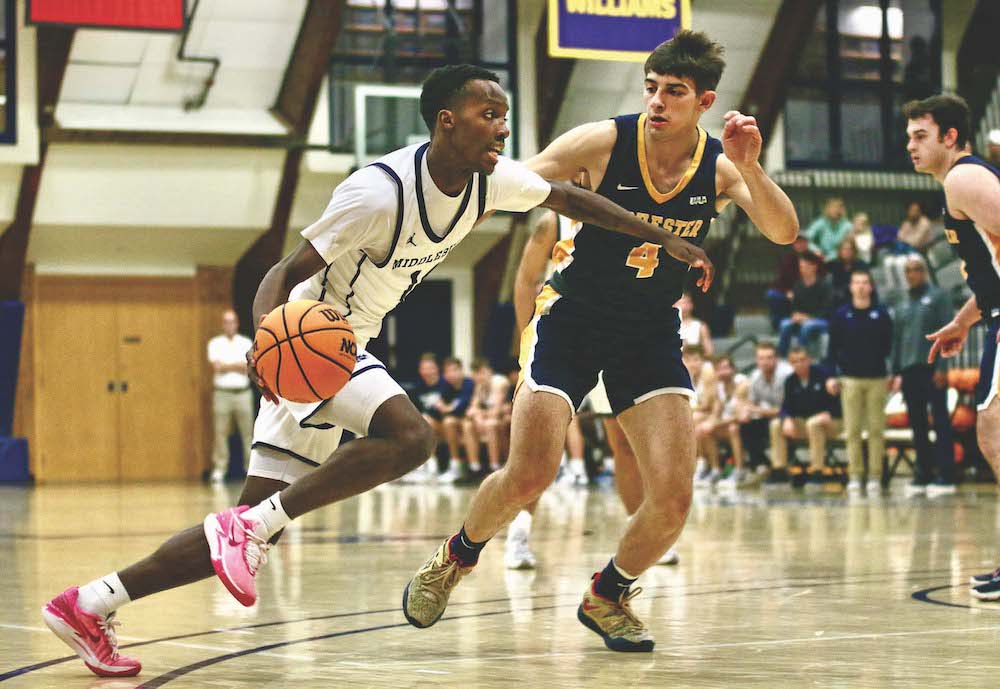 The Middlebury College men's basketball team dropped a pair of home games to teams in the … (read more)
The Middlebury College women's basketball team split a pair of games this past weekend at … (read more)
The Middlebury College women's hockey team lost one game and settled for a tie in another … (read more)