By the way for Mar. 11
Spring brings with it warmer temps, the promise of blooming wildflowers, running maple sap and more hours of daylight. All these great things more than balance out the hour of sleep you will miss this Saturday night when the clocks move forward and hour to kick off Daylight Savings Times. Spring forward!
Another episode of 5-Town Live talent show is scheduled for this Saturday, March 13, from 7-8:45 p.m. This is a low-key, open mic event that's been a huge success, particularly during the COVID-19 pandemic. It's been averaging almost 50 viewers per show, and the performances have been an amazing potpourri of local talent. There are probably only a couple more episodes left this winter, so if you've been wanting to tune in or perform, now's your chance. Three songs or 10 minutes per performer, and anything goes. Email nategusako[email protected] if you want the Zoom link or if you want to perform.
"Girls on the Run" Vermont's 2021 spring coach registration is open and seeking additional coaches across the state. Girls on the Run is a physical activity-based, positive youth development program that inspires girls in grades 3 through 8 to be joyful, healthy and confident. The eight-week program incorporates running to teach critical life skills, encourage personal development and foster team building and community service. Volunteer coaches use a curriculum to engage teams of girls in fun, interactive lessons. Lesson content covers topics such as empathy, friendship, identifying and managing emotions and more. Teams meet twice a week for 90 minutes and the program culminates with all teams participating in a celebratory 5K run/walk event. Find out more online at gotrvt.org.
Bristol's Watershed Center invites anyone and everyone to its 2021 annual meeting, to be held virtually next Tuesday, March 16, from 7-8 p.m. To attend, send an email to [email protected] and you will receive a link to join the Zoom meeting. Come learn about The Watershed Center organization and Waterworks property. Members of the center's board will give a virtual tour of the property, showing pictures of some favorite areas and trails. If you are new to the area and the Watershed Center, this is a great opportunity to learn more about the land, the organization that helps steward the property, and the community that supports TWC. The meeting will include musical selections by local musicians Rick Ceballos and John Elder — including the premier of a new song called "The Commoner's Return."
The 5-Town Friends of the Arts, Bristol's Lawrence Memorial Library, and Art on Main will hold a "poetry Zoom" called Poetry Out Loud on Thursday, March 18, from 6:30-8 p.m. Join in to read or recite a poem — your own work or poetry written by someone else. If you don't have a poem to share, you're welcome to come to just listen and enjoy. This is a chance for poetry lovers to get together and experience a little uplift through the power of spoken words. If you would like to participate on Zoom, please go to lawrencelibraryvt.org and click on the "Adult Events" section listed under Programs.
The Mount Abraham Union School District's School Nutrition Cooperative recently landed a federal grant for the purchase of a new vehicle that's being used to distribute food throughout the 5-Town Area. This includes delivering meals to students studying remotely, as well as transporting local foods and other items between district schools, according to Superintendent Patrick Reen.
To celebrate the power of youth in changing the future, Military Kids Vermont and UVM Extension 4-H have teamed up to sponsor a poetry contest for kids, ages 5-18. The contest is being held in conjunction with "April is the Month of the Military Child," an annual recognition of the sacrifices and bravery of military kids when a parent or guardian is deployed. Both military and civilian youths may enter although only one entry per individual is allowed. Poems will be judged on creativity, originality and how well they incorporate the theme, "Kids Creating Change for a Better Tomorrow." They may be any style or length and do not need to rhyme. Artwork is optional. Entries must be emailed or postmarked by April 2. They may be submitted by email to [email protected] or by mail to Allison Smith, Attn: MOMC Poetry Contest, UVM Extension 4-H, 140 Kennedy Dr., Ste. 201, South Burlington, VT, 05403. All entries must include name, age, mailing address, email and phone number. Prizes will be awarded to the top entry in each age group: 5-7, 8-11, 12-15 and 16-18. For complete contest details, go to tinyurl.com/e23rkxz4.
More News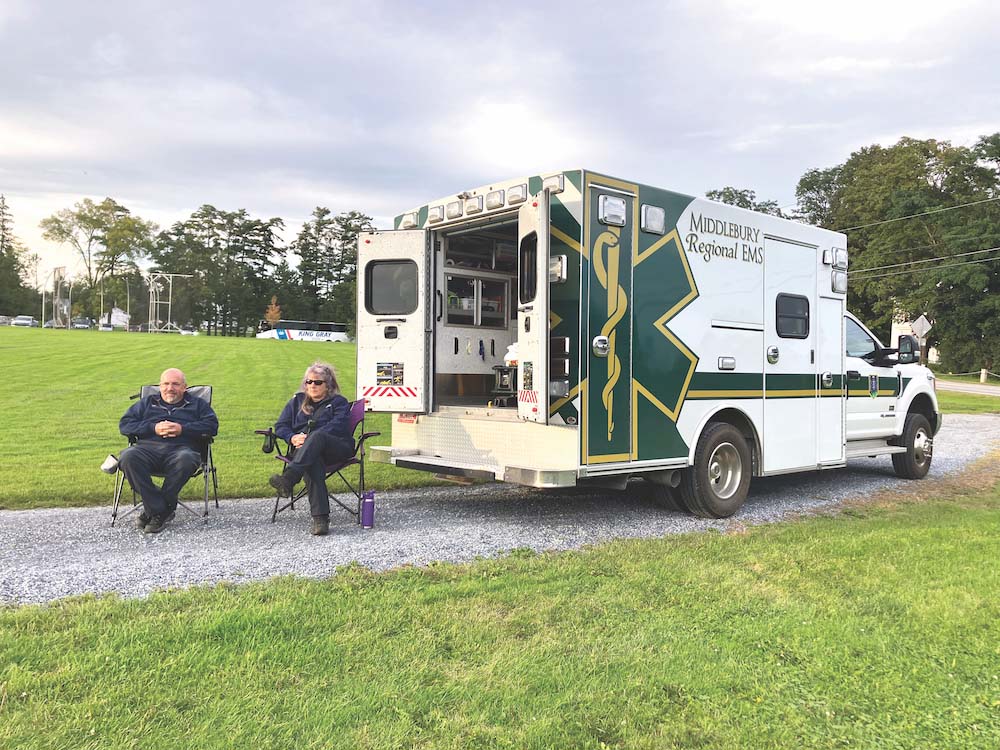 Middlebury Regional Emergency Medical Services wants to eliminate its annual Town Meeting … (read more)
Middlebury police are investigating the death of a Middlebury College junior and say the p … (read more)
In the course of her almost 101 years on Earth, Vergennes resident Margaret Clifford, bett … (read more)