By the way for Feb. 11
Mount Abraham Union High School A Cappella members are working to put together a sweet surprise that can be delivered via email to your loved ones anywhere. The Singing Valentine is 1.5 minutes of joy and love, will be sent with your personal message, and you can order yours through this link (which suggests a $5 donation to the A Cappella program: forms.gle/1TTxNJW6NnFBwj2o8.
Ferrisburgh's Rokeby Museum, an Underground Railroad site and a National Historic Landmark, has openings for four new board members, each typically serving a three-year term. Rokeby's mission and programs are committed to social justice, diversity, and inclusion, as well as historic preservation and interpretation of the Robinson family's homestead in a historical context. Currently, the museum is looking for trustees with expertise in the following areas: Advancement and development, historic preservation, long-range planning, business management, and advocacy in a social justice context. If you're interested, please submit an email (by Feb. 15) detailing your interest indicating areas of strength, background, willingness to serve, and any other relevant information to [email protected].
Lincoln's world-renowned Variety Show is back — just not with an in-person audience. The good news is, you can watch it live, with an internet connection. It's set for Saturday, Feb. 20, at 6:30 p.m., at neatbristol.com/live-stream/. Those who want to be in the show have two options: 1) Be on stage at Burnham Hall, on Feb. 20, and your act will be live-streamed. Organizers have a plan to address COVID-19 concerns. 2) Send in a video of your act to include it in the program. All performers are welcome. You can sing a song, tell a joke, tell a story, do a magic trick, show off your pet, perform a relatively amazing stunt, etc. Organizers are looking for family-friendly acts ranging in length from 10 seconds to four minutes. Please contact Nate Gusakov at [email protected] by Feb. 14.
Reminder: Access to the Ralph Myhre Golf Course and portions of the Trail Around Middlebury that run through Middlebury College property are limited to students who live on campus starting Friday, Feb. 19, until otherwise announced. The closure of these areas is necessary to protect the health and safety of the entire community by reducing opportunities for virus exposure, while providing designated spaces for students living on campus to recreate. The entire campus remains closed to visitors, and faculty and staff working on or visiting campus must have approval to do so. The parts of the TAM that will be closed stretch from South Street Extension to Weybridge Street and include the following sections: Ralph Myhre Golf Course and portions of the TAM that run through it, the Red Kelly Trail, the Class of 1997 Trail, the section of the TAM that runs from College Street through the solar panel array north to Weybridge Street, and The Knoll.
For the lucky few who have been administered the COVID-19 vaccine: Yes, you should continue to wear a face covering in public, noted Middlebury Police Chief and Emergency Management Director Tom Hanley. The vaccine has at best a 95% efficacy, which means it's not 100% effective for everyone. Secondly, the vaccine is not a shield — you can still pick up and retain infected aerosols and spew them out to others. The vaccine essentially keeps the virus from replicating in your system and making you ill, according to Hanley. So vaccinated or not, you can still be the COVID version of Typhoid Mary, he said. So until the guidelines are pulled back — and don't expect that until we approach 85% herd immunity — you should still practice all the current safety protocols: mask up, social distancing, wash hands often and thoroughly, and avoid crowded spaces.
The 5-Town Friends of the Arts (FTFA) is now accepting grant applications for the spring round of community grants. These grants are meant to help fund activities and events in the fine arts, performing arts, history, and other cultural experiences that will enrich the lives of people living in Bristol, Lincoln, Monkton, New Haven and Starksboro. The goal of FTFA is to expose children and teens to arts and culture. Preference will be given to projects that meet that goal. Previous recipients have included libraries, schools seeking funding for special events or artists in residence, theater programs, and other community groups with great ideas in need of funding. Applications are due by March 15 and can be downloaded from the organization website: www.5townfriendsofthearts.org. Please send completed applications to: [email protected] (preferred) or mail to FTFA c/o Art on Main, 25 Main Street, Bristol VT 05443
The custodians of the Monkton Community Dog Park want to keep the gates open, so please take a few moments to shovel near the gates so they can remain functional to humans and their four-legged friends. There are shovels at the park for your use. If you have questions, contact [email protected].
The Addison County Community Health Needs Process has officially begun and the survey is now live. The survey opened on Feb. 1 and will remain open until March 20. The results from this survey will help determine priorities and areas of focus for the healthcare and human services organizations in Addison County. The survey is designed to take approximately 15 minutes and it is completely anonymous and voluntary. Link to the survey at surveymonkey.com/r/86PSH65. Paper copies are also available by request to Sylvie Choiniere at [email protected] or 382-3406. Once the survey results and focus groups are completed and analyzed, the report will be distributed and made widely available.
More News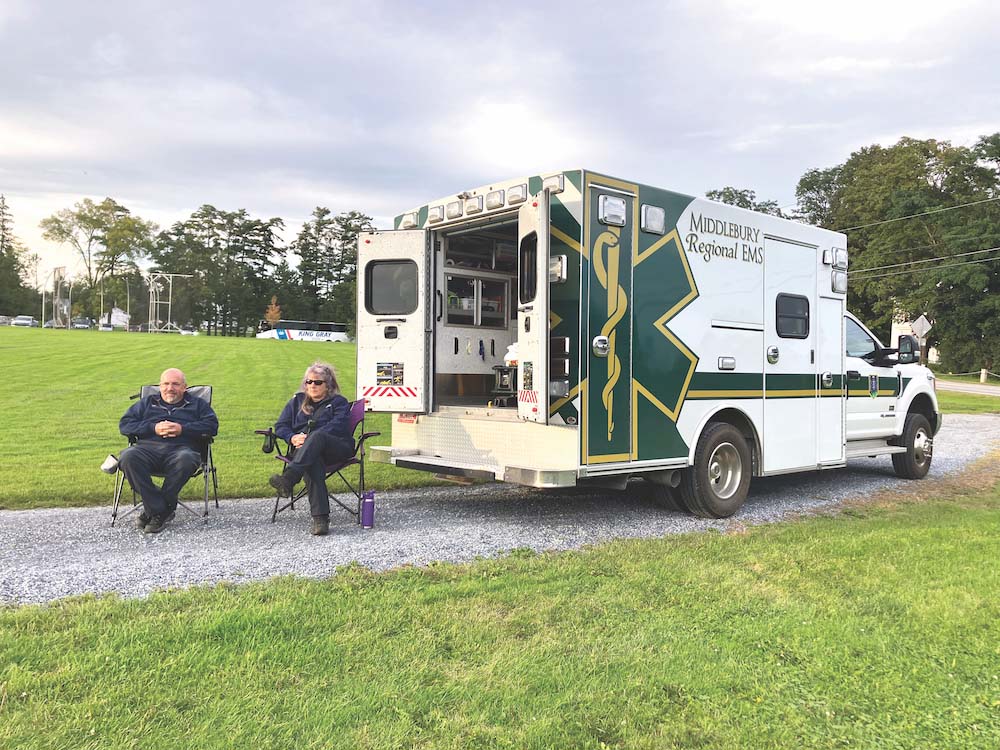 Middlebury Regional Emergency Medical Services wants to eliminate its annual Town Meeting … (read more)
Middlebury police are investigating the death of a Middlebury College junior and say the p … (read more)
In the course of her almost 101 years on Earth, Vergennes resident Margaret Clifford, bett … (read more)