Ferrisburgh news for Feb. 4
FERRISBURGH — Ferrisburgh's Rogers and Hazard Relief Society was incorporated in 1886 by Joseph Rogers and Rufus Hazard with the intent to "relieving the wants of the sick and poor in Ferrisburgh, Addison County, VT, by doctoring, nursing or such ministries as said trustees deem proper." The society is quietly active in Ferrisburgh today.
The board consists of six appointed Ferrisburgh residents and two who are elected at the annual Town Meeting. Current board members are Karlene DeVine, Art Cohn, Sally Torrey, Pennie Beach and Liz Markowski. In the past year, there have been board vacancies due to members moving and/or needing to realign personal priorities.
The board is very pleased to announce three new members effective November 2020. Briefly: Christopher Melendy, who is from a family that has been in Vermont for many generations, graduated from UVM and has a Forestry consulting business. Lissa Gebo is a 4th-generation Ferrisburgher, is an active volunteer in the community and with the Ferrisburgh Methodist Church. Lissa has coached at VUHS for 32 years. Meg Langworthy has lived in Ferrisburgh for 30 years. Meg has volunteered with various community programs and works professionally as a social worker.
Rogers and Hazard has evolved since 1886 from delivering a sack of potatoes to a farm family whose breadwinner was temporarily incapacitated to buying eyeglasses and warm winter coats for youngsters identified through Ferrisburgh Central School to covering utility bills to prevent shut offs. More recently, we have identified other resources to assist in a roof replacement. Rogers and Hazard is a 501(c)3 and donations are welcome. All proceeds go to the work of the society.
If you would like to donate to the Fund, or if you or someone you know is a Ferrisburgh resident and could benefit from "emergency" assistance, call Karlene DeVine at 877-6392. All work done by Rogers and Hazard is confidential.
Rokeby Museum is offering a variety of virtual events and learning sessions this winter. Visitors can always do a virtual tour of the exhibit, "Free and Safe: The Underground Railroad in Vermont," which details the stories of Simon and Jesse, two fugitives from slavery who found shelter at Rokeby in the 1830s. Also, you can experience an in-person visit of the grounds and outbuildings and exploring the museum's extensive hiking trails. On Tuesday, Feb. 23, at 6:30 p.m., Rokeby will host a virtual discussion of "Discovering Black Vermont: African American Farmers in Hinesburg, 1790-1890" led by Vermont historian Elise Guyette. For all the special winter events, visit Rokeby's website: rokeby.org.
Rokeby has openings for four new board members, each typically serving a three-year term. Rokeby's mission and programs are committed to social justice, diversity and inclusion, as well as historic preservation and interpretation of the Robinson family's homestead in historical context. Rokeby seeks new members who feel called to contribute to the mission and programs of this unique part of the history and current day narrative of the Champlain Valley.
Currently the museum is looking for trustees with expertise in the following areas:
• Advancement and development
• Historic preservation
• Long range planning
• Business management
• Advocacy in a social justice context
If you are interested in becoming part of a team of committed trustees, staff, volunteers, artists and professionals, Rokeby would like to hear from you. Submit an email detailing your interest indicating areas of strength, background, willingness to serve, and any other relevant information to [email protected] by Feb. 15.
The Ferrisburgh Ice Rink is in great shape this year and the Ferrisburgh Recreation Committee hopes that many of you have had a chance to skate! The most up-to-date information can be found on the rink's Facebook page: Facebook.com/FerrisburghSkatingRink, via the town website, or by emailing to Martha Davis at [email protected].
For the first two weeks in February, the Rink will be reserved for Ferrisburgh Central School classes at the following times: Monday 9-11:30 a.m., Tuesday 3-4 p.m., Wednesday 9-11:30 a.m. and Friday 9-10 a.m. Thank you in advance for not skating during these times.
As a reminder, there is some equipment available for community use at the rink: loaner skates, crates, hockey pucks and goals. Feel free to use any of these but please return them when you are finished. Unfortunately, a crate with hockey pucks has disappeared from the rink/shed. We have replenished with a few more hockey pucks, but the supply is not endless.
We all can stay involved in our town governance by virtually participating in town meetings and events. The selectboard meetings are held on the first and third Tuesdays of every month at 6:30 p.m. The links to these meetings can be found at our town's website, ferriburghvt.org or email to [email protected]. Also stay turned for information on upcoming Town Meeting events and voting procedures.
The Lake Champlain Maritime Museum continues to offer educational experiences during this time of pandemic. The museum organizes a variety of virtual learning experiences for teachers, adults and youth via interactive virtual options. Although the museum has minimized in person contact due to the COVID-19 pandemic, students can still participate in such experiences as exploring an underwater shipwreck or studying the lake ecology. These interactive virtual programs give students the chance to explore our region's history, archaeology, and ecology. Recently posted are the 2021 summer camp opportunities for families and youth, which will be held in-person with COVID-19 protections. Visit lcmm.org.
Our area schools continue to work hard to provide learning experiences for our children and youth throughout the COVID-19 pandemic. Many key offerings continue to support the students, such as a combination of in-person and virtual learning, virtual college fairs, school meals, and certain sports activities. Please visit the schools' websites for further information. Information on the ANWSD COVID-19 response can be found at anwsd.org/covid-19-resources-style-2.php. The ANWSD Board encourages all of us to view meeting agendas, read their reports and view the Board meeting minutes at anwsd.org/addison-northwest-school-district-board-of-directors.php. The board reports that all annual meeting voting items will take place via Australian Ballot on Town Meeting Day, March 2. In their most recent meeting, the board approved a fiscal year 2022 budget as well as additional warned articles including the creation of an Education Stabilization Reserve Fund, additions to the district-wide Capital Improvement Fund and financing for the mold mitigation project at Ferrisburgh Central School. More information on all of these items will be forthcoming at the ANWSD's Public Informational Meeting on Monday, Feb. 22, at 6 p.m.
Bixby Library continues to offer a host of services during the pandemic, such as access to digital media services, printing, free WiFi and curbside pick up. Also, their tech-savvy volunteer Dave Sullivan is available for computer technical assist over the phone or via video. Email Dave with your questions at [email protected]. Bixby is hosting a special offering of a discussion of the book "So You Want to Talk About Race?" by Ijeoma Oluo. This book discussion will take place in four parts on Twitter using the hashtag #CommunityChat. The sessions will be on Thursday evenings from 7-8 p.m. on Feb. 11 and 25 and March 11 and 25. To obtain a physical copy of the book, visit forms.gle/RWvXqt8oYZq7mc3u5. To obtain an e-audio book, please use your Bixby Library card on the Hoopla app. More information about how to use Hoopla can be found at bixbylibrary.org/accessing-hoopla.
NOTE: We are always interested in including a variety of Ferrisburgh-related news in this column, so if you have events that would be of interest, contact Sally Kerschner at [email protected]. You are also able to access these columns and other information about Ferrisburgh news and events by viewing the Ferrisburgh Town Website at ferrisburghvt.org.
More News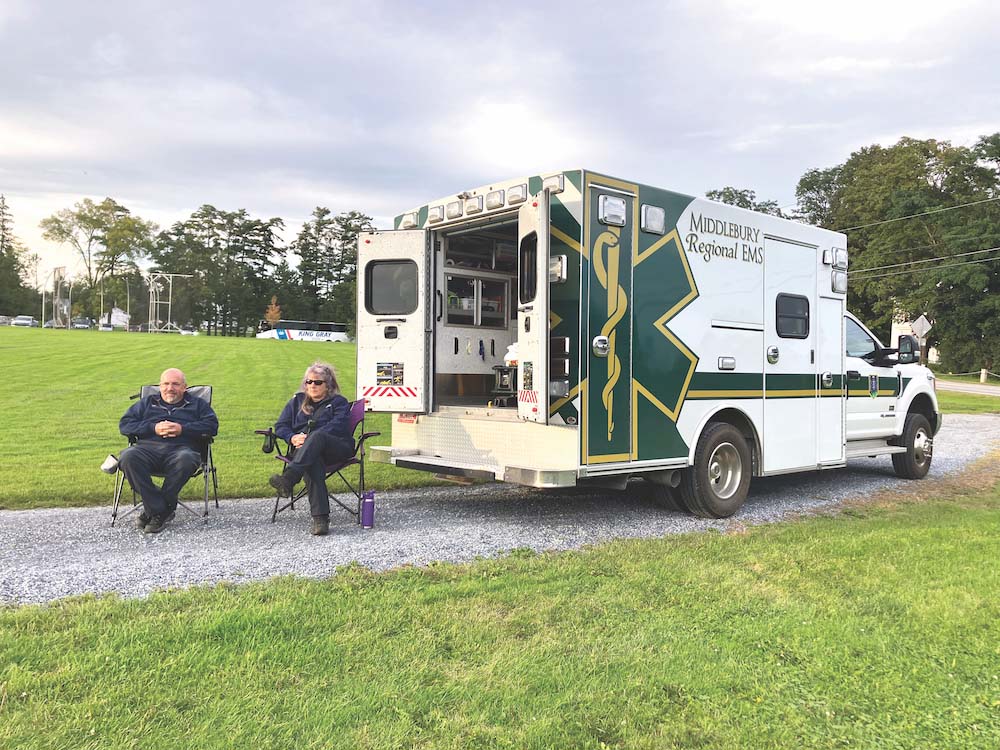 Middlebury Regional Emergency Medical Services wants to eliminate its annual Town Meeting … (read more)
Middlebury police are investigating the death of a Middlebury College junior and say the p … (read more)
Vergennes resident Margaret Clifford offers nearly a century of recollections, from losing … (read more)