By the way for Oct. 1
To all Goshen residents a burn ban went into effect on Sept. 27 and it will last until further notice. If you have any questions you can contact Fire Warden Shawn Martin at 247-6433.
The St. Ambrose Knights of Columbus is hosting a Knights in Italy walk-up spaghetti dinner from 4-5:30 p.m. on Oct. 2, with proceeds to benefit the Knights' mission of aiding the community in a variety of ways, from Coats for Kids to the Special Olympics. There will be a table set up outside the church on the town park side. Please walk up, place your order and your meal(s) will be brought out, packaged up for you to bring home. The menu includes spaghetti with sauce, garlic bread, salad, and dessert. The cost of the meal is $10 for adults, $5 for children 12 and under, and $25 for a family.
The Middlebury Performing Arts Series presents a free concert by the Sphinx Virtuosi on Friday, Oct. 2, at 7:30 p.m. online on the Mahaney Arts Center's Digital Stage. One of the nation's most dynamic professional chamber orchestras, this self-conducted ensemble is comprised of 18 top Black and Latinx classical soloists. Their national tour includes annual stops at Carnegie Hall and Miami's New World Center, bringing fresh, diverse programming to leading venues around the country. They engage in immersive outreach to bring classical music to communities nationwide, including students of all ages. Sphinx was founded in 1997 by Aaron Dworkin with the goal of addressing the underrepresentation of people of color in classical music. The name Sphinx, inspired by the mythical creature and legendary statue, reflects the power, wisdom and persistence that characterize Sphinx's participants, as well as the enigmatic and interpretive nature of music and art.
Middlebury's Bridge School has the opportunity to purchase a bridge for its playground. Well, a scaled-down model, at least. The so-called "Bridge to the Outdoors" is one of several bridge models that made up the Town Hall Theater's recent outdoor exhibit, inspired by the downtown Middlebury tunnel project. Examples of creative bridge designs, submitted by local architects, designers and other businesses, can be seen throughout town. The structure the Bridge School is targeting was designed and built by Jed Malcolm of Salamander Construction, and is inspired by his team's love of the outdoors. It is modeled after a small lean-to with two bridge entrances, and can double as a small stage. Bridge School officials said it's a perfect fit for the school's education mission and focus on the outdoors. The structure costs $3,000, with proceeds benefitting THT. The school has set up a GoFundMe campaign that as of Wednesday had netted $2,709. The campaign is at tinyurl.com/y3vqad3z.
The Vermont Department of Health is reminding people that October is a good month during which to get a flu shot — particularly this year. It's more important than ever to get your flu shot, when both flu viruses and COVID-19 will likely be spreading at the same time, according to DOH officials. A flu vaccine won't protect you from COVID-19, but it can do a lot to help keep you healthy. It can prevent the flu, reduce the severity of your illness if you do get flu, and lower your chances of being hospitalized due to flu. Everyone 6 months and older (with rare exceptions) should be vaccinated, according to the DOH, and is especially important for anyone in a high-risk group or has underlying health conditions. To find out where to get a flu shot near you, log on to healthvermont.gov/flu.
The staff at Homeward Bound, Addison County's Humane Society, is working to go as paperless as possible with its adoption and other processes. To that end, they're seeking donation of a non-Apple tablet for e-signatures. Due to a conflict between the organization's database and browser its iPad won't give the right functionality. Anyone with a gently used, relatively recent tablet that runs Chrome who would like to donate it, please email [email protected].
To all those concerned about the closing of Middlebury's Tot Lot: Middlebury Parks & Recreation Superintendent Dustin Hunt reports the toddler playground is not gone forever, just under construction. The new-and-improved playground was slated for installation this fall, but organizers ran into coronavirus-related delays that affected the production and shipping of the different components. Plans now call for the playground to be installed as soon as weather allows during the spring of 2021. 
More News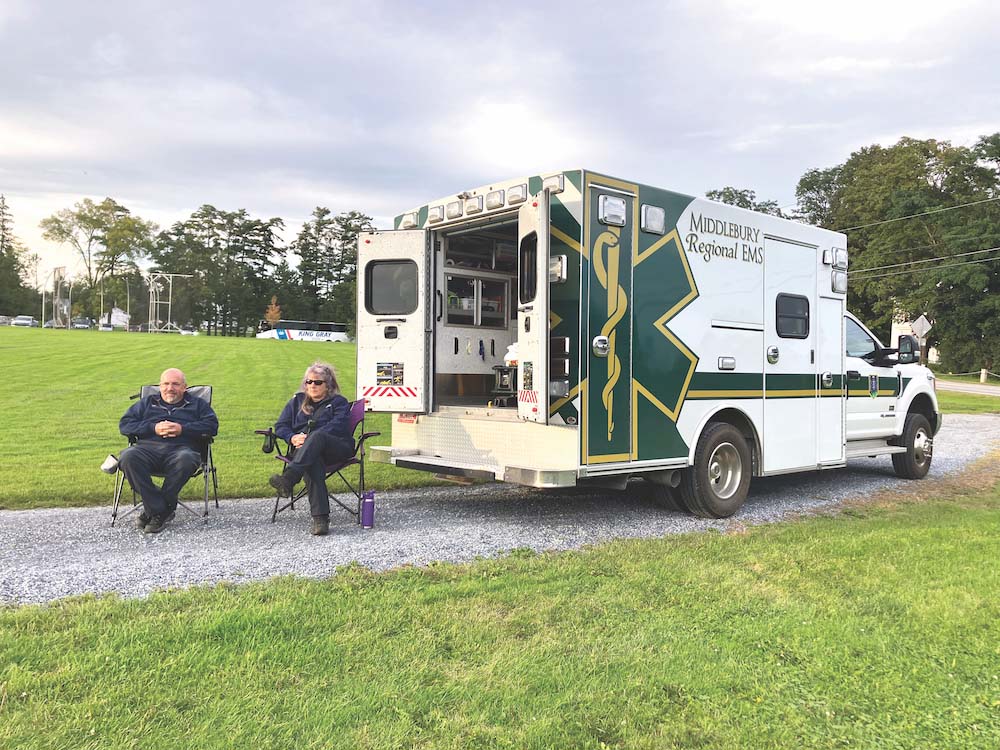 Middlebury Regional Emergency Medical Services wants to eliminate its annual Town Meeting … (read more)
Middlebury police are investigating the death of a Middlebury College junior and say the p … (read more)
Vergennes resident Margaret Clifford offers nearly a century of recollections, from losing … (read more)