By the way for Jul. 9
If you haven't figured out a strategy for managing your food waste separate from your trash — as was mandated by a new law that went into affect July 1 — give the Addison County Solid Waste Management District a call at 388-2333, or visit the ACSWMD website at addisoncountyrecycles.org for various tips to make the process as efficient as possible. The district is also offering a contest for folks who show diligence in composting food scraps. Participants are asked to peel the produce stickers off their food scraps and place them on an entry card that can be found, along with contest rules, at tinyurl.com/y96ugg9a. Send in your cards for a monthly drawing that will net five winners $20 in Middlebury Money that can be used at Middlebury stores. Also keep in mind though it's not about the money, it's about the habit: Produce stickers are ubiquitous bits of plastic that don't degrade and are impossible to get out of finished compost, explained ACSWMD Public Outreach Coordinator Jessie-Ruth Corkins.
Reminder: The Aug. 11 primary election ballots are now available. Voters can now request one at any time. The Secretary of State has mailed all voters Early Absentee Voter Ballot request postcards, but you don't have to use one of these to request a ballot. As Starksboro Town Clerk Cheryl Estey notes, you can simply call your town office and ask for one to be mailed to you, or go to mvp.vermont.gov. The state is encouraging voters to vote early in order to avoid large gatherings at the polling places. If you vote by mail at home you can expect to get all three primary ballots (for Republican, Democratic and Progressive parties), but must choose only one to vote on. After voting, this ballot must be sealed in its own envelope. The remaining unused ballots will go in a separate envelope. All have to be returned to the pertinent town office in the envelopes provided. There is no cost for mailing. Voters can go to their town offices to vote early (by appointment), or to pick up ballots to be voted at home.
Speaking of elections, Lincoln Town Clerk Sally Ober is recruiting helpers for the Aug. 11 and Nov. 3 elections. Ober explained some of the town's usual election workers might opt-out this year due to COVID-19 concerns. And since it's a presidential election, town clerks anticipate higher-than-usual turnout. Specific tasks will likely include checklist oversight, greeting voters, monitoring the election box, traffic control, sanitizing surfaces and ballot counting/processing. Helpers should be prepared to work outside, as that's one of the options open to communities during the pandemic. Training will be provided. People ages 16 and up are encouraged to apply. If interested, contact Ober at [email protected], or 453-2980.
Amid a national concern for identity theft and a subsequent threat of fraudulent unemployment insurance claims increasing, federal authorities and the Vermont Department of Labor have taken steps to increase monitoring and awareness for unemployment insurance fraud. The Department of Labor has implemented additional identity verification measures for those filing unemployment claims and is working with federal partners and law enforcement. Additionally, a fraud task force has been created to address this growing issue, and consists of members of the Vermont State Police, FBI, Department of Homeland Security, Secret Service, U.S. Department of Labor, Office of Inspector General, the Vermont Attorney General's Office, the Vermont Department of Financial Regulation, and the Department of Labor. Individuals who believe they may have had a false unemployment claim filed using their personal information should contact the Vermont Department of Labor immediately, either by submitting an online fraud report at labor.vermont.gov/UI-fraud or by calling 802-828-4101.
More News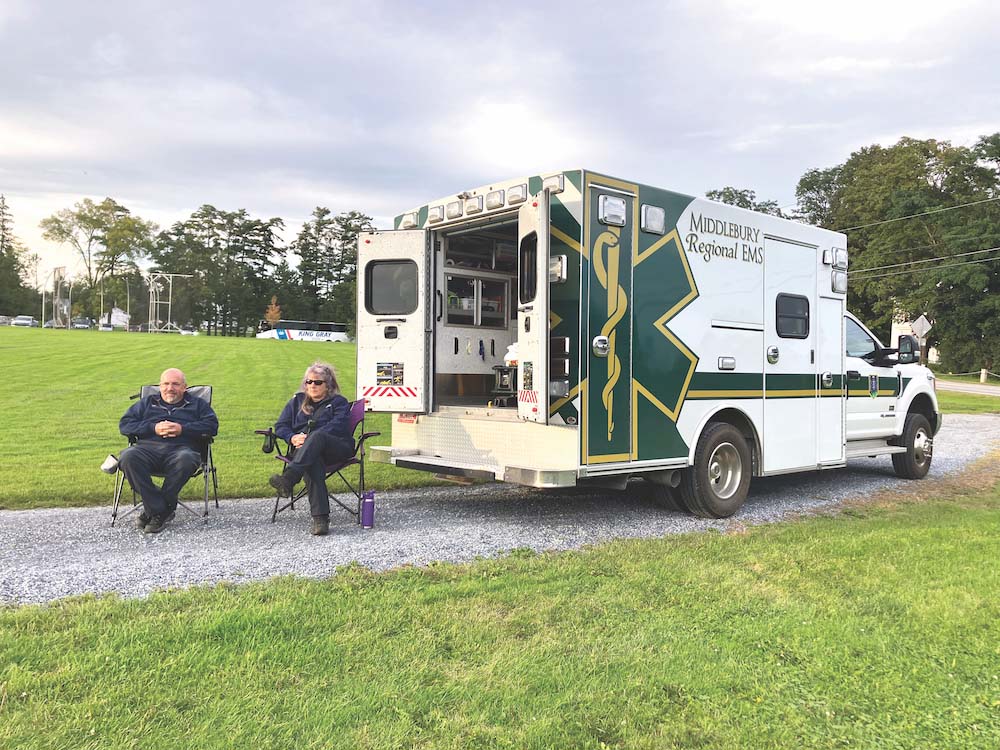 Middlebury Regional Emergency Medical Services wants to eliminate its annual Town Meeting … (read more)
Middlebury police are investigating the death of a Middlebury College junior and say the p … (read more)
Vergennes resident Margaret Clifford offers nearly a century of recollections, from losing … (read more)