By the way for May 14
While area high schools continue to weigh the potential for prom and graduation ceremonies during the COVID-19 pandemic, the Vermont Tech Associate Degree Nursing Program has decided to honor its Addison County graduates during a special "drive-by" pinning ceremony set for this Saturday, May 16, from 11 a.m. to noon in the Patricia A. Hannaford Career Center parking lot off Charles Avenue in Middlebury. The events will be fun but organized to maintain the health and safety of all. These students put tremendous effort into adapting to an online format in their last semester, and now will be entering the frontlines against COVID-19 in our community. The nursing faculty felt it important to recognize their achievements in any way possible, given the inability this year to hold a traditional graduation ceremony. 
The long-awaited Bristol Trail Network Map is now available. It can be found at tinyurl.com/y92lbp3p. Scott Hamshaw and Ian Albinson put in a lot of work creating this map of existing village segments of trail. Organizers expect to have signs and trail markers up by the end of this month, or by early June. Please note that while all the segments on the map are open, the River Bend Section is still very difficult for less-agile folks to negotiate. If you choose to hike that section, please use caution. Volunteers will be doing a great deal of work on that section to make the terrain more safe and do-able for a broader cross section of the community. Happy hiking!
If you haven't completed the 2020 federal census, please do so. United States Census officials note that Addison County's return rate is thus far one of the worst in the state, at only 5.9%. Only Chittenden County — at 0.5% — is doing worse at this stage. Essex County, with a 63.1% return, has by far the best track record among Vermont counties at this stage, followed by Windham County at 39.6%. Log on to 2020Census.gov to get started. If you have difficulty logging in, use a different web browser. Also, the U.S. Census Bureau, in coordination with federal, state and local health officials, began dropping off 2020 Census questionnaire packets at front doors of Vermont homes late last week. This was done in areas where the majority of households do not receive mail at their physical address. Temporary field staff have been trained to observe all social distancing protocols and will wear official government-provided personal protective equipment for their safety and the safety of the public. The Census Bureau will deliver 2020 Census invitations and paper questionnaires at the front doors of roughly 5.1 million stateside households and 61,100 households in Vermont. This operation is crucial to ensure a complete and accurate count of all communities, which helps guide hundreds of billions of dollars in public and private sector spending per year.
The following students from Mount Abraham Union High School were selected to attend Green Mountain Boys' State this year: Brewer Atocha (Lincoln), Liam Davidson (Bristol), Lucas Jensen (Monkton), Koby LaRose (Bristol), Evan Logan (Bristol) and Christopher Wolack (Monkton). Green Mountain Boys' State, a program of the American Legion, has unfortunately been canceled for this year because of the pandemic. Staff at Boys' State will issue each student a certificate or letter that can be included in their college applications.
As of Wednesday, April 29, two large plastic totes of free books have been sitting outside the Salisbury Free Public Library. These are completely free for the taking. Caution: Takers are asked to look at the books and if possible only touch those you are selecting to take with you. Also, use hand sanitizer before and after selecting books if you have it, and please maintain physical distance from others while selecting. If you have books to donate for others, please put them in the book return to the left of the front doors. They will eventually be added to the selection of giveaways. New books will be added once a week as long as they last. The Salisbury Library is also working to connect people making masks to those who need them. If you need a mask or know someone who needs one, please contact us at [email protected], on Facebook messenger (@SalisburyLibrary), or at 802-355-4676.
More News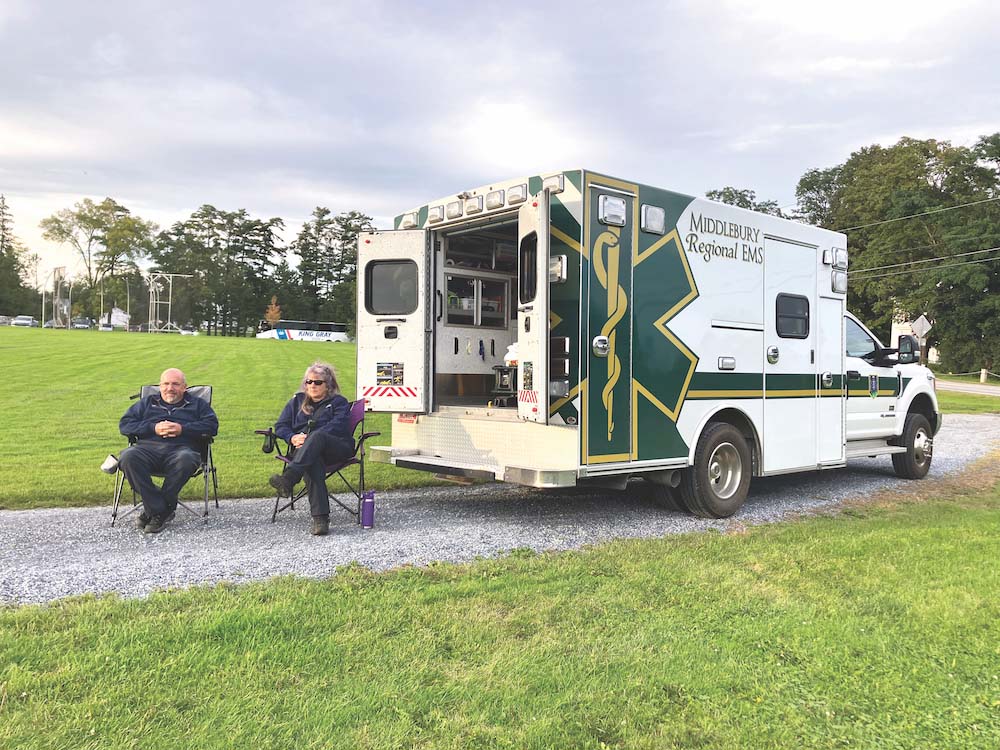 Middlebury Regional Emergency Medical Services wants to eliminate its annual Town Meeting … (read more)
Middlebury police are investigating the death of a Middlebury College junior and say the p … (read more)
In the course of her almost 101 years on Earth, Vergennes resident Margaret Clifford, bett … (read more)