Vermont schools prepare for coronavirus
MIDDLEBURY — With the aggressive, worldwide spread of COVID-19 — also known as the "coronavirus" — the Vermont Department of Health is educating school districts throughout the state about how to prepare for a potential pandemic.
State Education Secretary Daniel M. French provided Vermont public school districts with a primer updating officials on the status of COVID-19 and some helpful hints to impart to students and school nurses.
"The Vermont Department of Health (DOH) is closely monitoring the rapid developments in the outbreak of respiratory illness called COVID-19 that is caused by a novel (new) coronavirus," he wrote in his letter, shared by the Addison Central School District this week. "Vermont is prepared to respond to protect and support Vermonters."
While there were at leat 135 confirmed cases of COVID-19 in the U.S. as of mid-day Wednesday, none of them were in Vermont.
"Should the situation in Vermont change, the Vermont Department of Health and the Agency of Education will coordinate to alert every school district/supervisory union and its schools about specific preparedness and response guidelines to follow," French wrote in his letter, released to the Addison Central School District on Feb. 29. "It is important to note that at this point, Vermont residents are much more likely to become sick with a cold or the flu than to be exposed to COVID-19. Many of the precautions that help prevent other respiratory diseases, like colds and the flu, can also help keep an illness like COVID-19 from spreading."
He listed those precautions as:
•  Frequent hand washing with soap and water for at least 20 seconds. If soap and water are not available, use an alcohol-based hand sanitizer.
•  Avoid touching your eyes, nose and mouth with unwashed hands.
•  Avoid close contact with people who are sick.
•  Stay home when you are sick.
•  Cover your cough or sneeze with your sleeve or a tissue. Throw the tissue in the trash.
•  Clean and disinfect frequently touched objects and surfaces.
"The Vermont Department of Health and the Vermont Agency of Education will contact you as the situation develops with any guidance or directives that will affect your schools," French wrote.
The Independent on Feb. 3 reported COVID-19 preparedness efforts at Middlebury-based Porter Medical Center.
The Vermont Department of Health has established its own COVID-19 website that can be found at tinyurl.com/s878a6r. It's a website that provides, among other things, guidance on:
•  Whether people should wear a face mask in public.
•  Where it's safe to travel internationally.
•  What Vermonters should do upon returning from an area in which COVID-19 is prevalent.
•  How to obtain COVID-19-related resources for schools, child care programs and colleges.
French's letter can be found at tinyurl.com/szdfa73. It includes links to other COVID-19 resources, including the Centers for Disease Control.
"School nurses have received guidance from the Vermont Department of Health on identifying and responding to potential cases of COVID-19 and can advise on general practices to prevent the spread of respiratory infections at school," French added in his letter.
Sharonlee Trefrey is the state's school nurse consultant with the DOH. And of course many Bristol residents will remember her as the former, much-respected nurse at Bristol Elementary School.
Trefrey said during a Monday phone interview that her office fielded "several" COVID-19-related calls last week. She noted calls to the DOH began to increase on Monday. In most cases, Trefrey and other DOH officials are referring callers to the state's 2-1-1 phone number for health-related information, or to the myriad state and federal websites with COVID-19 information.
Trefrey advised parents, children and school officials to become educated and vigilant about the virus. And she added: "Take care of yourself, so you can take care of others."
Reporter John Flowers is at [email protected].
More News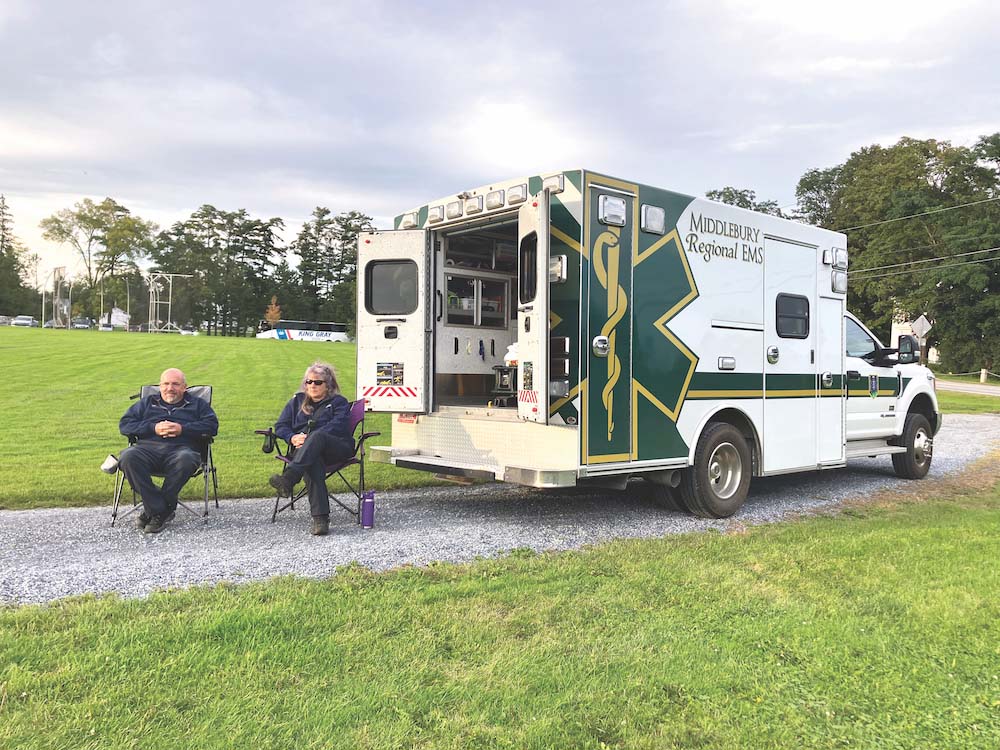 Middlebury Regional Emergency Medical Services wants to eliminate its annual Town Meeting … (read more)
Middlebury police are investigating the death of a Middlebury College junior and say the p … (read more)
In the course of her almost 101 years on Earth, Vergennes resident Margaret Clifford, bett … (read more)