Women's soccer posts two shutouts, improves to 9-0-1
LEWISTON, Maine — The Middlebury College women's soccer team remained unbeaten at 9-0-1 with a 5-0 victory at NESCAC foe Bates this past Saturday and a 3-0 victory at non-league Castleton on Tuesday. The Panthers, ranked No. 2 in NCAA Division III, will next host Colby at 11 a.m. on Saturday.
On this past Saturday the Panthers had little trouble with Bates (1-6-1, 0-4-0 NESCAC) in running their league mark to 4-0-1. They took the lead in the 10th minute, when Gretchen McGrath ran onto Anna Glovin's long pass to the left side of the restraining area and fired a shot into the upper right corner.
Simone Ameer made it 2-0 on a penalty kick in the 32nd minute, and added a third goal in the final minute of the first half, when she headed in an Eliza Robinson corner kick. 
Fifteen minutes into the second half Quinn Rogers knocked home a shot from close range, and Ellie Greenberg made it 5-0 in the 75th minute by one-touching home Olivia Miller's lofted pass into the penalty area.
In the Panther goal Ursula Alwang and Eva Shaw each played a half and made one save, while two Bobcat goalies combined for six stops. The Panthers earned advantages of 21-3 in shots and 4-0 in corner kicks.
On Tuesday the Panthers outshot the Spartans, 32-6, in their 3-0 win. Greenberg netted a rebound of an Isabelle Hartnett shot in the first half. Early the second half Miller finished from a scramble in front of the Spartan net, with Robinson awarded an assist, and at 71:25 Ellie Bavier headed in a Caitlin Magruder serve for her first career goal.
Shaw played the first half without a save, while Alwang made one second-half save. Loren Henderson made 10 stops for Castleton (6-6).
More News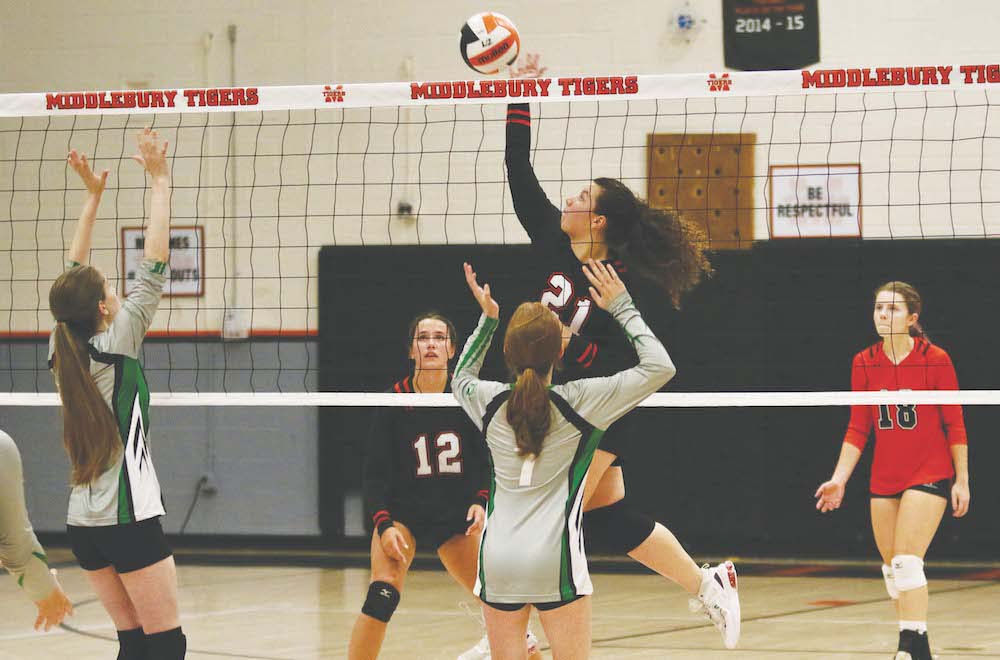 The first-year Middlebury Union High School girls' varsity volleyball team continued its r … (read more)
Soggy conditions didn't slow down Middlebury runners noticeably at a cross-country meet ho … (read more)
I gave Bill Lee a call last week, hoping he was at his home in Craftsbury and we might arr … (read more)