Karl Lindholm: Like father, like son
Was that an Old Timers' Game?
A quick look at any recent Toronto Blue Jays box score has "Bichette" leading off, followed by "Biggio," and then "Guerrero?"
Dante Bichette made four all-star teams and retired in 2001; Craig Biggio played 19 years for the Houston Astros and was elected to baseball's Hall of Fame in 2015; Vladimir Guerrero played eight years in nearby Montreal and eight years elsewhere and was elected just last year into the shrine at Cooperstown.
Well, these are their boys, playing in the big leagues, all on the same club: Bo Bichette (21 years old), Cavan Biggio (24) and Vlad Guerrero Jr. (20). The Blue Jays are banking that these three kids, scions of famous players, will return baseball glory to Toronto.
Lineage will also be on display in Boston next week, when Mike Yastrzemski comes to town with the San Francisco Giants to play the Red Sox.
Mike is the grandson of Red Sox legend Carl Yastrzemski. No sentimentalist, Grandpa Yaz parcels out his returns to Fenway very conservatively as he guards his privacy and eschews the limelight.
But he'll be at next week's games, with bells on. "He's a great kid," Yaz said last week. "He's worked hard. I'm very, very happy for him."
Yaz's son, Carl Jr. (who preferred to be known as "Mike") also played pro baseball, advancing as high as Triple A ball. He died at 43 from complications of hip replacement surgery. His boy, Mike, the Giant, was taught to hit in Andover, Mass., by his Hall of Fame grandpa, now 80 years old.
This Mike Yaz is no prodigy like those Blue Jay kids. He's 29 with six years of minor league travails behind him. The Giants brought him up on May 25 this summer and he immediately invigorated their lineup. He's batting about .270 with 19 homers from the leadoff spot, and playing impeccable outfield defense. On Aug. 16, he hit three homers in a 10-9 Giants win over Arizona.
It will be a Yaz fest in Fenway for three games starting next Wednesday, with another 5'10" 180-pound versatile player in Boston's famous left-field.
Forty-four years ago next month was another dramatic family celebration in Fenway, a glorious reunion. Luis Tiant Sr. threw out the first pitch to open the 1975 World Series between the Red Sox and the Big Red Machine from Cincinnati.
His boy, Luis Jr. was the genial cigar-chewing ace of the Sox staff with the funky turn-his-back to the hitter motion, who won 122 games for the Red Sox in the 1970s and 229 career wins in his 19-year career (four seasons with 20 or more wins). Luis Jr. is a member of the Red Sox Hall of Fame (and should be in that other one!).
Luis Sr. was quite a pitcher too from 1927 to 1948, in Cuba primarily for Almandares and Cienfuegos and in the Negro leagues in the States for the Cuban Stars and the New York Cubans. He pitched in two East-West All-Star Games and was called the "Black Lefty Grove."
When Fidel Castro dictated in 1961 that all baseball on the island would be exclusively amateur and closed the border to emigration, Luis Jr. chose to stay in the U.S. to ply his craft. He did not see his parents for 14 years until they were allowed to visit for that '75 World Series.
In that Series Opener, before his parents, all Luis Tiant Jr. did was pitch a shutout, a 6-0 win.
The only World Series game I have seen in person was Game Four of that 1975 Series on a wet night in Riverfront Stadium. The Red Sox won that game too behind Tiant, 5-3. He went the whole way and threw 173 pitches!
Now about this for a happy father/son performance: on Sept. 14, 1990, 40-year-old father Ken Griffey Sr. hit a home run in the first inning of a game against the Angels. The next batter was his 20-year-old son, Ken Griffey Jr., and he too hit a homer — back to back jacks!
Yankee manager Aaron Boone is the brother of Bret Boone (14 Major League seasons), the son of Bob Boone (19 years) and grandson of Ray Boone (13 years): three generations, every one an All-Star.
The Boones don't have much on the Bells: Manager David Bell of Cincinnati Reds is brother of Mike Bell (Reds) and son of Buddy Bell (All-Star with the Indians and Rangers) and grandson of Gus Bell (four time All-Star for the Reds in the 1950s).
Sam Hairston played in the Negro leagues for the Birmingham Black Barons and the Indianapolis Clowns. His son Jerry and grandson Jerry Jr. played in Major Leagues after integration
Infielder Casey Candaele played 11 years in the Majors for the Expos, Astros, and Indians (1986-97). He's the only player with a mother-son connection. His mom, Helen Callaghan, played for the Minneapolis Millerettes and the Fort Wayne Daisies of the All-American Girls Professional Baseball League (AAGPBL), the women's pro baseball league during World War II depicted in the film "A League of their Own."
There are many other striking family stories, and given my choice and unlimited space, I would regale you with tales about them too — the Bonds, Bobby and Barry, father and son — and the Alomars, Alous, Ripkins, Fielders, Franconas, and others.
It would seem in baseball the child truly is father of the man (as the poet Wordsworth wrote) in this game that has captivated us for so long.
More News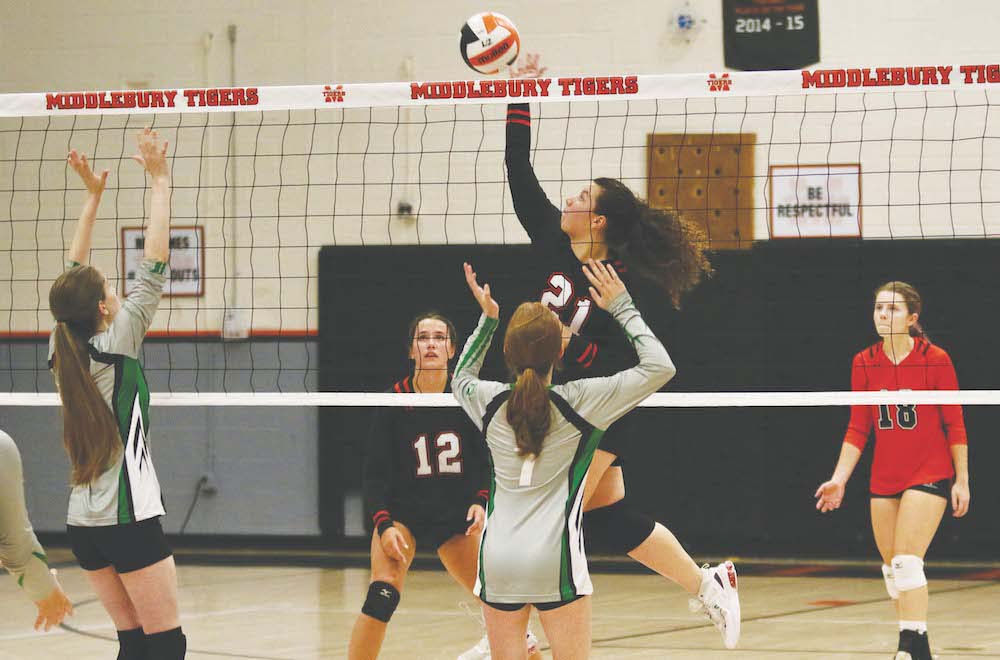 The first-year Middlebury Union High School girls' varsity volleyball team continued its r … (read more)
Soggy conditions didn't slow down Middlebury runners noticeably at a cross-country meet ho … (read more)
I gave Bill Lee a call last week, hoping he was at his home in Craftsbury and we might arr … (read more)