Arts Beat for Apr. 1: Lewis Franco and the Missing Cats to play Lincoln
ADDISON COUNTY — The Ripton Community Coffee House is going on the road again to present Lewis Franco and the Missing Cats in concert on Saturday, April 6, at 7:30 p.m. at Burnham Hall in Lincoln. The concert is moved from its usual venue due to ongoing repairs at the Ripton Community House. 
An acoustic jazz combo, Lewis Franco and the Missing Cats perform originals as well as gypsy swing and jive swing tunes from the 1930s and 1940s, featuring close three-part vocal rhythm harmonies and thrilling improvisation. The line-up for this concert includes Franco on guitar and vocals, Will Patton on mandolin, Dono Schabner on guitar and vocals, Clyde Staats on bass, and Susannah Blachly and Halle Toulis on harmony vocals.
Franco has been a fixture on the Vermont acoustic music scene for many years, entertaining audiences of all ages with clever and occasionally profound lyrics, delightfully tuneful melodies, and a fun-loving presence. Vermont Public Radio's Robert Resnik calls Franco, "a brilliant songwriter – one of our very finest."
This is the second month when the Ripton Community Coffee House has moved to Lincoln. "Ongoing repairs due to flooding caused by a frozen pipe has left us without our usual venue," says executive director Richard Ruane. "Burnham Hall is relatively nearby and has the advantage of already having staging and chairs to make it easier for our volunteers.  We really hope we can be back in our usual Ripton location in May, when we celebrate our 24th year."
The doors open at 7 p.m. Refreshments will benefit the Friends of the Ripton School. Call ahead for a slot on the open mic list. Admission: $15 generous admission; $10 general admission; $3 for children. For more information, call 388-9782.
RUPERT WATES, AT BRANDON MUSIC
Rupert Wates returns to Brandon Music on Saturday, April 6, at 7:30 p.m.
Wates is the quintessential singer–songwriter. His prolific career spanning more than 25 years really took off in 1994 when he signed a publishing deal with Eaton Music (London) and became a full time songwriter. A move to the U.S. in 2007 helped to establish him as "A prime figure in American Music." according to the Folk and Acoustic Music Exchange.
As an extremely skilled and accomplished singer-songwriter Wates has released nine solo albums, won over 40 songwriting and performing awards and performed in over 3,500 concerts averaging 120 per year in the U.S., Canada and Europe.
In December 2018, he finished recording his new CD "Full Circle."
Wates is a regular guest at Brandon Music where audiences respond enthusiastically to his warm and expressive vocals, his beautiful acoustic guitar playing and his calm, relaxing performance style. Wates, too, prefers performing in smaller venues where the audience is up close and the emphasis is on the music. He's the real deal.
Concert tickets are $20. A pre-concert dinner is available for $25. Reservations are required for dinner and recommended for the show. Venue is BYOB. Call Edna at 802-247-4295 or e-mail [email protected] for reservations or for more information. Brandon Music is located at 62 Country Club Road in Brandon.
"A STORY'S A STORY" AT THT
Deborah Lubar brings her one-woman play "A Story's A Story" to Town Hall Theater on Saturday, April 6, at 7:30 p.m.
Rose Solomon and Luigina Ponzini, two immigrant women of a hundred years ago meet on the boat coming to America and first become neighbors and then fast friends. Rose, who has the feisty humor of a Polish Jew raised in a small village is opinionated and peppery, recalling what a pain in the neck it was to be "just a girl" in that village.
Luigina, an Italian Catholic from southern Italy, eccentric and passionate, near death as her story begins, prays to the Madonna for "one more miracle before I die." She has struggled all her life with being misunderstood — by all except her best friend — Rose. Together these two women have helped each other brave the pain of being perceived as "other" in cultures that reject those who are different.
All proceeds from this show benefit the financial aid program at the North Branch School in Ripton, serving students in grades 7-9.
Tickets are $15 seniors and students/$20 general/$50 generous/$100 extra generous plus fees. Tickets may be purchased at townhalltheater.org, by calling 802-382-9222, at the THT box office Monday-Saturday, noon-5 p.m., or at the door one hour before show time. The Town Hall Theater is located at 68 S. Pleasant Street in Middlebury.
TWELVE ANGRY MEN AT THT
At 2 p.m. on Sunday, April 7, in Byers Studio at Middlebury's Town Hall Theater, an all-star cast of women will lend their impassioned voices to a reading of the classic play "Twelve Angry Men" by Reginald Rose as part of the 12,000 Voices project. Women all over the country will read the play about the power one person can have when they speak with conviction in our judicial system.
Director Erica Furgiuele, a Middlebury College graduate, has performed on the Town Hall Theater stage and with Middlebury Community Players. "Twelve Angry Men" is particularly appealing to her. "This play demonstrates that it's not enough to be staunch in your beliefs. You have to defend them articulately, compassionately, and tirelessly," she says.
Producer Haley Rice agrees. "Women have a voice in the legal process and a vote now, but there's still work to be done. When "Twelve Angry Men" was written, women couldn't be jurors. They had no say in that part of the legal process. So we're going to flip the script. It's important to be heard and it's crucial not to take it for granted."
Admittance is free, but donations are always appreciated. For more information visit townhalltheater.org or call 802-388-1436.
THE BALTIMORE WALTZ AT COLLEGE
The Middlebury College Department of Theater and Dance will present Paula Vogel's "The Baltimore Waltz," directed by Cláudio Medeiros, on Thursday, April 4, at 7:30 p.m. in the Seeler Studio Theatre at the Mahaney Arts Center. Additional performances will be on Friday, April 5, at 7:30 p.m., and Saturday, April 6, at 2 p.m. and 7:30 p.m.
Set in the late 1980s, "The Baltimore Waltz" tells the story of Anna, an elementary school teacher recently diagnosed with a mysterious fatal disease. Accompanied by her brother, a San Francisco librarian, she embarks on a lust-driven tour of Europe that ends in Vienna, where an unorthodox urologist may turn out to be her only hope. By turns unabashedly comic, irresistibly whimsical, and deeply poignant, "The Baltimore Waltz" reminds us that humor and art can be the most eloquent expression of compassion and love.
There will be a post-show talk back and discussion following the Friday evening performance.
Tickets are $15 for the general public. For tickets or information, call 802-443-6433 or visit go.middlebury.edu/arts. The Mahaney Arts Center is located at 72 Porter Field Road in Middlebury, just off Route 30 South. Free parking is available.
CHOIR OF CLARE COLLEGE AT ST. STEPHEN'S CHURCH
The Choir of Clare College, Cambridge, England conducted by Graham Ross, returns to Middlebury at 7:30 p.m. on Wednesday, April 3, to sing a program of Renaissance sacred music at St. Stephen's Church, 3 Main Street in Middlebury.
The heart of the program is Tomas Luis de Victoria's "Requiem" of 1605; it has been called a choral masterpiece on the level of Bach's "St. Matthew Passion," Mozart's "Requiem" and Beethoven's "9th Symphony." Sections of the "Requiem" will be interspersed with Lenten motets by Byrd, Tallis, and Ramsey, and Spanish composers Victoria, Padilla and Lobo.
The 30-voice choir of men and women sing services during term at the Clare College chapel. Their international touring has taken them to Europe, Asia, Russia, the Middle East, and the United States.
Tickets can be obtained at the St. Stephen's church office during regular office hours, 10 a.m.-2 p.m., Monday through Friday, or online at ststephensmidd.org.
BRISTOL BAND CELEBRATED IN BRISTOL
At their annual gathering on Sunday, April 7, the 5 Town Friends of the Arts will celebrate William "Bill" Bowers, Ken Weston and the Bristol Town Band. The celebration will take place at Holley Hall in Bristol from 1 until 3 p.m. and the public is invited. There will be refreshments, music and stories by current and past band members.
In 1983, longtime band director Roy Clark stepped aside due to ill health and Mt. Abraham music teacher William "Bill" Bowers took over as band conductor. At the same time Ken Weston took on the duties of band manager. For the past 36 years these two have kept this wonderful musical tradition alive and well in Bristol.
Started in 1870 by Smith Hatch, the Bristol Band, in one form or another, has existed to the present, which means the band will celebrate its 150th birthday in 2020. Currently the Bristol Town Band consists of 55 members and plays every Wednesday evening in the park from after Memorial Day until Labor Day.
ALISON CLANCY AT COLLEGE
There will be a dance performance by Alison Clancy on Wednesday, April 3, at 7:30 p.m. in the Dance Theater at Middlebury College's Mahaney Arts Center.
Clancy is a NYC-based multidisciplinary artist working across the mediums of dance, music and visual media. Her artistic endeavors are centered around the pursuit of beauty and catharsis, pushing the edges of contemporary dance and music, with depths of physical practices related to spiritual and psychological development. She incorporates ritual practices and visual design into the forms of contemporary ballet and popular music, creating an otherworldly highway — the lost intersection where we search for ourselves in the shadows. It's free and the public is welcome.
INTERNATIONAL FILM SERIES
The 2018-2019 Hirschfield International Film Series continues on Saturday, April 6, at Middlebury College with the 2019 US film. "Apollo 11," directed by Todd Douglas Miller.
Crafted from a newly discovered trove of 65mm footage, and more than 11,000 hours of uncatalogued audio recordings, "Apollo 11" takes us straight to the heart of NASA's most celebrated mission — the one that first put men on the moon and forever made Neil Armstrong and Buzz Aldrin into household names.
It's free. The film will be shown at 3 and again at 8 p.m. in Dana Auditorium at Sunderland, 356 College Street in Middlebury. It's free. Some of the films in this series may be inappropriate for children.
More News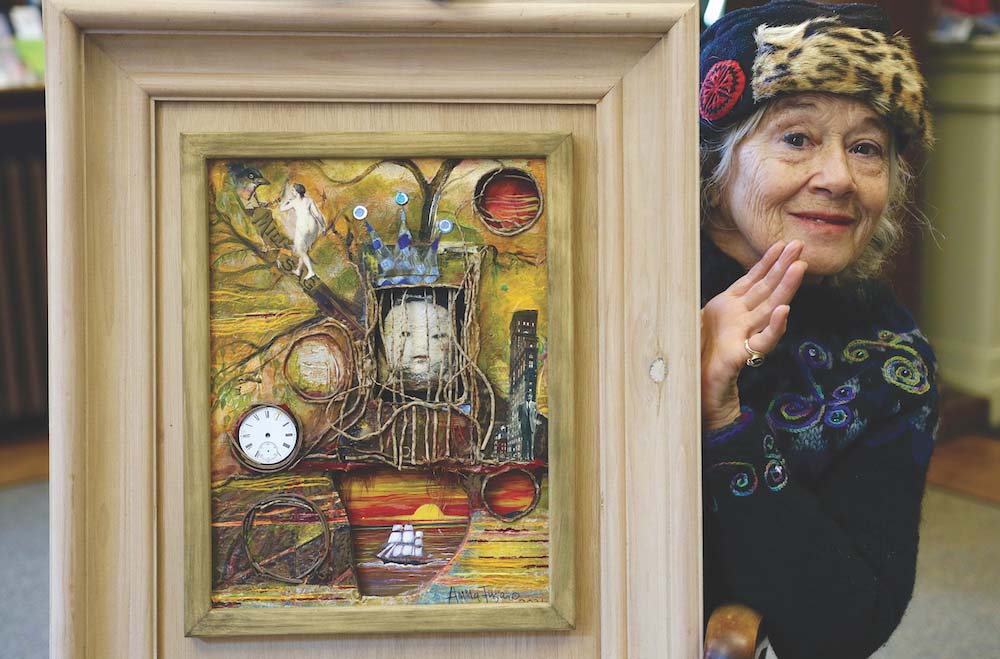 From floor to ceiling, Anna Fugaro's Middlebury living space is filled with her own artwor … (read more)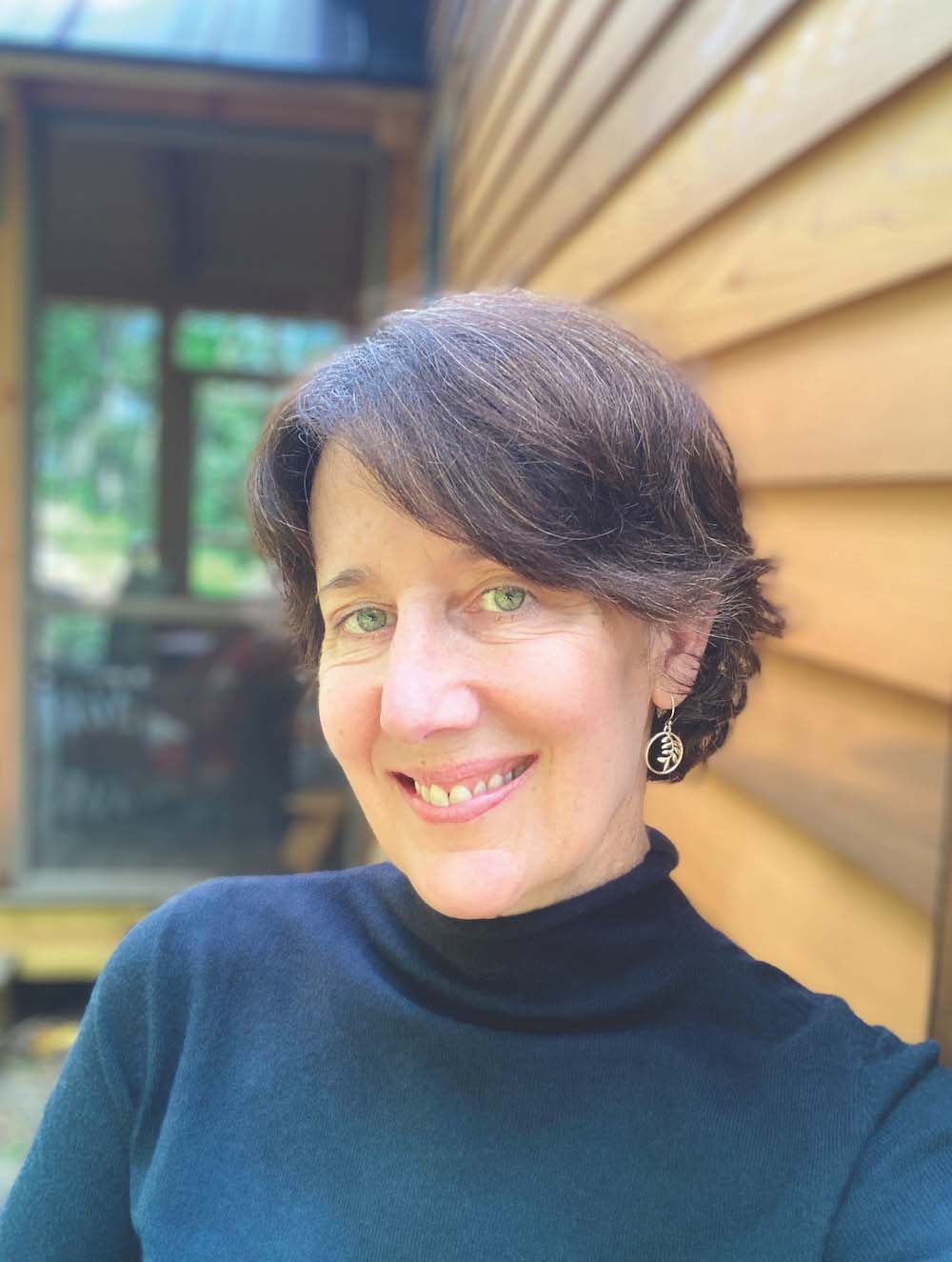 ‏I was driving through the fields of Heaven when I realized I was still on Earth,
because … (read more)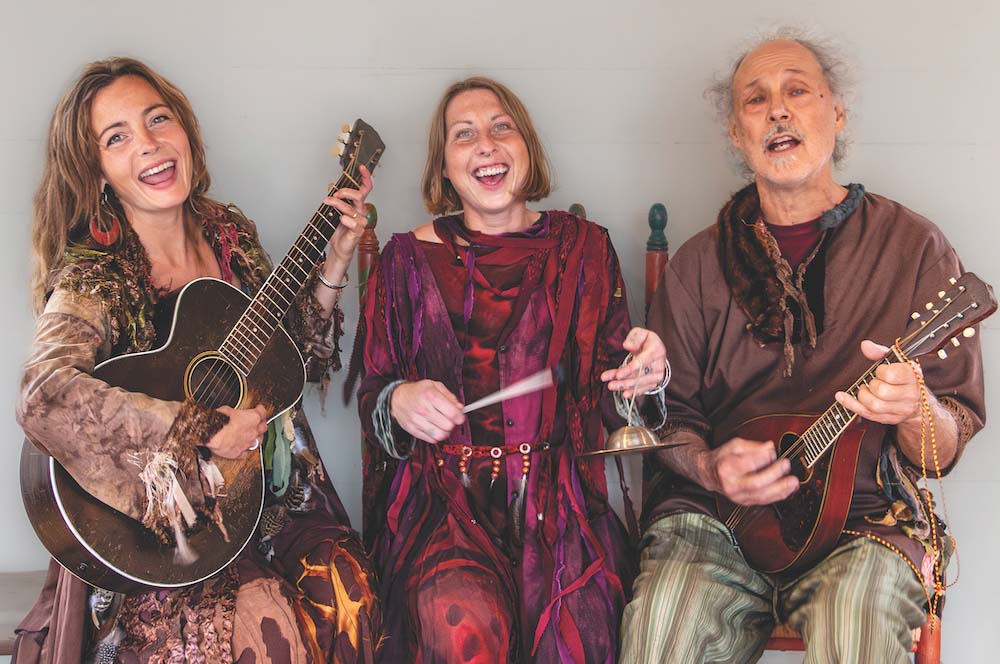 ‏After a five year pause, this magical Winter Solstice dream play which first appeared on … (read more)